Clash over concussions led to Bob Costas' Super Bowl breakup with NBC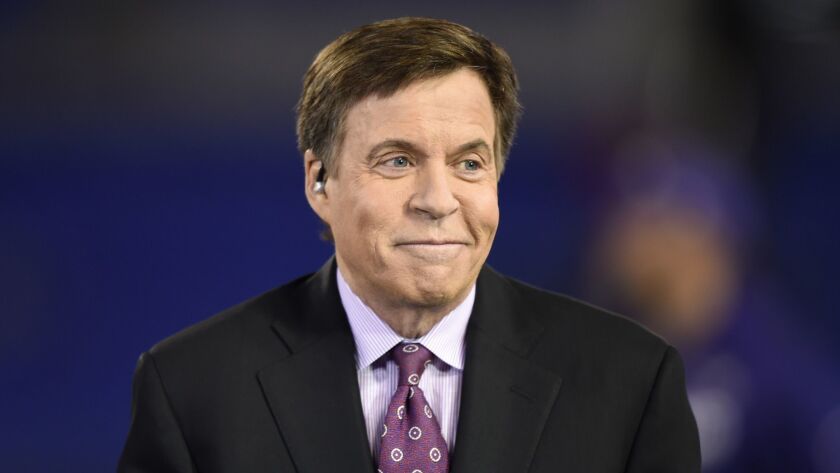 NBC did sack Bob Costas from its Super Bowl LII coverage for his honest assessment of concussions in football a couple of months prior, as had been suspected when news of the broadcast switcheroo broke last January.
The longtime sportscaster admitted such in an interview with ESPN's "Outside The Lines" that aired Sunday morning, and as it turns out, that quarrel was only the culmination of a years-long clash between the two sides over the concussion debate that eventually led to their breakup in the fall.
"I remember being told that now I can no longer host the Super Bowl," Costas said. "I think the words were, 'You've crossed the line.' And my thought was, what line have I crossed?"
In the eyes of the behemoth network, Costas, 66, crossed the concussion "line" when he slammed the sport during a University of Maryland roundtable earlier that season.
"The reality is that this game destroys people's brains," Costas said.
"Bob's opinions are his own, and they do not represent those of the NBC Sports Group," an NBC Sports spokesperson had told The Daily News' Bob Raissman afterward.
While Costas' account is scientifically proved in many cases through repeated CTE research, NBC clearly felt betrayed its longtime companion would publicly dis its money-feeding league partner. Thus, NBC yanked Costas from what would have been his seventh, and final, Super Bowl broadcast.
Costas, 66, originally dismissed the notion his comments had anything to do with him being replaced by colleague Liam McHugh, before recently telling ESPN otherwise.
Costas broadcast his strong views on concussions during a pregame monologue for the first time in 2010, according to ESPN.
"Here's the truth," Costas said. "America's most popular sport is a fundamentally dangerous game where the risk of catastrophic injury is not incidental, it is significant."
Costas is said to have ramped up his criticism after seeing "Concussion," the 2015 flick starring Will Smith as Dr. Bennet Ifeakandu Omalu, who in 2002 first published findings indicating CTE in American football players.
Another prepared monologue from Costas following the movie never aired.
"We're in negotiations with the NFL for Thursday Night Football," Costas recalled the explanation from NBC execs over rejecting the essay. The network eventually landed the deal it coveted.
A year later, Costas told The Daily News' Raissman that he was fed up with the NFL's "Football is Family" campaign, which was seemingly aimed at lessening the blow from the constant concussion developments.
"But having said that it's a little much to take, while watching a game, that you are constantly bombarded with 'Football is Family' [commercials]," Costas said. "Yeah, that's right, the first thing I think of when I hear about 25% to 30%, by the NFL's own admission, of its players will have cognitive difficulties is 'Football is Family.'"
That didn't sit well with NBC, and two years later, they split up quite inconspicuously.
"It's very fair and very amicable," Costas said. "It was a very, very fruitful run of nearly four decades, and I have nothing but respect and appreciation for all of it."
---
Your guide to our new economic reality.
Get our free business newsletter for insights and tips for getting by.
You may occasionally receive promotional content from the Los Angeles Times.