U.S. aviation officials stand virtually alone in their support for Boeing's 737 Max airplane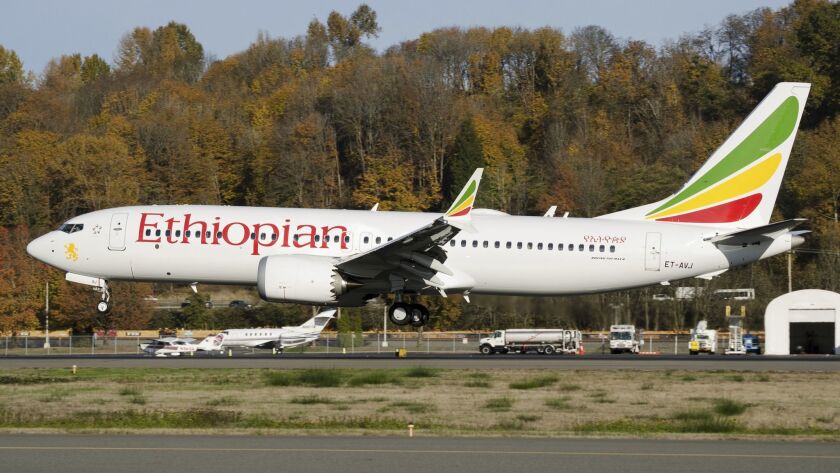 The Federal Aviation Administration doubled down on its support for the safety of Boeing Co.'s 737 Max aircraft Tuesday, even as much of the world moved to ground the planes.
On Tuesday, European and Indian aviation regulators joined a slew of others worldwide in suspending flights of 737 Max jetliners after Sunday's deadly crash of an Ethiopian Airlines plane, which had eerie similarities to a fatal accident involving the same model plane in Indonesia less than six months before.
Acting FAA Administrator Daniel Elwell said the agency's review so far of "all available data and aggregate safety performance from operators and pilots of the Boeing 737 Max" shows "no systemic performance issues and provides no basis to order grounding the aircraft."
"Nor have other civil aviation authorities provided data to us that would warrant action," he said in the statement, adding that if any issues affecting the "continued airworthiness of the aircraft are identified," the agency will take "immediate and appropriate action." Late Monday, aerospace giant Boeing said it would soon update the plane's flight control system software that was implicated in last year's deadly crash of a Lion Air flight shortly after takeoff.
The European Union Aviation Safety Agency announced it is grounding all 737 Max 8 and 737 Max 9 planes in Europe and issued a directive that suspends outside countries from flying the planes in and out of its airspace. The ban does not apply to other versions of the 737, including the NG, Max 7 and Max 10.
Shortly afterward, India's Ministry of Civil Aviation announced it was grounding 737 Max planes until "appropriate modifications and safety measures are undertaken to ensure their safe operations." China, Australia and Singapore had already grounded the 737 Max, according to Bloomberg.
Such a broad repudiation of the U.S. aviation agency by foreign aviation authorities is highly unusual, aviation experts said. Historically, the U.S. has been viewed as a preeminent leader in air safety and accident investigation practices.
"As far as I can tell, the FAA's position seems to be that unless you can uncover some systemic flaw, that grounding is inappropriate," said Arnold Barnett, a professor of statistics at the MIT Sloan School of Management who focuses on aviation safety.
"But I find this a perplexing position because at the moment, it's not known what caused the crash," he said. "You could say if you're not sure if there's a systemic flaw, then the prudent course is to do what the rest of the countries are doing and say, 'Stop flying until you know.'"
Barnett noted that countries such as Germany and Australia are among the safest in the world for aviation "and they, at this moment, are not convinced."
Aviation experts cautioned that it was too early to speculate about whether there is a connection between Sunday's crash and the October fatal crash of a 737 Max operated by Lion Air, which plunged into the sea shortly after takeoff. Sunday's accident is being investigated by the Ethiopian Civil Aviation Authority, with help from Boeing and the U.S. National Transportation Safety Board. An FAA team is also on site with the NTSB, the agency said.
"Yes, they are the same kind of aircraft, but potentially, these two accidents could have completely different causes," said James F. Rodriguez, senior counsel at law firm Holland & Knight. When he was assistant general counsel at the NTSB from 2011 to 2017, Rodriguez was responsible for advising investigators looking into transportation incidents, including aviation accidents such as the 2013 Asiana Airlines Flight 214 crash in San Francisco that killed three people and injured 187.
"Accident investigation authorities around the world are usually cautious to draw conclusions early," he said. "I think it seems a little early for them to be drawing the kind of conclusion to ground the aircraft given that … the investigation is so early."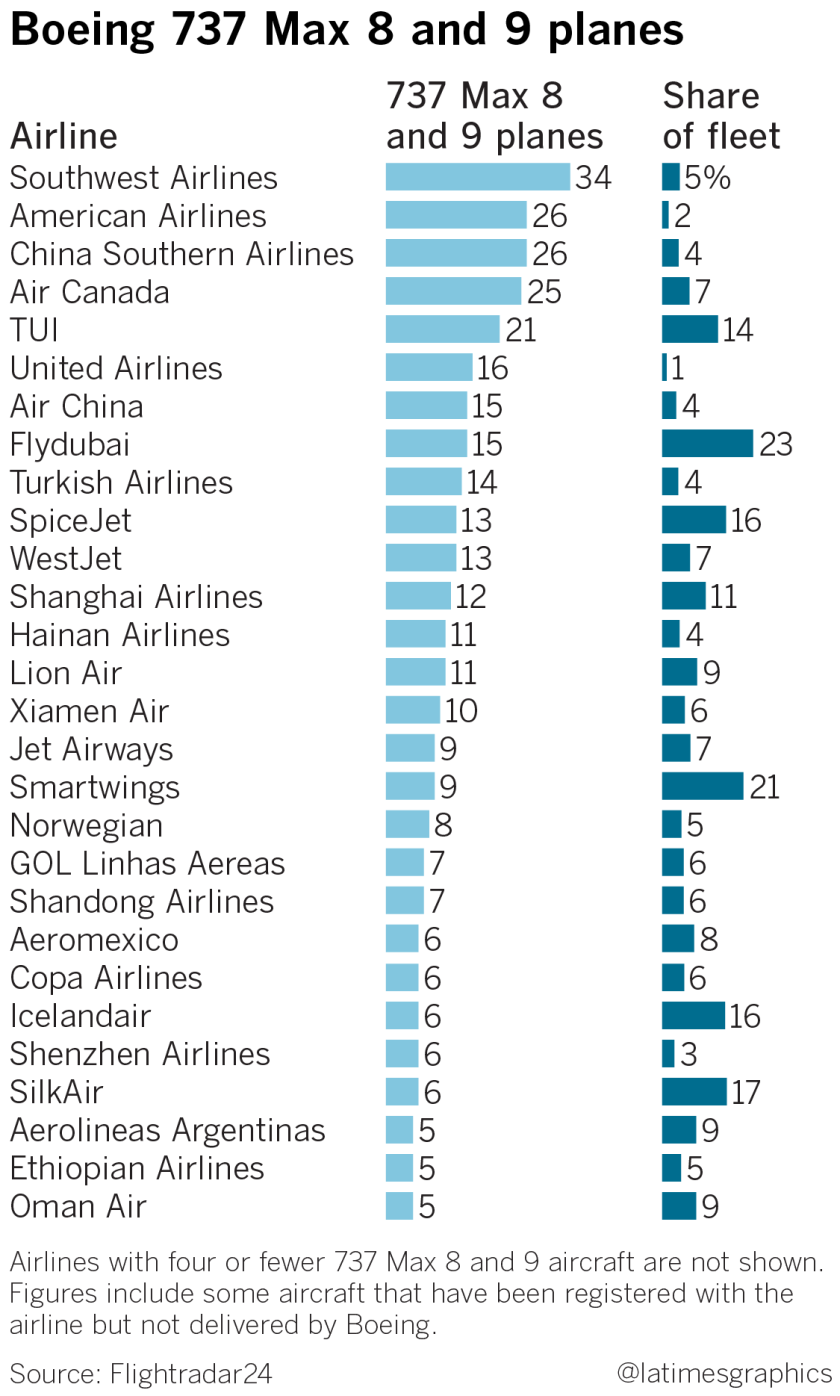 Several U.S. airlines that fly 737 Max aircraft have expressed support for the plane, including Southwest Airlines, which is the largest domestic carrier and biggest operator of the 737 Max. The Dallas airline has 34 of the planes, with 219 more on order.
Since the Lion Air crash in October, Boeing has reiterated that its 737 Max is safe.
On Tuesday, the Chicago aerospace giant said, "We understand that regulatory agencies and customers have made decisions that they believe are most appropriate for their home markets."
Boeing added that it would stay in contact with those groups but that without more information, there was no basis to give new guidance to operators of the plane. Boeing's shares fell 6.2% to $375.41 on Tuesday.
As of last month, the company had delivered 376 of its 737 Max jetliners and had orders for an additional 5,012 from more than 80 airlines worldwide, Boeing said. The single-aisle, twin-engine plane has become a popular choice because of its fuel efficiency.
The 737 Max's flight control system includes something known as the "maneuvering characteristics augmentation system," or MCAS. The FAA said Monday it would mandate that the software fix Boeing promised to make to MCAS be implemented on all 737 Max planes no later than next month.
A preliminary report on the Lion Air crash suggested that a faulty reading from the plane's angle of attack sensor may have triggered the MCAS system, which then sent the plane into a series of 26 dives at an altitude of less than 5,000 feet.
Even President Trump weighed in on the question of aircraft automation, tweeting Tuesday that "airplanes are becoming far too complex to fly."
Trump spoke on the phone with Boeing Chief Executive Dennis Muilenburg after that tweet, Boeing said, and Muilenburg reiterated to the president the company's position that the 737 Max is safe. The company declined to say who requested the call or provide any additional details.
To ground the planes or take some sort of action, the FAA would probably need to find some common data between the two incidents, attorney Rodriguez said.
"I think that's what they're waiting for," he said. "They're waiting to see what kind of information comes out."
Times staff writer Hugo Martin contributed to this report.
---
Your guide to our clean energy future
Get our Boiling Point newsletter for the latest on the power sector, water wars and more — and what they mean for California.
You may occasionally receive promotional content from the Los Angeles Times.