Boeing 737 Max crisis sparks U.S. review of how FAA approves jets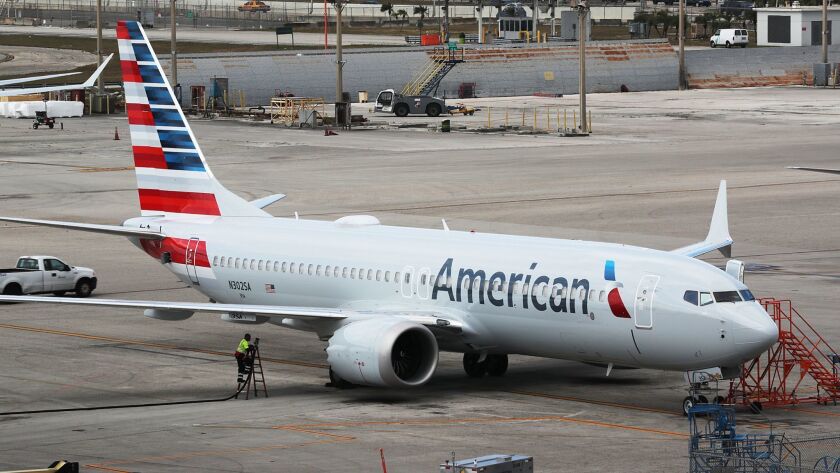 Times Wire Services
The U.S. Transportation Department is creating a special commission to review how newly designed aircraft are certified, spurred by criticism after two deadly crashes of Boeing Co.'s 737 Max.
The commission will evaluate how the Federal Aviation Administration oversees the process of reviewing and approving new plane models, including the government's growing use of aircraft manufacturers' employees to sign off on designs.
"Safety is the No. 1 priority of the Department, and this review by leading outside experts will help determine if improvements can be made to the FAA aircraft certification process," Transportation Secretary Elaine Chao said in a statement.
The new review adds to the stepped-up scrutiny of the 737 Max as Boeing works with airlines and regulators this week to prepare a software update for the workhorse jetliner. A criminal investigation led by the Justice Department is also underway, as is an audit by the Transportation Department's inspector general of the 737 Max's approval. The Senate is holding a hearing Wednesday to review aviation safety in the wake of the two crashes.
Meanwhile, nearly two weeks after the FAA grounded the planes after evidence emerged linking the two crashes, airlines are warning of more flight cancellations to come.
American Airlines and Southwest Airlines are offering customers a cushion for how long they can cancel or rebook their flights. Air Canada told its passengers to brace for cancellations heading into July.
American Airlines, which has 24 Max planes in its fleet, said Sunday that it would extend cancellations through April 24. The carrier said it expects to cancel roughly 90 flights a day based on its April schedule.
Southwest Airlines said Monday that it's handling an average of 130 cancellations a day, out of more than 4,000 flights throughout its system. The airline has idled 34 Max aircraft and is making cancellations five days out. Last week, the airline said that any customer booked on a canceled Max flight could rebook without any additional fees or fare differences within 14 days of the original travel date.
Air Canada announced last week that it would remove all 24 Max aircraft from its flight schedules through at least July 1. Those planes, on average, carry 9,000 to 12,000 of its customers a day, the airline said.
Boeing, meanwhile, is working with pilots and regulators on its software and training updates for its 737 Max. Two hundred pilots and regulators are expected to join a training session Wednesday at the company's Renton, Wash., plant.
This story was compiled from Times wire services. Alan Levin and Ryan Beene write for Bloomberg; Rachel Siegel and Aaron Gregg write for the Washington Post.
---
Your guide to our new economic reality.
Get our free business newsletter for insights and tips for getting by.
You may occasionally receive promotional content from the Los Angeles Times.