Boeing can adjust if Lion Air cancels its 737 MAX orders, analysts say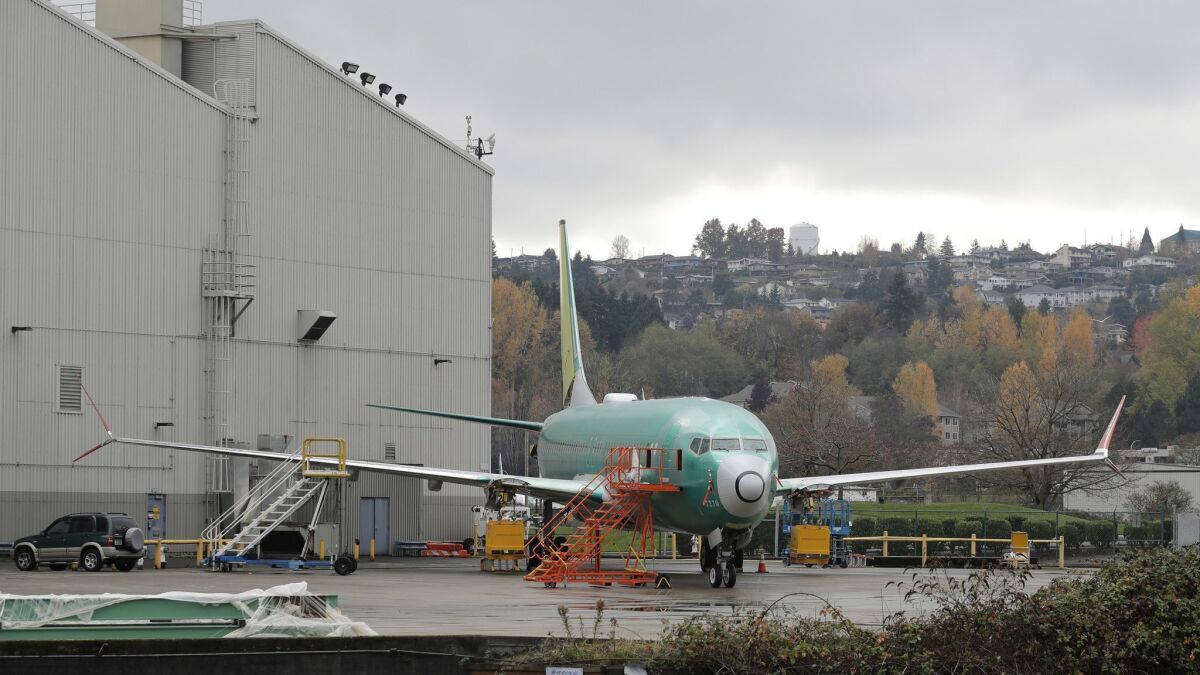 Even if Indonesian airline Lion Air decides to cancel its order of almost 200 Boeing 737 aircraft, as reported Wednesday, the move would not deal a deathblow to Boeing Co.'s line of popular narrow-body airplanes, analysts said.
Lion Air's founder told Bloomberg Wednesday that he was "preparing documents to propose cancellations," saying he felt "betrayed" by the Chicago aerospace giant's suggestion that the Indonesian carrier was to blame for the October crash of a new Boeing 737 MAX aircraft that killed all 189 people on board.
In a statement, Boeing called Lion Air a "valued customer."
A preliminary report late last month from Indonesian authorities found that the pilots had repeatedly struggled to control the aircraft as an automated flight control safety system repeatedly pushed the plane's nose downward.
Lion Air is a major player in the growing Southeast Asia market and ordered a large number of 737s, but analysts said other airlines are unlikely to follow its lead.
The backlog of almost 4,700 orders for the 737 MAX shows the plane's continued importance to Boeing's growth plans. The 737 MAX — a more fuel-efficient, fourth-generation version of the 737 narrow-body line — is a "cash cow" for the company, said Scott Hamilton, managing director of aviation consultancy firm Leeham Co.
Lion Air's orders make up about 4% to 5% of that backlog, analysts estimated.
Boeing produces 737s at a rate of 52 per month and delivered 407 of them in the first nine months of this year, according to Boeing's earnings report for the three-month period that ended September 30.
The 737 and the 777 "carried Boeing through all the tough times" with delays in the company's wide-bodied 787 aircraft, Hamilton said.
"It's not a deathblow if these get canceled for Boeing because they have so many 737 orders on the books right now," said Chris Higgins, senior equity analyst at Morningstar.
A cancellation from Lion Air would not tarnish the 737 MAX image as much as if that mandate came from, say, Southwest, which is better known globally, Higgins said.
In a note to clients Wednesday, J.P. Morgan Chase analyst Seth Seifman said he expected "minimal financial impact" to Boeing with regard to the Lion Air crash. While the potential Lion Air cancellation was "something to watch," he wrote that it was "far from clear" whether the airline would follow through.
"More important to us is that global airlines continue taking delivery of MAXs and flying passengers on them daily," Seifman wrote.
Boeing could even see a silver lining from such a cancellation by offering those delivery positions to other carriers, which could speed a 737 to customers faster than Airbus a320s are being delivered, Hamilton said.
"Boeing could help protect its market share by offering these delivery spots up to someone else, and they would reduce exposure to dicey credit," he said.
Lion Air plans to expand in Southeast Asia, which is seen as the biggest growth market for the next 20 years. About 10% of the backlog for Airbus and Boeing orders of aircraft with 130 seats and above are for Southeast Asia, Higgins said.
"It's really been a high-growth area in terms of air travel demand because of economic growth going on there, more people moving into the middle class and the fact that there's limited travel options," he said.
On Wednesday, both Southwest Airlines and American Airlines — two of the three U.S. carriers that fly the 737 MAX — said they had no plans to cancel their orders. United Airlines did not have an immediate response to a request for comment.
The reason is due to the lack of safety concerns about the actual aircraft, analysts said. The preliminary crash report did not pinpoint the cause of the accident, but described how pilots handled warnings from the so-called Maneuvering Characteristics Augmentation System and recommended Lion Air improve its safety culture, according to Bloomberg. That system is intended to assist pilots by automatically pushing the aircraft's nose downward in anticipation of a stall.
"The airplane is safe to fly when you know what to do if a problem comes up," Hamilton said. "There's nothing wrong with the airplane. It's a matter of knowing about this new system and knowing what to do if some sort of anomaly appears."
The Allied Pilots Assn., which represents American Airlines pilots, and the union representing Southwest pilots have said flight manuals for the 737 MAX aircraft did not have an explanation of the MCAS feature implicated in the crash.
Twitter: @smasunaga
---
Sign up for the California Politics newsletter to get exclusive analysis from our reporters.
You may occasionally receive promotional content from the Los Angeles Times.