Additional delays likely for SpaceX and Boeing astronaut capsules, report says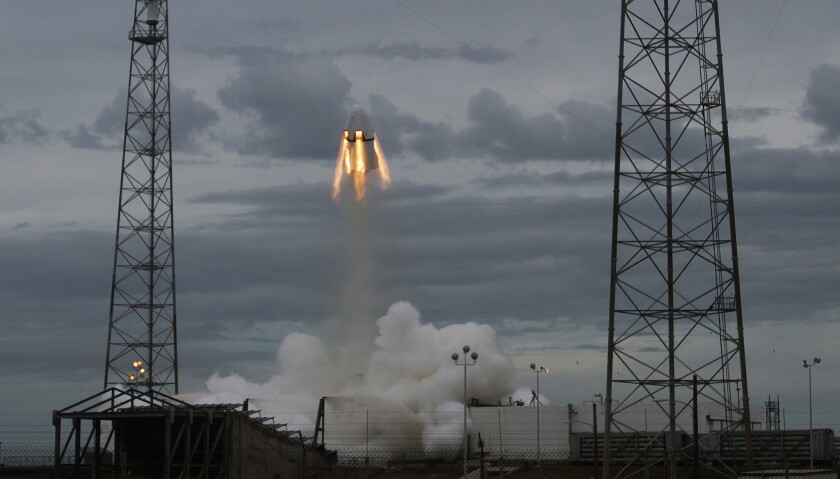 NASA should make alternative plans to ensure access to the International Space Station beyond 2018 because of further delays that are likely for SpaceX and Boeing Co. in certifying their astronaut transport capsules, according to a government watchdog report released Thursday.
The two companies are each building spacecraft that will ferry astronauts to the space station. The U.S. Government Accountability Office report predicted that, despite plans to certify those capsules next year, that process is likely to slip to 2019.
Since the space shuttle program ended in 2011, the U.S. has relied on the Russian space agency to take astronauts to the space station. That contract is set to expire in spring 2019.
"If NASA does not develop a viable contingency plan for ensuring access to the ISS in the event of further Commercial Crew delays, it risks not being able to maximize the return on its multibillion-dollar investment in the space station," the report states.
SpaceX is planning an unmanned test flight of its crew capsule in November, while Boeing's first test flight is slated for 2018. Both companies are pointing to 2018 for their first crewed test flights.
The GAO said both companies have "aggressive development schedules" that are "increasingly under pressure." It cited several risks for each firm that could delay certification.
A top risk for Chicago-based Boeing is a possible need for more testing of the parachute system that helps the company's capsule land.
Last March, Boeing had decreased the number of parachute system tests from six drop tests that examine the various forces on the capsule to one full-scale test that simulates all of the system's attributes. After discussions with NASA's commercial crew program, Boeing increased the number of full-scale tests to five, with the option of an additional two if necessary.
The company said in a statement that it has tested its landing system over the last five years.
"While there will always be tremendous interest in key dates, providing astronauts with safe crew transportation to and from the International Space Station is our first and most important priority," Boeing said.
A key risk for Hawthorne-based SpaceX is the potential for "unplanned design changes" to the company's Falcon 9 rocket, the report said.
In 2015, SpaceX identified cracks in the turbines of its engine during qualification testing, and it later found additional cracks. Commercial crew program officials told SpaceX that the cracks were an "unacceptable" risk for human spaceflight. The company has already made design changes that, according to SpaceX officials, "did not result in any cracking during initial life testing," the report said.
Final design changes will be incorporated into spacecraft that will fly later this year, SpaceX President Gwynne Shotwell told reporters in a briefing Friday at Cape Canaveral, Fla., where the company is aiming to launch supplies to the space station for NASA on Saturday morning from Launch Complex 39A at Kennedy Space Center.
She also said she was "confident" the company would meet its deadline and fly crew in 2018.
During the briefing, Shotwell said the company's Red Dragon uncrewed mission to Mars is now pushed to 2020. SpaceX Chief Executive Elon Musk had set a 2018 deadline for the mission last spring. Shotwell said the company felt it needed to focus on the astronaut capsule, as well as development of its heavy-lift rocket, the Falcon Heavy, which she said was scheduled for its maiden flight this summer.
---
UPDATES:
Feb. 17, 1:15 p.m.: This article was updated with comments from SpaceX President Gwynne Shotwell.
This article was originally published on Feb. 16 at 3:15 p.m.
---
Your guide to our clean energy future
Get our Boiling Point newsletter for the latest on the power sector, water wars and more — and what they mean for California.
You may occasionally receive promotional content from the Los Angeles Times.