California gains more than 39,000 jobs; unemployment falls to record low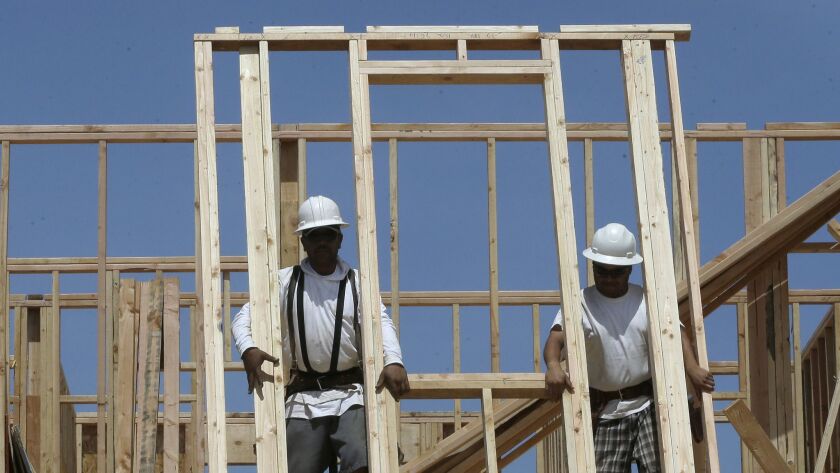 The California economy rebounded from a disappointing March and added 39,300 net new jobs last month, as the unemployment rate fell to a new record low of 4.2%, according to data released Friday by the state Employment Development Department.
The report indicates that the California economy remains robust despite some fears job growth was tapering off. April showed marked improvement compared with March — which itself was better than originally believed. The original estimate showed California lost jobs that month, but that was revised upward Friday to job gains of 5,400.
"Each month in 2018, it seems that California's employment boom will end, and each month it continues," said Michael Bernick, an attorney with Duane Morris and a former director of the Employment Development Department.
April's growth was widespread: Employers added jobs in 10 of the 11 industry sectors. The largest gain came in construction, where employers added 10,000 jobs. The professional and business services sector saw an increase of 8,500, while trade, transportation and utilities gained 6,900 jobs.
Education and health services posted gains, as did a category that includes tech firms and movie studios.
"The California economy remains very strong," said Lynn Reaser, chief economist of the Fermanian Business & Economic Institute at Point Loma Nazarene University. "It's generating job opportunities across almost all our major sectors."
Even so, there were disappointments. Manufacturing shed 1,400 jobs compared with the prior month. And the unemployment rate fell from 4.3% in part because people dropped out of the labor force.
Average hourly earnings for all private employees rose barely faster than inflation, climbing just 2.3% from a year earlier to $30.65, according to a closely followed survey from the Bureau of Labor Statistics.
Other wage measures indicate faster growth, but many economists remain puzzled why increases aren't stronger as the pool of available workers shrinks. They've offered various explanations, including declining bargaining power among workers and sluggish productivity growth.
"We are certaintly not seeing the kind of wage gains one would expect at this point," said Robert Kleinhenz, an economist with Beacon Economics.
Overall, though, experts said the economy should continue to expand into 2019, hopefully increasing the pressure on employers to give workers raises.
Bernick said healthcare companies he talks to are debating raising pay for low-wage caregivers, whom they are increasingly finding tough to recruit and retain.
"In home healthcare in particular you find a real scramble for employees," he said.
All Southern California metro areas saw an increase in jobs last month:
San Diego County added 11,200 jobs, the most of any area in the state.
Orange County, 10,900 jobs.
Los Angeles County, 6,400.
The Inland Empire, 1,900.
Ventura County, 500.
"Good numbers," said Dave Smith, an economist at the Pepperdine University Graziadio School of Business and Management. "There are no signs of a potential downturn. The potential risk factors are overheating."
andrew.khouri@latimes.com
Follow me @khouriandrew on Twitter
---
UPDATES:
3:40 p.m.: This article was updated with additional analysis and comment from economists.
This article was originally published at 9:55 a.m.
---
Must-read stories from the L.A. Times
Get the day's top news with our Today's Headlines newsletter, sent every weekday morning.
You may occasionally receive promotional content from the Los Angeles Times.