California added jobs in March, particularly in construction and manufacturing
California added jobs at a modest rate in March, reflecting an economy that is close to full employment after 108 months of expansion, one of the longest runs since World War II.
Net payroll jobs increased by 24,500 to 17.35 million, a slight improvement over February's revised gain of 20,900, according to data released Friday.
Year-over-year, employment growth was 1.4% as companies have struggled to find enough workers in a tight labor market.
"Aches and pains associated with the aging economic recovery process are beginning to show up," said Sung Won Sohn, a Loyola Marymount University economist.
In March, he noted, the state's labor force — both those with jobs and those seeking work — declined by 2,490. "The state could be running out of potential new workers — students, mothers, retirees," Sohn said. "Without new people joining the labor force, economic and job growth could be constrained."
The March unemployment rate edged up slightly to 4.3%, from 4.2% in February. A year earlier, joblessness also stood at 4.3%.
The U.S. unemployment rate remained at 3.8% as the nation's employers added a healthy 196,000 payroll jobs last month.
Boosted by low mortgage interest rates and balmy weather, construction added 9,400 jobs in California last month, the most of any sector.
"Construction has been the most turbulent sector over the past decade," said Michael Bernick, a former director of California's Employment Development Department.
In August 2006, 939,500 construction workers had jobs. By 2010, in the wake of the Great Recession, the state's construction employment had fallen to 550,000 jobs. "Since 2010," Bernick said, "it has gained steadily and is now up to 868,900 jobs."
California's second-highest job growth last month was in manufacturing, which added 4,700 positions for a total of about 1.3 million. "Not bad for a sector that has long been declared dead in California," Bernick said.
Nationwide, manufacturers lost 6,000 jobs in March, driven by uncertainty in the auto sector as a replacement for the North American Free Trade Agreement with Mexico and Canada, remained in limbo.
The largest drop in California employment last month was in the broad sector of trade, transportation, and utilities, which shed 5,800 jobs. One likely cause is President Trump's escalating trade war with China and European nations, economists said.
But Sohn also pointed out that "retailing is shifting from offline to online. Hundreds of stores are being closed as the Amazon effect continues."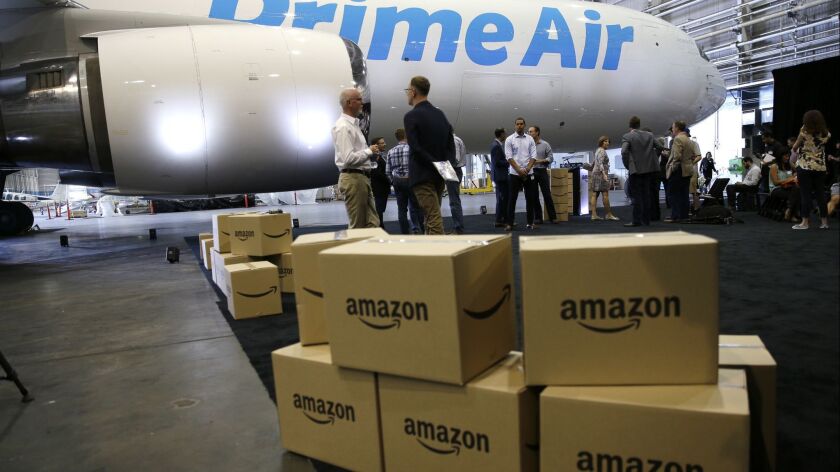 The monthly employment report is based on two sets of data. The unemployment rate is derived from a federal survey of 5,100 California households. A larger and less variable survey of 80,000 California businesses measures jobs in the economy.
Whereas month-to-month numbers can jump around, year-over-year statistics offer a more complete view of economic trends.
Between March 2018 and last month, the largest state gains were in professional and business services, up 65,900 (2.5%). That sector includes professional, scientific and technical jobs, many of them in the Bay Area, Sohn said.
"The digital revolution and the desire of businesses to improve productivity and cut costs are at the heart of the economic strength," he said.
The second fastest-growing sector over the year was educational and health services, up 64,100 jobs (2.4%). "In a digital economy, more people are receiving training to gain knowledge," Sohn said, while healthcare businesses are expanding as the population ages.
The tight job market is affecting staffing agencies, which have garnered a growing share of jobs.
"There are only so many qualified people to fill jobs in emerging markets — whether programming and language needs in IT, new materials and technology in engineering, or middle-skilled workers like machinists, technicians, machine programmers or operators," said Genine Wilson, a regional vice president at the giant temp agency Kelly Services.
"Employers should consider forging stronger partnerships with local trade schools and colleges to better source talent," she said.
The only California industry posting a year-over-year decline was financial activities, with a job loss of 4,200 to a total of 833,500. The dip "reflects the automation of services going on among California's financial institutions," Bernick said.
Among Southern California counties, year-over-year data showed:
Los Angeles County added 37,700 jobs (up 0.8%) for a total of about 4.54 million. The strongest growth was in health care and social assistance (up 15,800 positions), and professional and business services (up 14,600). The largest losses were in motion pictures and sound recording (down 11,000) and financial activities (down 5,800). Los Angeles unemployment rate was 4.6% in March, down from 4.7% a year earlier.
Orange County added 14,200 jobs (up 0.9%) for a total of about 1.66 million. The strongest growth was in professional and business services (up 8,300 jobs) and in health care and social assistance (up 2,800). The largest loss was in construction (down 2000 jobs). Orange County's unemployment rate was 3.2% in March, up from 3% a year earlier.
The Inland Empire counties of Riverside and San Bernardino added 20,600 jobs (up 1.4%) for a total of about 1.51 million. Leisure and hospitality and government recorded the strongest gains each, adding 3,200 jobs. The largest loss was in trade, transportation, and utilities (down 3,800). The Inland Empire's unemployment rate was 4.5% last month, up from 4.3% a year earlier.
Twitter: @margotroosevelt
---
For reporting and exclusive analysis from bureau chief John Myers, get our California Politics newsletter.
You may occasionally receive promotional content from the Los Angeles Times.