Los Angeles seeks $1.45 million from Carl's Jr. for alleged minimum-wage violations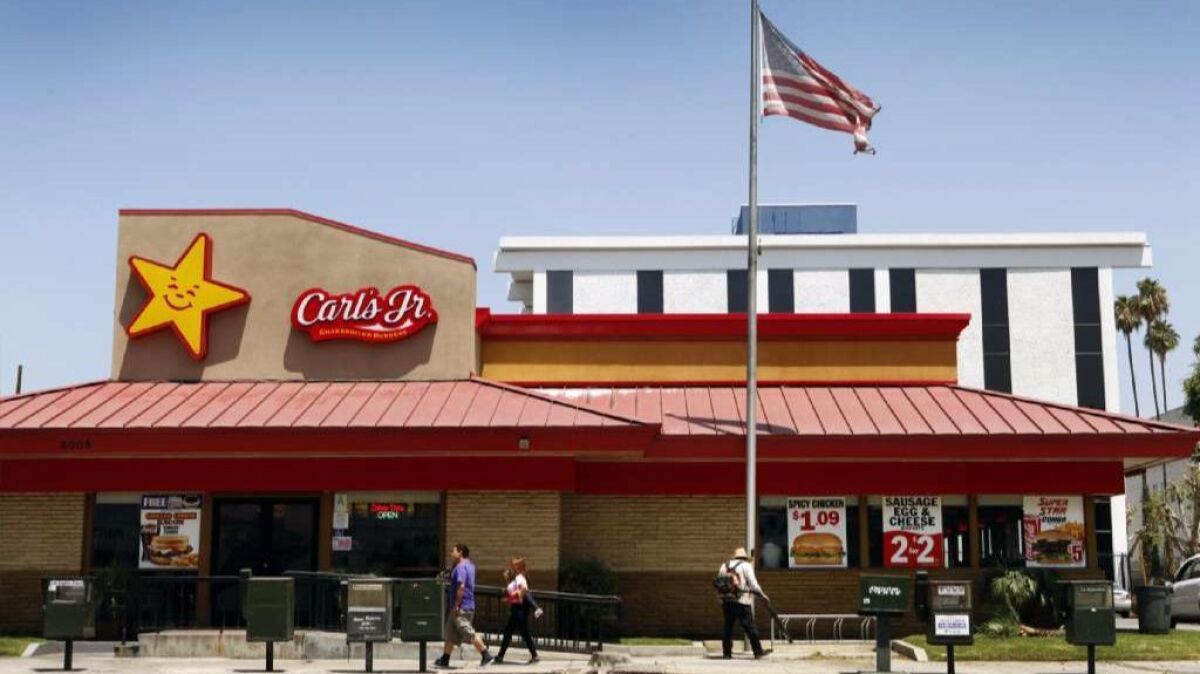 Los Angeles city officials alleged Monday that fast-food chain Carl's Jr. failed to pay the minimum wage to three dozen local workers for six months and is demanding $1.45 million in fines and restitution.
"L.A. law is clear: Employees must be paid at least the minimum wage," City Atty. Mike Feuer said in a statement. "Anything less is a slap in the face to workers struggling to make ends meet. This is a major corporation that should know the rules."
Carl's Jr.'s parent, CKE Restaurants Holdings Inc., blamed the shortfall on "an inadvertent payroll error." It said the 37 employees affected "were swiftly made whole" already in the total amount of $5,400.
The Franklin, Tenn.-based chain also said the city's demand for $1.45 million was "on its face simply unreasonable" and unconstitutional.
After getting a tip from a Carl's Jr. employee, the city's Office of Wage Standards, part of the Bureau of Contract Administration, and Feuer launched an investigation.
They alleged that Carl's Jr. failed to pay the workers the Los Angeles minimum wage of $10.50 an hour from July 1 through Dec. 31 last year.
The employees worked at seven of the chain's 13 locations in Los Angeles and were paid $10 or $10.25 an hour instead of $10.50, Feuer said in a telephone interview.
The shortfall "was not a small deal" for the workers because it "had a significant impact on their families' well-being," Feuer said, adding that he did not know if the problem extended beyond the Los Angeles area.
The Los Angeles minimum wage was lifted to $10.50 an hour from $10 last July 1 as the first step in a graduated plan to have a $15-an-hour minimum wage in 2020. The minimum wage in Los Angeles is set to rise again, to $12 an hour, on July 1.
City officials also alleged that in two Los Angeles restaurants, Carl's Jr. failed to post the notice of the current minimum-wage rate, sick-time benefits and employee rights as required under the city's minimum-wage ordinance.
The city is demanding the company pay $910,010 in penalties to the 37 employees involved, and an additional $541,423 in penalties and fines.
If CKE fails to make the payments, it could result in a civil legal action against the company, the city said.
CKE in its statement said "our employees have been made whole and we are willing to pay a reasonable fine for our mistake. However, given the excessive demands of the [Office of Wage Standards], we have no choice but to defend against any OWS actions."
CKE also explained that the company "mistakenly did not realize that some of the restaurants were in the city of Los Angeles because address listings for these restaurants were non-Los Angeles street addresses."
As for whether the problem extended beyond Los Angeles, CKE said "we are ensuring that all of our employees have been properly paid in accordance with applicable laws."
Feuer stood by the size of the penalties and restitution, noting among other things that the failure to pay the minimum wage affected seven locations in Los Angeles, which "represents a systemic failure to comply with the city's laws."
"Carl's Jr. has immense financial resources and significant penalties are necessary to deter future violations," he said.
In addition to Carl's Jr., CKE owns the fast-food outlets Hardees, Green Burrito and Red Burrito. Overall the company has 3,800 outlets in 44 states and 40 foreign countries.
CKE's former chief executive, Andy Puzder, stepped down in April and was replaced by fast-food veteran Jason Marker.
President Trump had nominated Puzder to be Labor secretary. But Puzder withdrew his name in February in the face of stiff opposition from congressional members, unions and workers' rights advocates.
Puzder not only came under fire for having hired a housekeeper who was in the United States illegally, he also was criticized for comments opposing a minimum-wage hike — he had written op-ed pieces saying it would curb employment opportunities — and for extolling the advantages of increased automation at restaurants.
In an interview last year with the Business Insider website, he noted that machines are "always polite, they always upsell, they never take a vacation, they never show up late, there's never a slip-and-fall, or an age, sex, or race discrimination case."
In March, Carl's Jr. rolled out a new advertising campaign focused on the quality of its hamburgers, a departure from the long campaign under Puzder that featured scantily clad models and celebrities eating dripping burgers.
Twitter: @PeltzLATimes
---
UPDATES:
3 p.m.: This article was updated with additional comments from City Attorney Mike Feuer and from CKE Restaurants.
1 p.m.: This article was updated with details about CKE's operations, its former CEO Andy Puzder and its new ad campaign.
This article was originally published at 12:20 p.m.