Can consumer loans ever be so expensive they break the law? The California Supreme Court says yes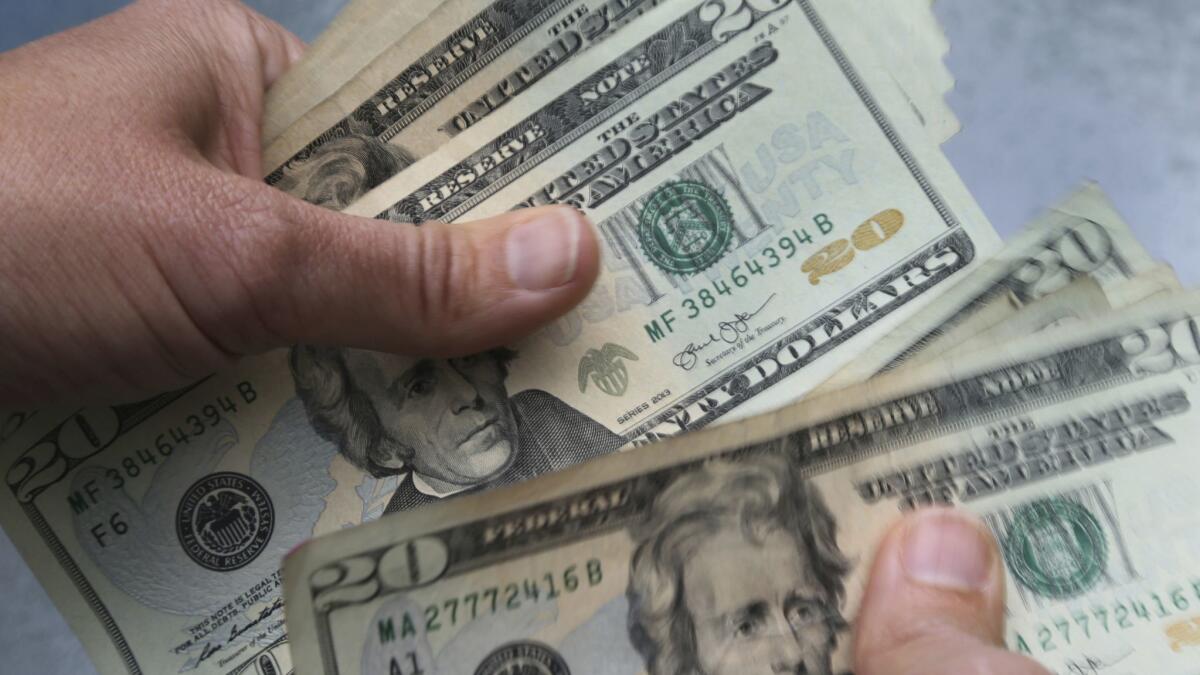 California's high court has ruled that interest rates on consumer loans can be so high that they become "unconscionable" and, therefore, illegal — a decision that could call into question the validity of millions of loans and upend the state's subprime lending market.
In a unanimous opinion released Monday morning, the California Supreme Court said courts "have a responsibility to guard against consumer loan provisions with unduly oppressive terms," including interest rates, despite state laws that have until now allowed lenders to charge whatever the market will bear.
California lending law sets maximum rates for loans up to $2,499 but no cap on loans of $2,500 and up. However, when lawmakers removed interest-rate caps on those larger loans in the 1980s, they included language that allowed loan terms to be found "unconscionable."
Attorneys representing a class of CashCall borrowers in 2008 sued the company in federal court over loan rates and other terms that they argued made the loans unconscionable. The plaintiffs borrowed from CashCall at rates of 96% or 135% from 2004 to 2011.
CashCall, based in Orange County, offers consumer loans at interest rates topping 100%. Its attorneys argued that by removing a cap on interest rates, the Legislature intended to allow lenders to set their own rates without interference from state regulators.
The case, De La Torre vs. CashCall, is before the U.S. 9th Circuit Court of Appeals, which asked the state high court to weigh in on California lending law — specifically whether a high interest rate alone could be unconscionable and thereby void a loan.
"The answer is yes," Associate Justice Mariano-Florentino Cuéllar wrote in an opinion signed by all seven justices.
The Supreme Court did not, however, find that CashCall's rates are unconscionably high. The opinion leaves it to state regulators and other courts to determine if or when rates cross that threshold.
Nor did the ruling provide clear guidance on the issue, with Cuéllar stating that a court should only declare interest rates unconscionable if, given all the other terms and facts of a loan, the rate is "unreasonably and unexpectedly harsh" as to "shock the conscience."
The high court acknowledged the difficult position its opinion will put other judges in.
"We recognize how daunting it can be to pinpoint the precise threshold separating a merely burdensome interest rate from an unconscionable one," Cuéllar wrote.
Many other states, including New York, have interest-rate limits on such high-dollar loans, while some are largely unregulated. Monday's opinion only applies to loans made in California by state-licensed lenders.
The De La Torre case will now go back to the 9th Circuit and potentially back to federal district court in San Francisco for a trial. Jim Sturdevant, an attorney who represents the borrowers in the case, said he expects a trial to be held next year.
He called Monday's opinion "a dramatic, full-throated victory" for consumers.
Sturdevant said that he intends to argue at trial that CashCall's loans were unconscionable because of both the interest rates and other loan terms — including repayment plans that stretch on for years and high default rates. A CashCall executive said in a court filing that 40% to 45% of CashCall borrowers default on their loans.
Sturdevant's clients sued CashCall under California's unfair competition law, which has a four-year statute of limitations. That could mean that any borrower who has taken out a high-interest loan in the last four years could try to sue their lender claiming an unconscionable interest rate.
Last year alone, state-licensed lenders in California made more than 350,000 consumer loans with interest rates of 100% or higher. Such loans, which have become increasingly common, often have payment plans that stretch out for years, meaning borrowers can wind up paying many times the original loan amount.
Monday's opinion could have big implications for California's lending market, causing confusion and concern among high-interest lenders, said Catherine Brennan, a partner at law firm Hudson Cook who represents consumer lenders.
"If you have APRs that are on the high side, you need to be looking at your program in California," she said.
While lenders await an outcome in the De La Torre case and seek more clarity about what rates and terms might run afoul of judges, Brennan said some lenders may scale back or halt their lending.
"There's no bright line," she said. "That uncertainty is what's going to tighten up credit in California."
Lenders argued as much in briefs submitted to the state Supreme Court this spring.
Several trade groups, including the Online Lenders Alliance and the California Financial Service Providers Assn., said a ruling that rates can be unconscionably high would "disrupt the robust market for these loans" and force lenders "to scale back their credit offerings or exit the market."
The groups were concerned in particular that a finding in De La Torre's favor could mean that judges would be able to invalidate loans made years ago and that lenders could find themselves swamped with consumer lawsuits.
"The possibility of litigation brought by each individual borrower long after the loan was made … will increase costs enormously," the groups wrote.
Trade groups and attorneys for CashCall did not respond to requests for comment Monday.
Brad Seiling, a partner at law firm Manatt Phelps & Phillips who is representing CashCall, told justices in June that, under current law, lenders can charge whatever the market will bear. Associate Justice Leondra Kruger asked if that would include interest rates of millions of percent. Seiling said it would.
"Under the statute, the way it's drafted, yes, that rate would be permitted under the statute," he said, though he also said he believed rates would never get that high because no customer would take out such a loan.
"The market regulates these interest rates," he said. "In a freely competitive market, if someone is out there advertising, 'Come get my 1,000% loan,' that lender is going to be out of business."
CashCall was one of the first players in this market, but it is not alone in offering loans with triple-digit interest rates in California.
In each of the last three years, the majority of loans of $2,500 to $5,000 — the most common size range tracked by state regulators — have carried rates of 100% or more. Hundreds of thousands of such loans are made each year. By comparison, in 2007, lenders made just 870 loans in that size and interest-rate range.
The growing popularity of such expensive loans had led to new efforts to rein in the industry, parts of which are more tightly regulated than others. California law limits the fees lenders can charge for payday loans, which can be no more than $45 for a $255 loan. The state also caps the interest on loans of up to $2,500 at 20% to 30%.
State lawmakers over the last two years have introduced a handful of bills that would cap interest rates on loans above $2,500, but no bill has made it through the Legislature so far.
Graciela Aponte-Diaz of the Center for Responsible Lending, an advocacy group that has pushed for rate caps and other regulations, said the court decision could spur lawmakers to pass some kind of rate limitation rather than leave the courts to determine what rates are acceptable. She also said the opinion, and the uncertainty it could prompt, could push lenders to support some kind of cap.
"I hope this does bring [lenders] back to the table," she said.
Twitter: @jrkoren
---
UPDATES:
4 p.m.: This article was updated with more background on California's consumer lending industry.
1:45 p.m.: This article was updated with more details on the case and the decision, as well as comments by plaintiffs attorney Jim Sturdevant and Graciela Aponte-Diaz of the Center For Responsible Lending
This article was originally published at 11:25 a.m.