Who are California's top-paid CEOs?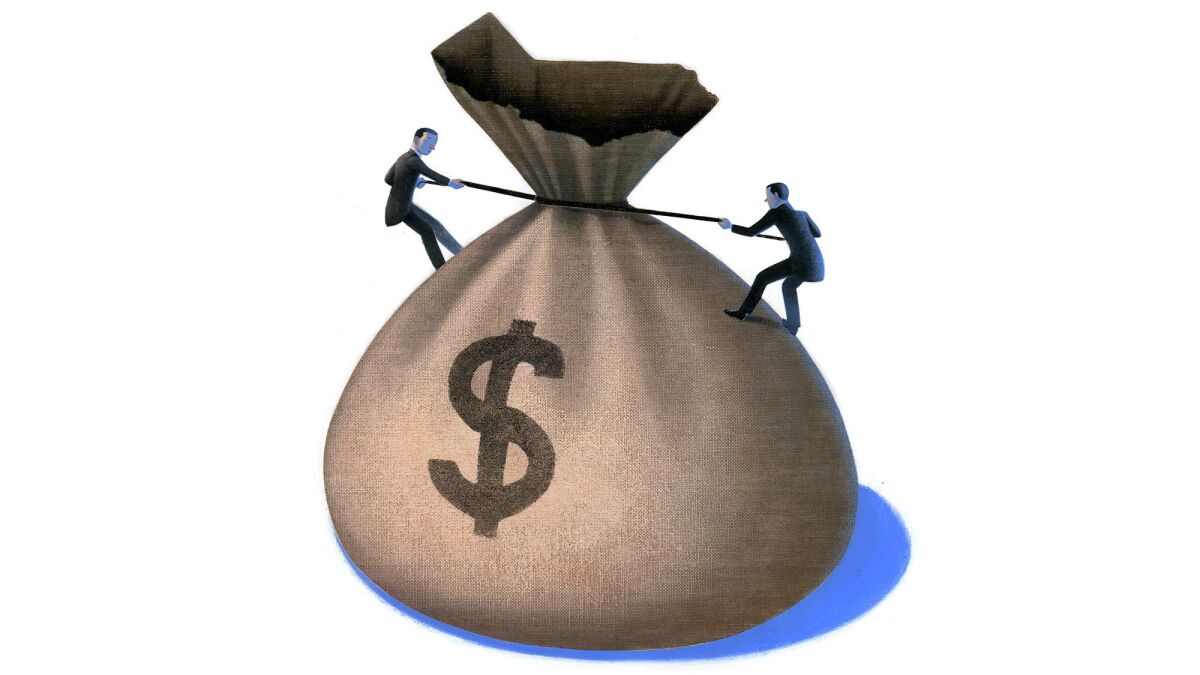 Among the top executives of California's biggest companies, the highest paid, Mark Hurd, works for a tech company in the San Francisco Bay Area.
So does the second best. And the fourth. And the fifth. Among the top five, Disney's Robert Iger stands alone as the only CEO from outside of Silicon Valley's burgeoning technology industry.
To judge by this list, which ranks the total compensation awarded last year to the chief executives of California's 100 largest public companies, it pays to work in Silicon Valley.
Of the executives on the list, 61 run companies in Northern California, nearly all of them based in the 50-mile stretch between San Jose and San Francisco. And 47 are in the technology business, running firms that do such things as create software, make computer chips and operate data centers.
Best-paid Northern California executives Four of the five top-paid CEOs in Northern California run Silicon Valley tech firms. Search the full list >>
Executive
Company
Compensation
List rank
Industry
City
Mark Hurd
Oracle
$53,245,128
1
Tech
Redwood City
Safra Catz
Oracle
$53,243,670
2
Tech
Redwood City
Marissa Mayer
Yahoo
$35,981,107
4
Tech
Sunnyvale
Marc Benioff
Salesforce.com
$33,362,903
5
Tech
San Francisco
John Hammergren
McKesson
$24,844,555
6
Biotech and Pharmaceuticals
San Francisco
Source: Equilar
The Silicon Valley-heavy list is a testament to the continued growth of the tech business, with more technology firms climbing into the ranks of the state's largest companies and more of them able to afford the lavish pay packages that put their CEOs atop the list.
Hurd and Safra Catz, the co-CEOs of Redwood City software giant Oracle Corp., each received more than $53 million in total compensation last year. Marissa Mayer, the chief executive of struggling Web pioneer Yahoo Inc., took home just shy of $36 million. The CEOs of Salesforce.com Inc., LinkedIn Corp. and Cisco Systems Inc. all made the top 10.
The list was compiled by Equilar Inc., an executive compensation solutions firm, drawing on 2015 fiscal year proxy statements filed by June 8. It ranks the executives by total compensation, which includes base salary, bonuses, stock and option awards, as well as other compensation, such as company-paid benefits.
But the list paints an incomplete picture of executive pay in California, and of the state's economy as a whole. Though most of the largest firms and highest-paid bosses are in the Bay Area, Southern California has a much larger and more diverse economy, said Chris Thornberg, an economist at West L.A. consulting firm Beacon Economics.
Best-paid Southern California executives The top CEOs in Southern California make less than their northern peers but come from a wider range of industries. Search the full list >>
Executive
Company
Compensation
List rank
Industry
City
Robert Iger
Walt Disney
$44,913,614
3
Entertainment
Burbank
Michael Burke
Aecom
$18,613,191
12
Engineering and Construction
Los Angeles
Debra Reed
Sempra Energy
$16,135,772
18
Energy
San Diego
Robert Bradway
Amgen
$16,097,714
19
Biotech and Pharmaceuticals
Thousand Oaks
Jay Gellert
Health Net
$14,308,889
27
Healthcare
Woodland Hills
Source: Equilar
The list captures only the top executives of companies that are public and that are based in the state, metrics that leave out many of the companies and industries that are big players in the southern half of the state.
Entertainment is a huge industry in Southern California, but entertainment and media companies are nearly unrepresented on the list because of the quirks of their corporate parentage. Warner Bros. and NBC Universal have big operations here but they are subsidiaries of Time Warner Inc. and Comcast Corp., respectively, both based on the East Coast.
The same goes for aerospace and defense firms, including Northrop Grumman Corp., which moved its headquarters from Century City to northern Virginia five years ago but retains a large workforce in Southern California.
"They're based close to D.C., where the Pentagon is, because it's good for their CEOs to be able to hobnob with generals," Thornberg said.
By contrast, the largest tech companies were born and to this day remain in the Bay Area, and they are not likely to leave.
Along with overweighting the influence of Silicon Valley, the list has one other notable limitation: It is not strictly a ranking of the highest-paid executives in California. The state is home to a handful of executives who made much more than the best-paid public company CEOs on the list but who, for various reasons, are not ranked.
SIGN UP for the free California Inc. business newsletter >>
For instance, Los Angeles billionaire Patrick Soon-Shiong last year made $148 million – one of the largest CEO pay packages in the country – as head of NantKwest Inc.
The Culver City company, which is developing cancer treatments and went public not quite a year ago in July 2015, brought in revenue of just $236,000 last year – consistent with a start-up but not nearly enough to rank among California's largest companies by revenue.
(Soon-Shiong is a major shareholder and vice chairman of Tronc Inc., which owns The Times.)
There's also Sundar Pichai, chief executive of Google, who made $101 million last year.
Google is big enough to make the list, but it's not a public company. Rather, it's a subsidiary of Alphabet Inc. So although Alphabet CEO Larry Page makes the list – at the bottom, with total compensation of just $1 – Pichai doesn't make it all.
Oracle is a public company, and definitely big enough to make the list – its co-CEOs are the highest- and second-highest-paid execs on the list. But there's another Oracle executive you won't find, even though he made more than either of them.
Oracle founder Larry Ellison took home a pay package worth $63.6 million last year but holds the titles of chairman and chief technology officer, not chief executive.
Les Moonves, chief executive of CBS Corp., made $56.8 million last year, according to filings, but he, too, isn't on the list. Though Moonves splits his time between New York and Los Angeles, CBS, like other big media firms, is based in the Big Apple.
Pay disparity
Huge pay packages awarded to CEOs have long raised eyebrows, but over the last few years the conversation has largely shifted to the growing disparity between their lavish pay and the smaller, slower-growing compensation of rank-and-file workers.
Biggest pay disparities Last year, these CEOs made hundreds of times the average pay of workers in their industries. Search the full list >>
Executive
Company
Ratio of CEO's pay to average industry worker
Compensation
Average industry pay
Barbara Rentler
Ross Stores
554
$10,157,789
$18,343
Robert Iger
Walt Disney
477
$44,913,614
$94,192
Mark Hurd
Oracle
362
$53,245,128
$147,045
Safra Catz
Oracle
362
$53,243,670
$147,045
Victor Herrero
Guess
360
$14,090,085
$39,121
Marissa Mayer
Yahoo
342
$35,981,107
$105,167
Sources: Equilar; FactSet Research Systems; Bureau of Labor Statistics
The Economic Policy Institute, a think tank focused on low- and middle-income workers, estimates that, on average, CEOs in 2013 made nearly 300 times more than the typical worker – up from about 20 times more in 1960.
Beginning in 2018, under a new rule required by the 2010 Dodd-Frank Act, public companies will have to report how much executives make compared with the pay of the median employee.
Until the law kicks in, figuring out a company's pay disparity takes a bit of guesswork. The Times used pay figures from the federal Bureau of Labor Statistics to compare CEOs' compensation with the average pay of workers in their industries.
That analysis shows that although CEOs of firms in low-paying industries – such as retailer Ross Stores Inc. and apparel maker Guess Inc. – can make several hundred times the average worker's pay, so too can tech executives, even when compared with their better-paid employees.
The $53.2 million earned by Oracle's co-CEOs last year was about 362 times the $147,000 earned by the average U.S. software worker, according to federal data. That puts the duo among the executives with the biggest pay disparities.
Another issue: More than half of the executives on the list make at least 100 times the average worker pay in their industries, but those figures can change dramatically from year to year, making it difficult to determine who's really getting an outsize deal.
Jon Feltheimer, chief executive of Lions Gate Entertainment Corp., is a perfect example. This year, he's in the lower third of the list, with a pay package worth $6.8 million – about 46 times the average worker's pay in the film and TV industry.
Last year, though, Feltheimer's pay package was much larger, valued at $66.3 million – about 500 times the average worker's pay that year.
So which is the more accurate number – 46 or 500? Probably somewhere in between.
Like many CEOs, much of Feltheimer's compensation comes in the form of stock and options. In 2014, Lions Gate gave Feltheimer nearly $56 million stock and options, which inflated his pay package. But most of those grants will vest over several years, though they're only counted toward total compensation in the year they are first given.
Other CEOs have similar arrangements, creating big changes in pay from one year to the next. Nearly one-third of the CEOs who were on the list last year saw their 2015 pay rise or fall by 25% or more.
"That is a perceived weakness of the [pay] disclosures," said Brian Holmen, a compensation consultant with Korn Ferry Hay Group. "If you happen to be in a year when you get one of those grants, it's eye-catching."
Leaning in
There's still a glass ceiling in corporate America, with women representing a tiny fraction of the nation's top executives. But if this year's CEO compensation list is any measure, the cracks in that ceiling are widening, at least in California.
Among the leaders of the state's 100 largest companies, there were eight female CEOs in 2015. Though still a small number, that's up from four in 2011.
The latest addition is Catz, who assume her co-CEO position at Oracle in 2014. She's also the highest-paid woman, earning $53.2 million.
Thanks in part to that huge pay package, and the $36 million Mayer made at Yahoo in 2015, women on the list make up for their small numbers with relatively high pay.
Highest-paid women Eight women made the list of top-paid California CEOs in 2015, up from four in 2011. Search the full list >>
Executive
Company
Compensation
Safra Catz
Oracle
$53,243,670
Marissa Mayer
Yahoo
$35,981,107
Meg Whitman
Hewlett-Packard
$17,102,385
Debra Reed
Sempra Energy
$16,135,772
Laura Alber
Williams-Sonoma
$13,995,325
Barbara Rentler
Ross Stores
$10,157,789
Lauralee Martin
HCP
$6,878,736
Lisa Su
Advanced Micro Devices
$6,559,194
Source: Equilar
The eight women averaged earnings of more than $20 million, compared with average earnings of $10.7 million for the men. Even excluding the outsize pay of Catz and Mayer, the remaining women averaged $11.8 million.
Holmen said it's hard to draw any conclusions about how female chief executives are paid based on such a small group – but he expects that group to grow.
Many corporations have pushed to make their boards more diverse. In 2015, about 20% of the directors of S&P 500 companies were women, up from 16.6% in 2012, according to advocacy group Catalyst.
"There's been more focus on women in the boardroom and on what a diverse board is," Holmen said. "I think it trickles down. Who hires the CEO? It's the board."
Malli Gero, president of 2020 Women on Boards, isn't convinced. The advocacy group's research shows that companies with female CEOs tend to have more women on their boards, but the reverse isn't necessarily true.
"It's something people think might happen, but I don't know that there's a direct correlation," she said.
Founders
Though the list of the highest-paid CEOs chief executives in California is top-heavy with tech executives, some of the wealthiest and best-known tech execs are found at the bottom.
Lowest-paid founders Chief executives who also founded their companies, some of whom are billionaires, tend to make less than other CEOs. Search the full list >>
Executive
Company
Compensation
List Rank
Lawrence Page
Alphabet
$1
102
Elon Musk
Tesla Motors
$37,584
101
Jack Dorsey
Twitter
$68,506
100
Douglas Bauer
TRI Pointe Group
$4,467,997
86
Aart de Geus
Synopsys
$4,919,139
84
Mark Zuckerberg
Facebook
$5,037,841
83
Sources: Equilar, Los Angeles Times research
Last year, billionaire Facebook CEO Mark Zuckerberg's compensation package was valued at just over $5 million – mostly in the form of security services paid for by the company. That put him at No. 83 on the list. Twitter Inc.'s Jack Dorsey, Tesla Motors Inc.'s Elon Musk and Alphabet's Page, are the three lowest-paid executives on the list, each earning less than $70,000.
Along with being CEOs of those companies, Dorsey, Musk, Page and Zuckerberg are also founders. And this year's list shows that founder-CEOs tend to get paid less.
The 18 founder-CEOs on the list brought home an average of about $9 million last year – or about $9.5 million if you exclude Page and his symbolic $1 compensation package. Either way, that's significantly less than the nearly $12 million paid last year to the average non-founder.
Though not universally true – Salesforce.com Inc. founder Marc Benioff was the fifth-highest-paid CEO last year – founders typically make less money than other CEOs, often because more pay wouldn't be much of an incentive, said Steven Bank, a law professor at UCLA who has studied executive compensation trends.
Take Zuckerberg: Forbes estimates his net worth, consisting largely of his massive holdings in Facebook Inc. stock, tops $47 billion. Because he's already immensely wealthy, and because so much of that wealth is tied up in Facebook stock, the company doesn't need to pay him much, Bank said.
"Zuckerberg isn't going to become the CEO of something else. I could offer him less pay, and he'd still stay," he said. "Being CEO is important to him so he can control the outcome of his fortune."
Facebook's board said as much in corporate filings, reporting that the company believed it did not have to give Zuckerberg a big pay package because his stock ownership "sufficiently aligns his interests with those of our stockholders."
Follow me: @jrkoren
ALSO
Apple sued in China over showing of war film from the 1990s
Fatal Tesla crash exposes lack of regulation over autopilot technology
Has the State Department sided with three Middle Eastern airlines against U.S. carriers?
---
Sign up for the California Politics newsletter to get exclusive analysis from our reporters.
You may occasionally receive promotional content from the Los Angeles Times.