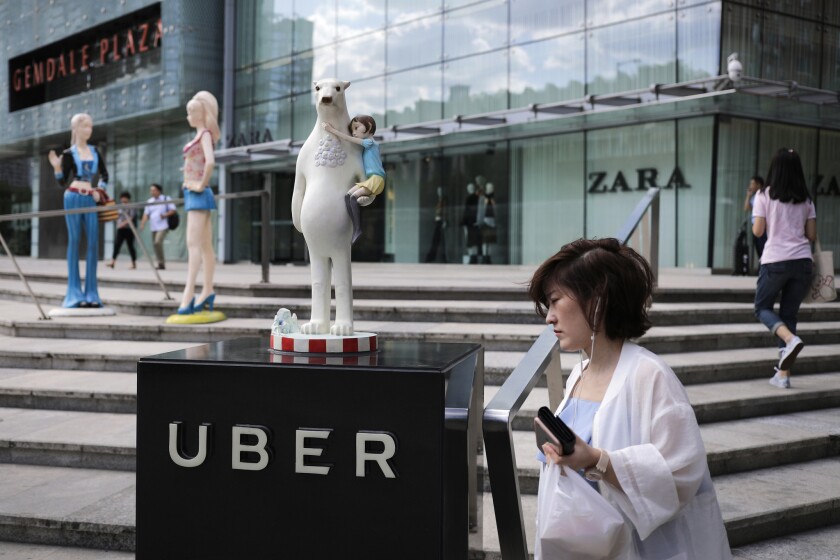 Chinese government regulators have launched investigations into two closely watched takeovers: local ride-hailing giant Didi Chuxing's acquisition of Uber China and Comcast Corp's bid for DreamWorks Animation.
Shen Danyang, a spokesman for the Ministry of Commerce, said Friday that the agency's antitrust department has already met twice with Didi and "demanded that it explain the circumstances of the deal, why it hadn't reported [the deal], and to submit documents and materials pertaining to a list of the Ministry of Commerce's questions," according to Xinhua, China's state newswire.
Shen said the ministry received unspecified complaints about the acquisition of DreamWorks Animation by Comcast because of concerns over competition, according to Bloomberg. DreamWorks operates a studio in Shanghai with Chinese joint venture partners. The U.S. Justice Department declared in June there were no antitrust issues with the $3.8-billion deal, which was finalized between the two companies last week.
Analysts said these kinds of anti-monopoly reviews, especially those involving foreign companies, are not uncommon in China. Most are approved as submitted, but business groups complain that Beijing is using regulation to limit foreign access to promising industries.
"It's a show of authority that it does have to pass muster with the regulatory agency," said William Kirby, a professor of business administration at Harvard Business School who specializes in China. "In that sense, it's not enormously different than the situation would be in the United States."
There is a precedent for Chinese regulators scuttling major foreign deals — Beijing, for instance, rejected in 2014 a merger of European shipping giants Maersk, Mediterranean Shipping and CMA CGM — but Kirby doubts the investigation will halt the Uber-Didi deal.
"We shall see if something more dramatic comes out of it but … at the end of the day, I would be extremely surprised if the deal did not proceed," Kirby said.
China has long been frustrated with failed acquisition attempts by Chinese companies in the U.S. because of national security reviews. The powerful Committee on Foreign Investment in the U.S., better known as CFIUS, has shot down Chinese bids for American wind farms and oil interests. It raised eyebrows when it chose to weigh in on the 2014 Chinese takeover of the largest American pork producer, Smithfield Foods.
Chinese officials argue that CFIUS reviews are often politically driven, whereas antitrust reviews of foreign companies are motivated by business and market conditions.
In August, Didi announced its plans to acquire Uber China's brand, data and business operations. In exchange, Uber will receive a 5.89% share of the combined entity with preferred equity interest, which is equal to a 17.7% economic interest in Didi Chuxing, according to a statement released at the time of the deal.
The new venture's worth is estimated at $35 billion.
Uber operates in more than 60 Chinese cities and plans to increase to more than 100 by the end of 2016. Didi Chuxing, previously Didi Kuaidi, operates in 400 Chinese cities. It said the company completed 1.4 billion rides in 2015.
Didi's owners include Chinese Internet giants Tencent Holdings Ltd. and Alibaba Group.
Shen said the next step will be for the ministry "to continue its investigation of this case in accordance of the law, to protect fair competition in relevant markets, and protect the interests of consumers and the public well-being."
DreamWorks Animation was one of the earliest U.S. entertainment companies to open a studio in China when it entered into a joint venture with Chinese companies called Oriental DreamWorks in 2012. The Shanghai-based studio co-produced "Kung Fu Panda 3." Meanwhile, Comcast's NBCUniversal is building a $3.3-billion theme park outside Beijing.
The acquisition gives Comcast wider access to the world's second-largest film market, which has become a vital driver of international box office revenues that have become increasingly important to Hollywood.
Comcast declined to comment, DreamWorks Animation, Uber and Didi did not respond to requests for comment.
Staff writer David Pierson and the Associated Press contributed to this report.
---
UPDATES:
2:05 p.m.: This article was updated with additional context and reporting.
10:20 a.m.: This article was updated with staff reporting and comments from analysts.
This article was originally published at 9:35 a.m.
---