Trump advisor Larry Kudlow says China 'must do more' to end trade war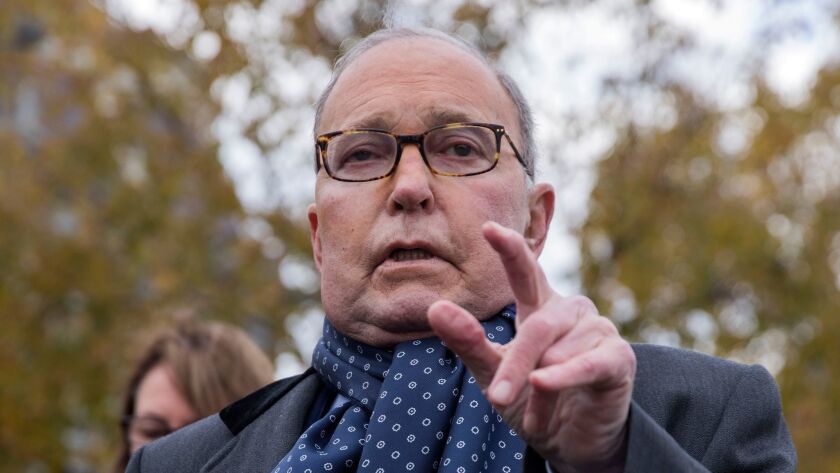 Reporting from Washington —
Larry Kudlow, President Trump's top economic advisor, said Tuesday that China's response to U.S. efforts to rework the two economic superpowers' trade relationship has been "extremely disappointing" but the planned meeting this weekend between the nations' leaders is an opportunity for a breakthrough.
"They have to do more. They must do more," Kudlow, director of the White House National Economic Council, told reporters ahead of a Saturday dinner between Trump and Chinese President Xi Jinping at the Group of 20 Summit in Argentina.
"I think the president is exactly right … to show strong backbone when prior administrations did not, to break through these Chinese walls," Kudlow said. "They're so resistant to change. We have to protect the country. We have to protect our technology, our inventiveness, our innovation."
Kudlow tried to sound optimistic as he discussed the talks for about an hour at the White House. But he also seemed to cast the chances of a breakthrough as a long shot.
On Jan. 1, the United States is scheduled to raise tariffs to 25% on $200 billion worth of Chinese imports. Trump said Monday that he was "highly unlikely" to agree to Beijing's request to hold off on that — a comment that, Kudlow said Tuesday, reflected no change in the president's stance.
The United States placed a 10% duty on those imports in September as part of an escalating trade war between the two nations. Trump has tried to use tariffs as leverage to force China to stop the alleged theft of intellectual property and other unfair trade practices.
Kudlow would not confirm that the tariff increase is a done deal unless there is a breakthrough in the talks, but spoke as if it were. He noted that Trump "has said many times" the duties would increase Jan. 1.
If Saturday's bilateral talks don't produce some movement, Kudlow said Trump might order tariffs on about $267 billion worth of Chinese imports. That would mean all the goods China sends to the United States would be slapped with a duty before entering the country, amplifying the economic impact on businesses that import products and raw materials.
"Disappointment might lead to additional actions," Kudlow said.
"President Xi has an opportunity to change the tone and substance of these talks," Kudlow said. "This is a big opportunity. President Trump has indicated he is open. Now we need to know if President Xi is open."
Asked what might lead to a breakthrough, Kudlow pointed to Trump's reputation as a skilled negotiator. Getting the two leaders in a room to try to hash out the dispute represented potential progress, triggered by Trump reaching out to Xi on trade this month, Kudlow said.
"President Xi may have a lot more to say in the bilateral, the dinner," Kudlow said. "I hope he does, by the way. I think we all hope he does so we can break through these various impasses. But at the moment, we don't see it."
Although the existing tariffs already are having an impact on the U.S. and financial markets, Kudlow asserted that the U.S. economy was strong and the nation was weathering the trade war much better than China.
"With respect to the economics, we are in a very strong position and China is not," he said. "Frankly, I like the negotiation position we're in."
Twitter: @JimPuzzanghera
---
Your guide to our clean energy future
Get our Boiling Point newsletter for the latest on the power sector, water wars and more — and what they mean for California.
You may occasionally receive promotional content from the Los Angeles Times.