China fires back on trade, listing $50 billion in U.S. goods for potential tariff hike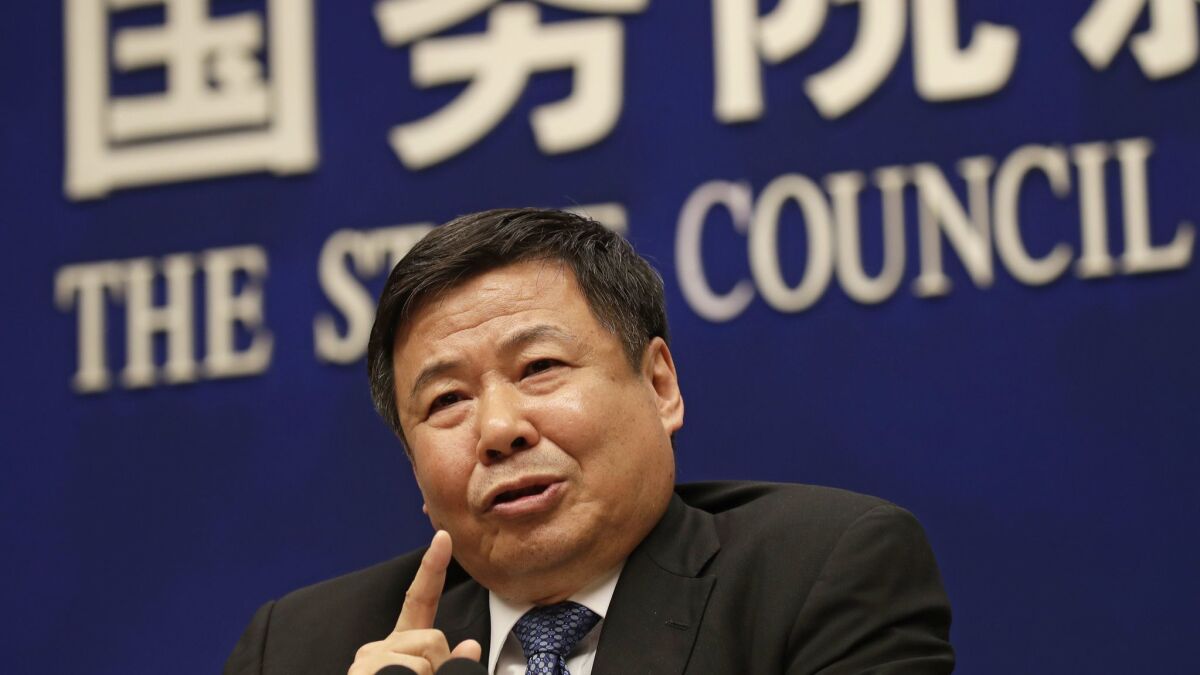 Reporting from BEIJING —
China on Wednesday issued a $50-billion list of U.S. goods including soybeans and small aircraft for possible tariff hikes in an escalating technology dispute with Washington that companies worry could set back the global economic recovery.
The country's tax agency gave no date for the 25% increase to take effect and said that will depend on what President Trump does about U.S. plans to raise duties on a similar amount of Chinese goods.
Beijing's list of 106 products included the biggest U.S. exports to China, reflecting its intense sensitivity to the dispute over American complaints that it pressures foreign companies to hand over technology.
The clash reflects the tension between Trump's promises to narrow a U.S. trade deficit with China that stood at $375.2 billion last year and the ruling Communist Party's development ambitions. Regulators use access to China's vast market as leverage to press foreign automakers and other companies to help create or improve industries and technology.
A list the U.S. issued Tuesday of products subject to tariff hikes included aerospace, telecoms and machinery, striking at high-tech industries seen by China's leaders as the key to its economic future.
China said it would immediately challenge the U.S. move in the World Trade Organization.
"It must be said, we have been forced into taking this action," a deputy commerce minister, Wang Shouwen, said at a news conference. "Our action is restrained."
A deputy finance minister, Zhu Guangyao, appealed to Washington to "work in a constructive manner" and avoid hurting both countries.
Zhu warned against expecting Beijing to back down.
"Pressure from the outside will only urge and encourage the Chinese people to work even harder," said Zhu at the news conference.
Companies and economists have expressed concern that improved global economic activity might sputter if other governments are prompted to raise their own import barriers.
The dispute "may compel countries to pick sides," said Weiliang Chang of Mizuho Bank in a report.
"U.S. companies at this point would like to see robust communication between the U.S. government and the Chinese government and serious negotiation on both sides, hopefully to avoid a trade war," said the chairman of the American Chamber of Commerce in China, William Zarit.
"I can only hope that we solve our differences as soon as possible to avoid damage to the U.S. economy, Chinese economy and to U.S. companies."
American companies have long chafed under Chinese regulations that require them to operate through local partners and share technology with potential competitors in exchange for market access. Business groups say companies feel increasingly unwelcome in China's state-dominated economy and are being squeezed out of promising industries.
---
UPDATES:
4:30 a.m.: This article was updated with China listing $50 billion in goods for possible tariff hikes.
This article was originally published at 3:50 a.m.
---
Sign up for the California Politics newsletter to get exclusive analysis from our reporters.
You may occasionally receive promotional content from the Los Angeles Times.