Cigarette maker Reynolds to buy Lorillard for $27.4 billion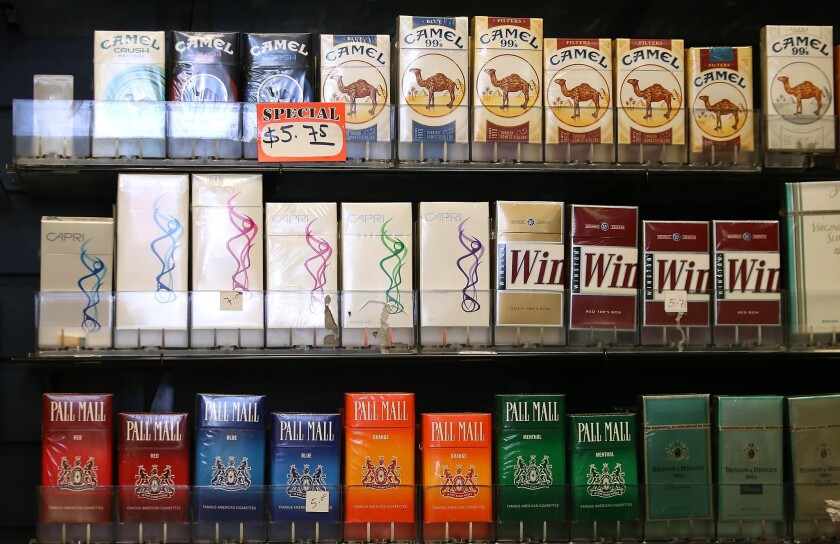 Reynolds American Inc., the producer of Camel and Pall Mall cigarettes, agreed to buy rival Lorillard Inc. for $27.4 billion including debt in a deal that reduces the 400-year-old U.S. tobacco industry to two major competitors.
Reynolds will pay a mixture of cash and stock valuing each Lorillard share at $68.88, according to a statement. British American Tobacco Plc will maintain a 42 percent stake in Reynolds. Imperial Tobacco Group Plc of the U.K. will acquire brands including Kool and blu e-cigarettes for $7.1 billion.
After decades of anti-tobacco health campaigns, slumping demand has put pressure on the industry to consolidate. U.S. cigarette shipments fell by a median of 2.9 percent in the first quarter among the nation's top tobacco companies, according to data compiled by Bloomberg Industries. Merging Reynolds and Lorillard would help the companies cope with the slowdown and create a more potent competitor to market leader Altria Inc.
"It's transformative because it creates a duopoly in the U.S. and will help them to manage the volume declines," Philip Gorham, an analyst at Morningstar Inc. in Amsterdam, said before the transaction was announced. "They are still getting younger smokers in developed markets, but not at the rate as the old ones are dying off."
The deal -- which followed months of on-again, off-again talks -- is complicated by its size and the involvement of several companies. It also will have to pass antitrust hurdles. Together, Reynolds and Greensboro, North Carolina-based Lorillard have a market value of about $58 billion and annual sales of more than $13 billion, according to data compiled by Bloomberg. Merger speculation has propelled stocks of both companies this year.
Fresh Ammunition
Lorillard's biggest product, Newport, will give Reynolds fresh ammunition against Altria, whose brands account for more than half of the U.S. retail cigarette industry. Altria's Marlboro by itself has market share in the U.S. of about 44 percent, according to the company's website.
Reynolds, Lorillard and London-based BAT have been in talks since last fall to reach an agreement that would satisfy all three parties, people familiar with the matter have said. They made a tentative deadline of July to reach a deal because of a standstill agreement by BAT not to raise its stake in Reynolds without the approval of Reynolds's board until this month.
BAT's agreement keeping it from increasing its stake in Reynolds dates back to the merger of R.J. Reynolds Tobacco Holdings Inc. with Brown & Williamson Tobacco. The Federal Trade Commission is likely to take a hard look at the latest proposed transaction, said David Balto, a Washington attorney and former policy director for the FTC who litigated BAT's merger with Reynolds in 2004.
Brown & Williamson
The FTC allowed that deal to go through because Brown & Williamson was losing market share and Lorillard was still around as a viable competitor, according to a brief released by the FTC. The market is more consolidated now, and this deal will face serious scrutiny, Balto said.
"The FTC will be very concerned about competition in this market," he said in a phone interview. "The FTC will want to make sure some level of competition is restored."
There is a chance that just selling off the minor brands to Imperial won't be enough, he said.
"There is a difference between these brands being in the hands of a powerful company like Lorillard and being owned by an upstart like Imperial," Balto said.
---
Must-read stories from the L.A. Times
Get the day's top news with our Today's Headlines newsletter, sent every weekday morning.
You may occasionally receive promotional content from the Los Angeles Times.