A new look for the 'L.A. Law' building includes 'courtyards in the sky'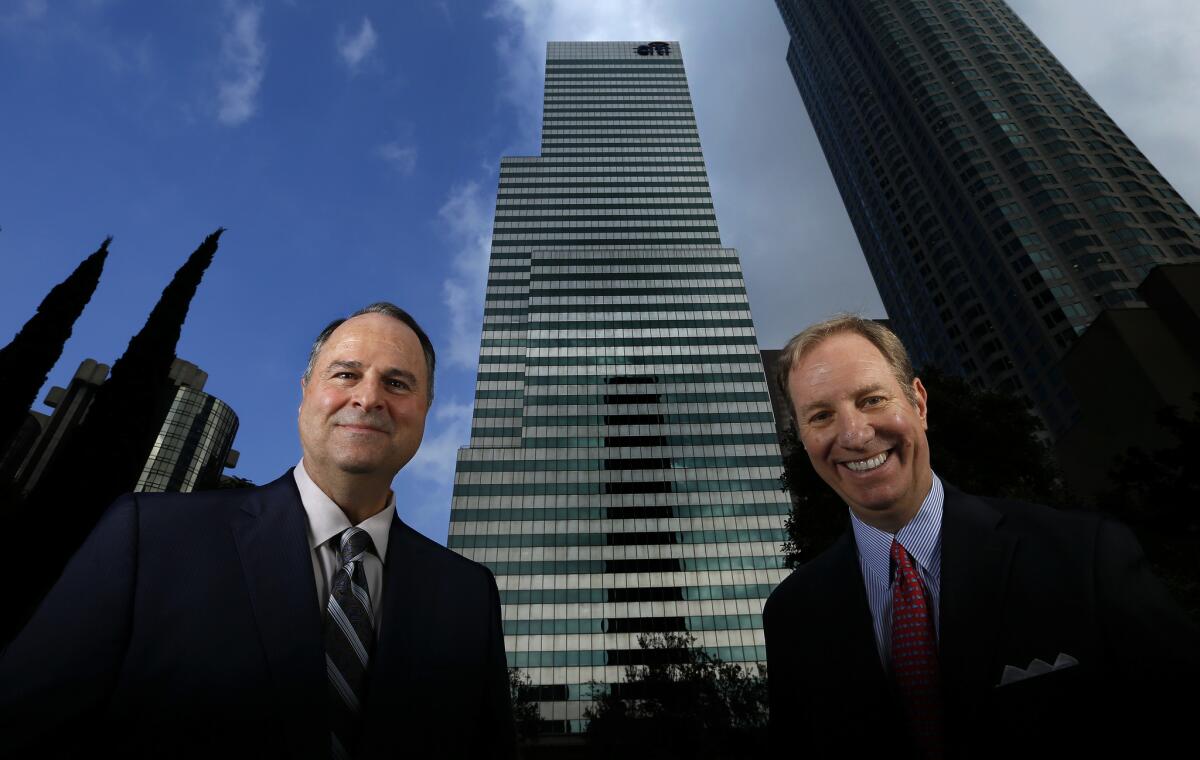 It won't be long until workers in a prominent downtown L.A. high-rise will step outside hundreds of feet in the air to lounge on patio furniture among planters brimming with succulents, and perhaps even warm themselves next to a fire pit.
The new owners of the silver-skinned Citigroup Center in the heart of the financial district plan to crack open walls to create courtyards in the sky as part of a campaign to make their old-school office tower appeal to modern tenants.
Such dramatic "hacks" of existing buildings are growing more common as owners of gleaming skyscrapers that were once beloved by corporate America struggle to lure renters. Many growing firms would rather set up shop in converted warehouses than in the conventional office buildings that were the pinnacle of prestige in decades past.
The 444 S. Flower St. tower was such a place, appearing weekly on television as the headquarters of the fictional high-powered firm at the center of popular 1980s legal drama "L.A. Law." Not much about the building has changed since then.
"It's frozen in time," said new owner John Sischo.
Sischo is a principal of Coretrust Capital Partners, a Los Angeles company that recently acquired the 48-story building flanked by US Bank Tower for $336 million from Houston landlord Hines, according to public records.
Coretrust was founded in 2014 by Sischo and two fellow former executives of Los Angeles real estate firm Thomas Properties Group, Thomas Ricci and Randall Scott. They plan to spend another $50 million to transform the way Citigroup Center looks, functions and even smells.
The company has installed industrial-grade aromatherapy machines in the lobby and on two empty floors it is trying to lease. Coretrust's principals plans to choose a signature scent for the building such as "Fig Essence" or "Lavender Linen" that will become a subliminal welcome and soothing presence.
One of their goals is to make the building feel naturally bright and airy, a notion that didn't carry as much weight when the building opened in 1981. Today a dark floor once occupied by a law firm sits unused, even though its walls, doors and cabinets were built with fine wood, custom lighting and other upmarket finishes.
"No one wants to rent it," Sischo said, with a trace of wistfulness because he admires the office's elegant craftsmanship. "We may just have to tear it all out."
What no one seems to want anymore is the hierarchical formality of the "L.A. Law"-like space. Natural light does not reach the interior because individual offices for partners and other bigwigs hog all the window space. The expansive offices are separated by walls and thick doors from the core of the interior where secretaries toiled beside floor-to-ceiling built-in file cabinets, another anachronism in this day when reams of documents can be stored on a computer drive.
A sharp contrast can be found on the top floor of the building, where office-furnishing firm Haworth showcases its products and design tastes. The entire floor is flooded with sunlight and it's easy to see from one end to the other.
"We gutted the entire floor," said Ron Frantz, business development director of Haworth.
Even the raised floors and dropped ceilings were removed, revealing heating ducts, fire sprinklers and electrical conduits, all painted white. The carpet and the fabric on the chairs, couches and work stations impart a home-like feel despite the exposed ceilings.
The 1980s office formality that used to go along with three-piece suits for men and "power dressing" for women has been buried next to videocassette recorders. Homey and casual is in, Frantz said.
From such a perspective, a glass-and-steel high-rise may also be an unwelcome relic of another era to tenants who want to work in – and be seen in – so-called creative space. To many of them, creative space is ideally found in a former industrial building with a wooden bow-truss ceiling, skylights and concrete floors.
"Creative office has been interpreted in a very narrow view" in the past, Frantz said. "It's now morphed into more of a space that we would refer to as agile."
Agile these days translates to offices with few, small fixed work stations and a lot of communal space for collaborative work or leisure — an environment that is possible to create in a high rise. Employees may not have an assigned seat and just plop down with their laptops and cellphones wherever they want to work that day. Work stations might even be attached to treadmills or recumbent bicycles so people can get a little exercise while tapping computer keys.
But one attraction of many low-rise creative office campuses that's typically lacking in a conventional high-rise is furnished outdoor space, where employees can have a meeting, unwind or perhaps do a little work.
Coretrust plans to solve that problem by creating outdoor areas high in the sky. It plans to open up walls and create 1,000-foot courtyards on the corners of floors in what might be considered a reverse balcony. Glass walls to keep out the elements would be erected along the inner part of the courtyards.
If the courtyard was a belly button, it would be an "innie" instead of an "outie" like a standard balcony is, said architect Rob Jernigan, a managing principal at Gensler, which is creating a new look for Citigroup Center.
"Why not have sky gardens?" he said. "How cool is it to go to the 35th floor to take a break and have coffee outside?"
Gensler has already experimented with the concept at nearby City National Plaza, where the architects created small "innie" balconies for one firm on the 51st floor. It's also building a bridge connecting one of the plaza's high rises with a four-story building, both 1970-era structures.
The owners of U.S. Bank Tower recently added outdoor observation decks to unused terraces and attached a transparent slide outside the 69th and 70th floors, breaking the smooth lines drawn in the 1980s by prominent architect Henry N. Cobb. Exterior symmetry is no longer a requirement for a Class A buildings, Jernigan said.
"We're moving from taut, monolithic skins and adding different spaces," he said. "It's not as big a challenge as people might think."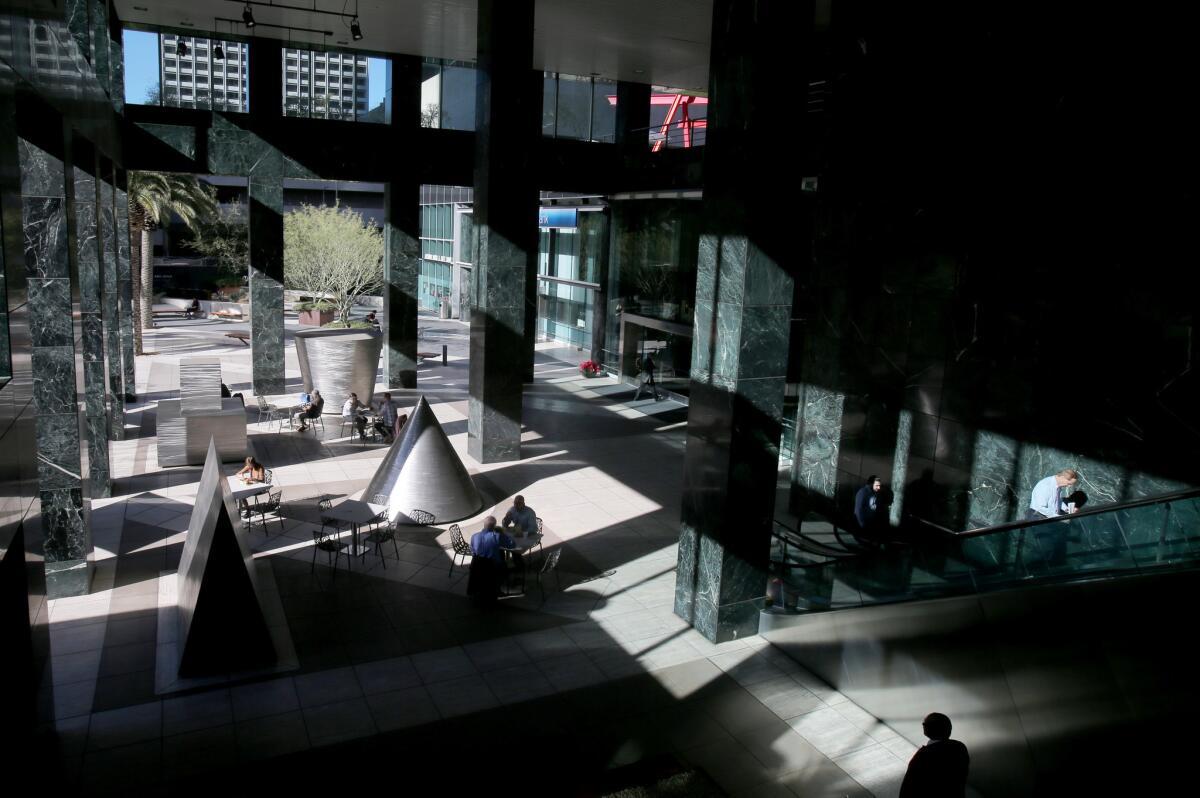 Adding "innie" courtyards at Citigroup Center will require the installation of water collection and drainage systems, for example, but that is fairly simple, he said.
Pumping up the appeal of the building doesn't guarantee that it will fill up, of course. Competition for tenants downtown has been fierce for many years and while vacancy has come down to 16.5%, shrinking tenants are expected to give back about 200,000 square feet to the market over the next two years, according to CBRE Group Inc.
Another 354,000 square feet of competitive office space will be added downtown with the completion of the Wilshire Grand skyscraper in 2017.
Coretrust also plans to upgrade common areas of Citigroup Center on the lower floors, which contain one of the largest collections of public art downtown on multiple terraces. Hundreds of pedestrians cut through the building daily to climb Bunker Hill.
One of the most noticeable changes could be the replacement of harsh theater lights in the outdoor lobby with an installation of hundreds of small hanging lights, intended to create the effect of a rippling, illuminated wave
Other plans include the creation of a conference center and eventually a white tablecloth-quality restaurant. The owners hope potential tenants will be attracted to the dining, entertainment and transportation options that can't be found in the suburbs or the formerly industrial Arts District downtown.
"A lot of tenants are finding it difficult to attract millennials to work in the 'burbs," Sischo said. "We're looking for people who know that their next generation of employees want to be in an urban center with Metro."
Twitter: @rogervincent
MORE BUSINESS NEWS
Photoshop is hard to learn. So Adobe wants artificial intelligence to be your guide
Chinese investors were defrauded by Orange County lawyer, SEC says
It's official: Tesla and Panasonic team up on solar-panel cells