Judge rules L.A.'s 'bank to the stars' overcharged its own employees' retirement plan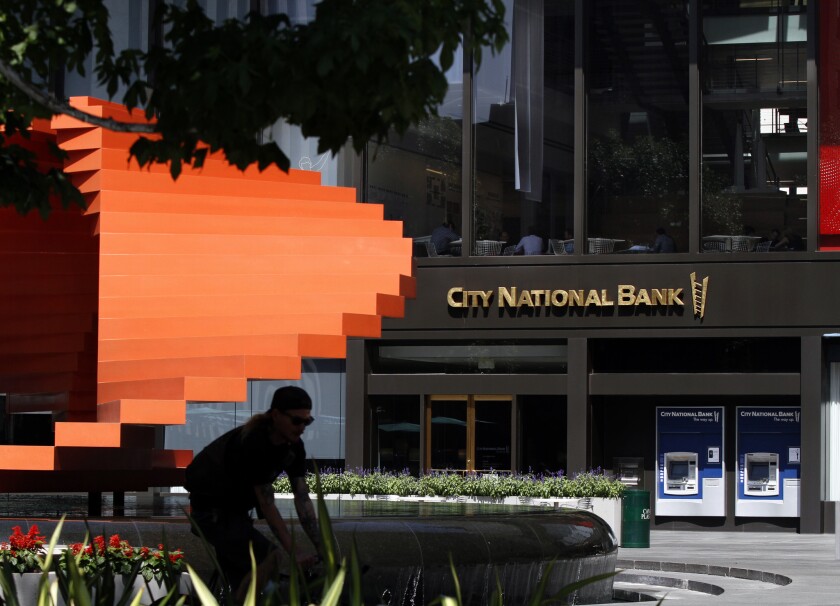 A federal judge has ruled that L.A.'s City National Bank overcharged its own employees to manage their retirement savings, a rare smudge on the bank's reputation and one that could cost it millions.
The ruling, handed down April 5 and announced Monday, stems from a lawsuit filed against the bank by the federal Department of Labor last year. Federal officials alleged City National, which manages its own 401(k) retirement account for employees, had charged high and improper fees to the plan.
Labor Department officials, in a statement released Monday, estimated the retirement plan's losses due to the fees could total more than $6 million. Judge Terry Hatter has ordered the bank, along with an outside expert, to account for all fees paid by the retirement plan to the bank between 2006 and 2012, a prelude to a possible order for the bank to repay those funds.
In a statement, bank executives said they will ask Hatter to reconsider his order and plan to appeal the ruling if he does not.
"We believe the court ruling is wrong," the bank said in its statement. "We are confident that this initial ruling will ultimately be reversed. Our company is proud of its colleague retirement program, and we have always been committed to making sure it is administered properly and for the benefit of our colleagues."
A key issue in the case is how City National accounted for the costs of running the 401(k). Companies that manage their own 401(k)s are allowed to charge those plans for the direct costs of running them, but can't charge anything beyond that.
Bruce Ashton, a partner at Century City law firm Drinker Biddle & Reath who has represented companies in similar cases, said it appears City National did not do a good job of accounting for its costs.
"I'm astonished at how City National did this," he said. "Plan sponsors can get reimbursed for reasonable expenses of administering their own plan -- actual out of pocket expenses -- if they keep really good records. We've told clients, they need to have detailed records."
In his ruling, Hatter said City National provided estimates of its costs for running the plan, but not detailed records.
Ashton said the Department of Labor's case could hold up even if City National, as the bank argued in court filings, spent more on running the plan than it was paid in fees from the plan.
"The rules in this area are very specific and unforgiving," he said. "You need to abide by them or get slapped on the wrist."
City National, known as the "bank to the stars" for its deep ties to celebrities and the entertainment business, was long L.A.'s biggest bank. It's now a subsidiary of Toronto's Royal Bank of Canada, which acquired City National last year, months after the Labor Department filed its suit.
ALSO
ABC to help TV station affiliates compete in streaming world
This 24-year-old venture capitalist is using UC Berkeley as his own incubator
Netflix shares drop 12% after lowering estimates for new international subscriptions
---
Your guide to our clean energy future
Get our Boiling Point newsletter for the latest on the power sector, water wars and more — and what they mean for California.
You may occasionally receive promotional content from the Los Angeles Times.