Coinbase launches what it calls 'first regulated bitcoin exchange'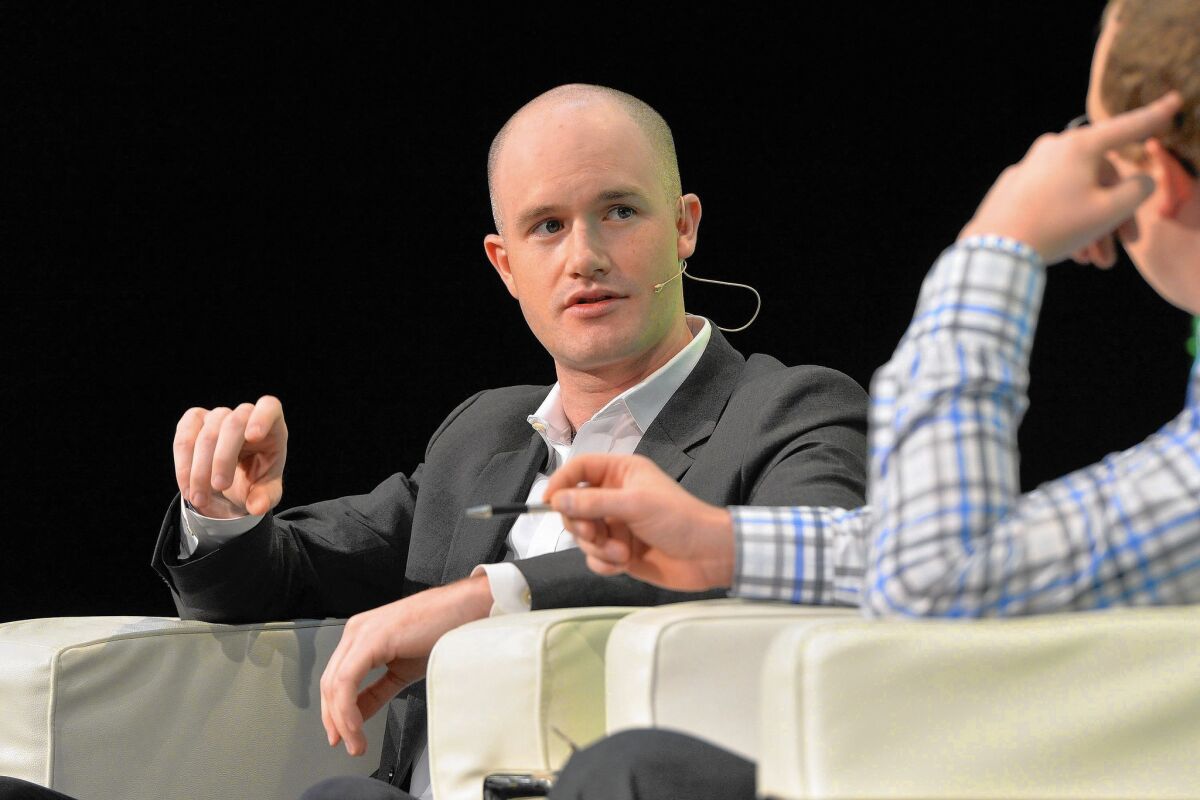 Coinbase on Monday launched what it describes as the first regulated exchange for bitcoins in the U.S., providing a jolt of credibility to the virtual currency, which has struggled with slumping value and problems at exchanges overseas.
The San Francisco company said its Coinbase Exchange platform is available to residents of 24 states and U.S. territories. The company said its goal is "to bring increased stability to the bitcoin ecosystem."
Coinbase is a storage facility and a platform where merchants and consumers can make transactions in the digital currency, and a market where bitcoins can be bid on and traded. The company was cofounded in 2012 by Brian Armstrong, a former software engineer at Airbnb and founder of a tutor-search site, universitytutor.com.
The company has raised $106 million from high-profile investors such as the owner of the New York Stock Exchange, the venture capital firm Andreesen Horowitz and others. The aim is to help "regular people and businesses to integrate bitcoin into people's lives," Coinbase said.
In December, Time Inc. said it was partnering with Coinbase to enable it to accept bitcoin for its magazine subscriptions.
On its website, Coinbase claimed that its new exchange is the "first regulated bitcoin exchange in the U.S."
A number of state financial regulators, including New York, have begun to issue guidelines to safeguard consumers in a market that has seen wild fluctuations and the 2013 crash of a prominent Japan-based exchange, known as Mt. Gox.
However, regulation remains in flux, and bitcoin transactions and the Coinbase Exchange itself remain unregulated by the state of California, said Tom Dresslar, a spokesman for the Department of Business Oversight.
"The department is examining the issue of what extent, if any, we regulate virtual currency transactions," he said.
On its first day of trading, the new exchange experienced delays in signing up new accounts, according to a message on the Coinbase website. "We're experiencing a delay in sending emails due to abnormally high traffic," the message said. "The emails should arrive shortly. I apologize for the delay."
A spokeswoman for the company didn't reply to emailed questions.
As a currency created outside the reach of central banks and regulators, bitcoin has the potential to revolutionize money and payments in the way that the Internet revolutionized media and communications. The currency is seen having a particularly huge potential effect on the money-transmission business dominated by big banks and players like PayPal and Western Union.
According to market researcher Coindesk.com, there were more than 7.9 million bitcoin wallets as of the end of December, up 21% from the previous quarter, and the currency was accepted by more than 82,000 merchants, up 8% in the quarter. The total value of all bitcoins at the end of 2014 was about $4.3 billion.
But the currency itself has experienced wild fluctuations in value and instability of key players. Bitcoins first soared in value, peaking at nearly $1,000 each in 2013, before declining dramatically last year. Bitcoins traded at $270.67 on Monday, up 6.4%, according to Coindesk.
Alex Urmersbach, a Los Angeles-based finance-strategy consultant working with virtual currency start-ups, said the industry has endured some growing pains but that the creation of regulated exchanges will help "broaden and deepen" the still-small market for bitcoin.
"It is here to stay," he said of the currency. "It's just going to go through some volatility."
Twitter: @deanstarkman
---
Sign up for the California Politics newsletter to get exclusive analysis from our reporters.
You may occasionally receive promotional content from the Los Angeles Times.