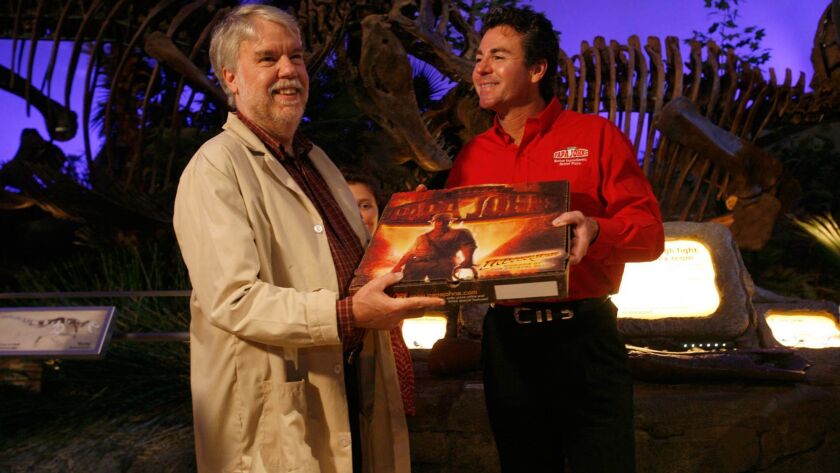 Bloomberg
John Hewitt once got pushed out of a company he'd founded. So when he started Liberty Tax, he wanted to make sure it didn't happen again. He almost succeeded.
A sex scandal prompted the board to fire Hewitt from his role as chief executive in September, but his shares gave him continued control of the firm. Shareholders sued, executives resigned in protest, two separate independent auditors ended relationships with the company and the stock plummeted.
It took 10 months, financial disarray and, ultimately, the Nasdaq stock exchange's threat to delist the firm before Liberty Tax said last month that Hewitt had agreed to leave the board, sell his controlling stake and walk away.
The long, costly fight for control at Liberty Tax illustrates just how hard it can be for businesses to sever ties with founders who don't want to go. It's also a potent warning to directors at companies like Papa John's International Inc., who are gearing up for their own fight.
In a year marked by public reckoning for a wide swath of bad behaviors, 53 company founders have been accused of personal misconduct, according to data collected by crisis consulting firm Temin & Co. Hewitt is now among the 35 who ultimately stepped down, but not without a bitter fight. Nearly a third of founders facing accusations remain in place, and some of those who have officially departed have still managed to stay involved.
John Schnatter, the founder and face of Papa John's, abruptly quit as CEO in January and recently resigned as chairman of the board after reports that he used racist language during a conference call in May. He denies the accusations and remains on the pizza company's board. Paul Marciano of Guess? Inc. intends to leave the board in January following sexual harassment allegations (he denies them), though there's no word on whether he'll sell the 15% of shares he owns. National Beverage Corp. chairman and founder Nick Caporella is staying and has held on to the CEO role, denying the recently revealed accusations of sexual harassment.
Historically, many founders are able to keep control of a company after they take it public by retaining a block of shares that confer more voting power than the stock that's available to the public. It's a common structure, also embraced by tech companies including Google parent Alphabet Inc., Facebook Inc. and Snap Inc. in order to concentrate decision-making power in the hands of founders and early investors. In the case of Los Angeles-based Snap, public shareholders don't have any voting rights at all.
That kind of structure also insulates founders from public pressure. For disgruntled investors, there's very little legal recourse.
"It's pretty much impossible to make a controlling shareholder sell if he doesn't want to," said John Reed, partner at law firm DLA Piper, in Wilmington, Del.
Liberty Tax shareholders tried. Seven months ago, a pension fund asked a Delaware judge to force Hewitt to relinquish his controlling stake in the company, claiming he'd breached his legal duties to shareholders. The company declined to comment at the time, and the case was still pending when Hewitt agreed on July 19 to sell his shares.
"A founder previously might have said 'I own the company, it's mine, it's an extension of me, I can do whatever I want,'" said David Larcker, a professor at Stanford's Graduate School of Business who has studied the backlash against executive misbehavior. In the last year or so, that position has become less defensible, he added, "as other societal forces come to bear."
The first chinks in founder armor came with the eventual resignation of Uber Technologies co-founder Travis Kalanick after complaints about sexual harassment, sexism and other kinds of unacceptable behavior at the rapidly growing ride-hailing company. (He still owns about 16% of the voting power and remains on the board.)
Then Harvey Weinstein was convinced to step away from his namesake film production company after the New York Times made public allegations of serial rape, intimidation and harassment. Weinstein has pleaded not guilty to criminal charges of sexual assault.
Unlike executives, who can be dismissed, most founders, including Kalanick and Liberty's Hewitt, hold substantial stakes, sit on the board and are deeply connected to their companies' cultures. Convincing them to depart isn't easy.
Liberty Tax didn't respond to repeated requests for comment. Phone calls to Hewitt through his lawyer weren't returned.
Hewitt, now 69, is credited with developing tax-prep software at his first company, Jackson Hewitt. He lost control of the company when it was bought by HFS Inc. in 1997. Shortly after, he started Liberty, but the new company never became more than a distant third in the industry; even at its peak, it was only around one-tenth the size of H&R Block.
Hewitt's personal comeuppance began with a July 2017 call to Liberty's ethics hotline complaining about Hewitt's romantic relationships with his employees and his penchant for noisy sex in his office. In response, the company board hired the New York law firm of Skadden Arps Slate Meagher and Flom LLP to conduct an internal investigation, which found "credible evidence Mr. Hewitt engaged in an array of inappropriate conduct, both personally and involving business matters, while serving as Liberty Tax's CEO and Chairman," board member John Garel wrote in a Nov. 10, 2017 letter filed with regulators.
More to the point, Hewitt treated Liberty's female employees as his own personal Tinder, according to interviews with people familiar with Hewitt's actions and the company's operations. They estimated he'd had sexual relationships — some long-term, some short — with more than a dozen women who either worked at the tax-prep firm's Virginia Beach headquarters or owned the company's franchises.
Getting romantically involved with the founder was often the path to promotion or franchise deals, South Carolina-based franchise owner Anne Fuller said in court filings for a 2010 fraud lawsuit against the company. She wasn't romantically involved with Hewitt, she said, but described herself as in the founder's "inner circle.'' Liberty argued to keep Fuller's testimony out of court, but the lawsuit was settled before the judge ruled. Fuller declined last week to comment on the transcript, citing a nondisclosure agreement.
Hewitt refused to cooperate in the 2017 investigation, and the board fired him. But he continued to control the firm through his voting rights, prompting at least two senior executives and three independent board members, including Garel, to resign.
The infighting created so much turmoil that Liberty Tax missed several earnings reports and has yet to file an annual report for its most recent fiscal year. Two auditors hired by the company have resigned.
The final straw appears to have been pressure from Nasdaq, which said it might not give the company more time to file its overdue disclosures and removing the company's shares from the exchange was a very real possibility, according to Alexander Paris, an analyst at Barrington Research who talked to company executives about the sequence of events.
"He was bound and determined to hang on to his company," Paris said. He hasn't talked to Hewitt who, he speculated, "did the best that he could, he was very persistent, and then at the very end, I think he said, 'Hey, my net worth is on the line here.'"
The saga at Liberty Tax is a cautionary tale for Papa John's as it gears up for its own fight with Schnatter, who remains the company's largest shareholder — controlling about 30% of the stock — and remains on the board. He's said he regretted leaving the chairmanship and, without the protection of a controlling class of shares, he plans to lobby other shareholders to avoid total banishment, according to a person familiar with the matter.
Earlier this month, the company's board terminated its so-called founder's agreement that designated Schnatter as the face of the board and hired a law firm to oversee an investigation of its "policies and systems related to diversity and inclusion." The company declined to comment.
---