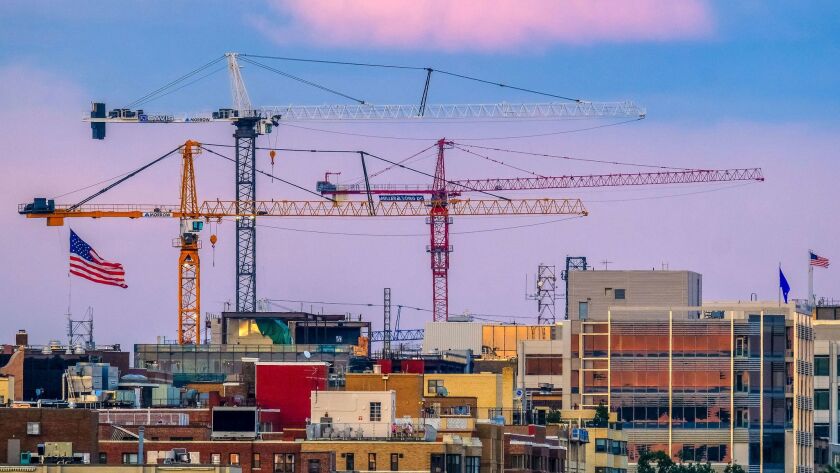 U.S. construction spending fell in July for the third time in four months as strength in home construction wasn't enough to offset weakness in nonresidential building and government projects.
Construction spending dropped 0.6% in July following an even bigger 1.4% decline in June, the Commerce Department said Friday. Spending on home construction rose 0.8% as single-family homes and remodeling offset a drop in apartments.
Spending on nonresidential projects fell for a second straight month, declining 1.9%. Spending on government projects fell 1.4%.
With the recent weakness, construction spending is only 1.8% higher than a year ago at a seasonally adjusted annual rate of $1.21 trillion. Analysts expect construction will provide modest support for the overall economy in the months ahead.
The fall in nonresidential activity in July was the biggest setback in nearly two years, since a 2.1% decline in October 2015. In July, spending on offices, shopping centers and hotels all declined.
Spending on government construction projects was down 1.2% at the federal level and 1.4% at the state and local level.
The government reported earlier this week that the overall economy grew at a brisk 3% pace in the April-June quarter, up from a lackluster 1.2% gain in the first quarter, as measured by the gross domestic product.
However, spending on residential construction actually fell at a 6.8% rate in the spring, following a sizable 11.1% gain in the first quarter. Economists believe that the spring slowdown in home building was in part a payback after unusually warm weather had boosted activity in the winter.
---