Coors Light has had a rough year, but not as bad as Bud Light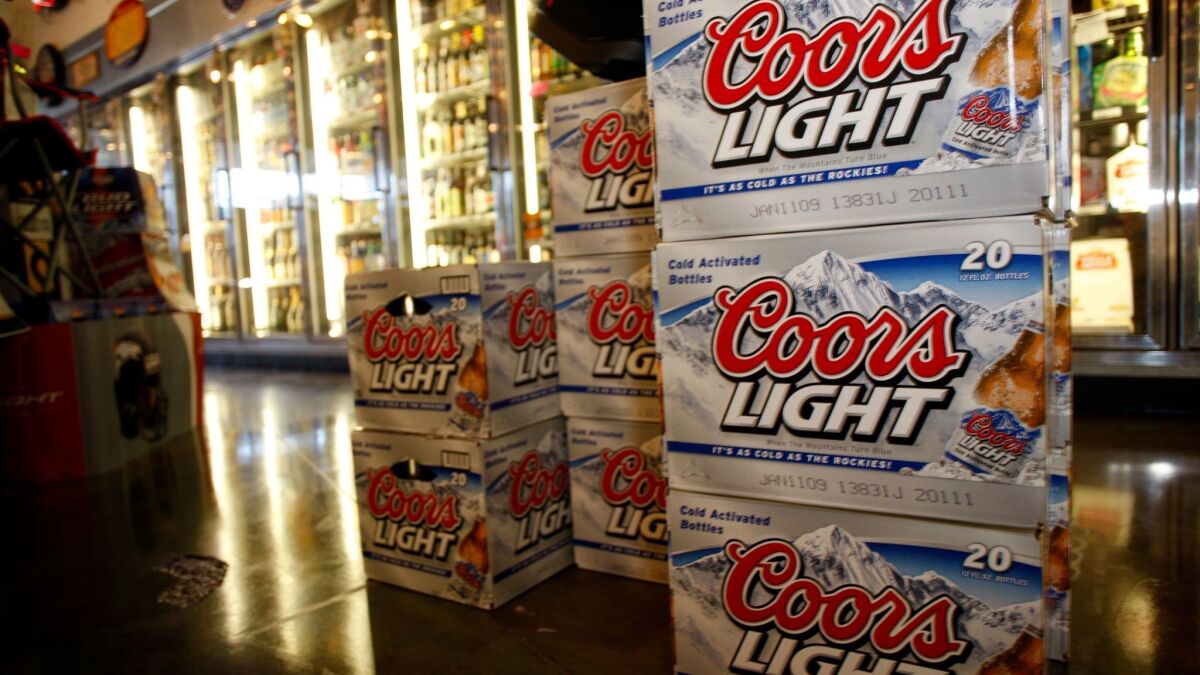 Coors Light, the second-best-selling beer in the U.S., is having a rough year.
The amount of Coors Light sold in stores in recent months has declined at a faster rate than even its slide of recent years, according to scan data and industry experts. The good news for Chicago-based MillerCoors? At least for now, Bud Light, the top-selling beer in the country made by competitor Anheuser-Busch InBev, is in even steeper decline.
Premium light beer, as it's called in the industry, peaked in 2007 and 2008. Since then, many American drinkers have turned toward craft beer and Mexican imports; others have drifted into wine and spirits.
Make no mistake: MillerCoors and Anheuser-Busch InBev still sell an enormous amount of light beer in the U.S., just not as much as they once did. Combined, the two beer giants — which sell the vast majority of light beer in the U.S. — are down about 26 million barrels in shipments to wholesalers since 2008, according to figures provided by Beer Marketer's Insights, an industry trade publication.
MillerCoors executives declined to comment during the quiet period leading up to parent company Molson Coors' Wednesday earnings release.
But in a recent post on the company blog, MillerCoors noted that Coors Light case volume was down 3.4% year-to-date through Sept. 30, according to Nielsen data, compared with Bud Light, which was down 5.7% over the same period. Chief Marketing Officer David Kroll called it a "challenging year" for Coors Light in the blog post but said he expected next year to be better because of improved marketing and packaging.
To help offset such sales declines, Anheuser-Busch and MillerCoors have both acquired craft breweries and introduced new brands in recent years. MillerCoors plans to roll out Two Hats, a fruity light beer aimed at millennials, and Arnold Palmer Spiked Half and Half early next year. MillerCoors also recently struck a 10-year deal to import and market Sol, the company's first Mexican import beer.
There are obvious success stories in MillerCoors' vast portfolio: Blue Moon keeps rising despite an overabundance of craft competitors. Leinenkugel had one of its best summers ever. Coors Banquet continues to grow. Hamm's is going great as the hipster beer of the moment.
Still, it's unclear at this point how MillerCoors will reach its publicly stated goal of revenue growth by 2019 if its two top-selling beers continue their slow descent. Together, Miller Lite and Coors Light represent about 57% of the company's business, said Eric Shepard, executive editor of Beer Marketer's Insights.
"The numbers are the numbers. They're going to have a very, very difficult time making up that volume," Shepard said.
Trotter writes for the Chicago Tribune.
gtrotter@chicagotribune.com