CBS chooses 'nuclear option' against Shari Redstone: It sues to thwart Viacom merger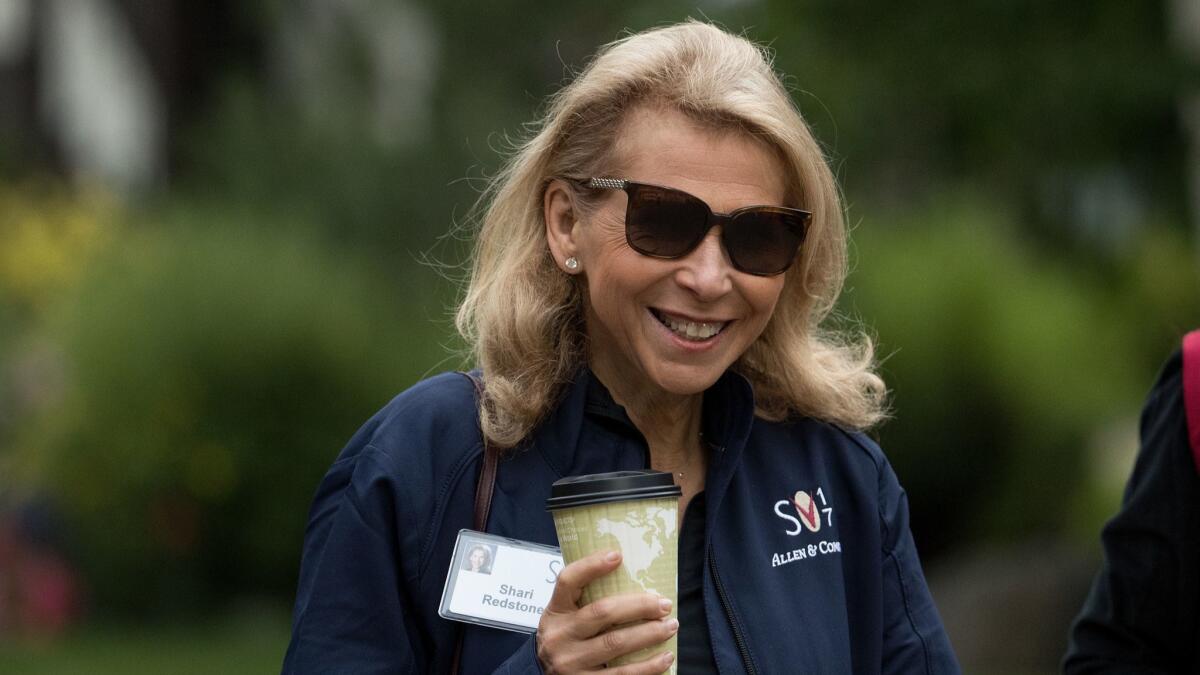 CBS Corp. has essentially declared war on its controlling shareholder, Shari Redstone, setting the stage for an epic battle for control of one of America's oldest and most popular broadcasting companies.
CBS' board on Monday filed a lawsuit intended to thwart Redstone's effort to push through a merger of CBS and Viacom Inc., the New York-based media company controlled by the Redstone family.
The legal gambit escalates a high-stakes feud that has been playing out behind the scenes between Redstone and CBS Chairman and Chief Executive Leslie Moonves for much of this year.
"CBS draws first blood," John Janedis, media analyst with the investment firm Jefferies, wrote in a research report.
The lawsuit followed weeks of tension between Moonves and Redstone over the possible CBS-Viacom merger. On Friday, a Redstone representative told CBS that Shari Redstone wanted an unidentified CBS board member to be removed in advance of the company's annual meeting with shareholders later this week, according to a person familiar with the matter who was not authorized to comment publicly.
The move triggered alarm at CBS, where Moonves and several other board members have been suspicious about Redstone's motives. They worried that she would invoke the Redstone family's voting control to unilaterally reconfigure CBS' board. The company quickly mobilized and held a meeting with members of a special committee of the board Sunday. The committee formally rejected the CBS-Viacom merger and prepared a preemptive strike.
CBS on Monday asked a Delaware judge for a temporary restraining order to prevent Redstone and her family's investment vehicle, National Amusements Inc., from trying to exert their influence before the board can meet Thursday and vote on a measure that would strip the Redstones of their control.
Moonves and other CBS executives have been stewing for months over CBS' falling stock price as investors became skittish about the potential for a merger with the weaker company, Viacom. Media reports that Redstone was prepared to fire the well respected Moonves, should he oppose a merger, only heightened tensions.
The anxiety is understandable. Only two years ago, Shari Redstone and her ailing father, Sumner Redstone, unilaterally made changes to Viacom's board, which led to sweeping management changes. According to CBS' lawsuit, Shari Redstone had been quietly interviewing candidates to replace Moonves.
The suit seeks to eliminate the Redstone family's clout by treating them like ordinary shareholders. Although the Redstone family owns just 10.3% of CBS' stock, it holds preferred shares — A shares — that give the family nearly 80% of the vote.
Instead, at a meeting Thursday, CBS directors will consider issuing a dividend of Class A shares to all stockholders that would dilute National Amusements' voting interest to 17%.
"Ms. Redstone, through her recently obtained domination and control of [National Amusements], has taken actions over the past two years that have led the Special Committee to conclude that she presents a significant threat of irreparable and irreversible harm to the Company and its stockholders," the lawsuit says.
The lawsuit, filed in Chancery Court in Delaware, accuses Shari Redstone of breaching her fiduciary duty to CBS shareholders in her pursuit of a CBS-Viacom merger. CBS contends merger talks have wiped out $7 billion in market value, harming rank-and-file shareholders. Last year, CBS shares were trading as high as $70 a share, but lately have been hovering around $50 a share.
CBS also alleged in its complaint that Shari Redstone rebuffed the CEO of another company about a possible merger with CBS. The potential suitor was Verizon Communications, according to two people familiar with the matter who were not authorized to speak publicly.
CBS' board or its shareholders were not allowed to entertain discussions with Verizon, which probably would have sent CBS' shares soaring, the sources said.
The Redstones appeared to be blindsided by Monday's lawsuit, in part because CBS' special committee had made at least two offers to buy Viacom. Although talks were slow, Shari Redstone felt that progress was being made toward a CBS-Viacom union.
National Amusements Inc. said in a statement it was "outraged" by CBS' lawsuit and "strongly refutes [CBS'] characterization of recent events." The company added that it had "absolutely no intention of replacing the CBS board or forcing a deal that was not supported by both companies."
The investment firm said it raised "specific concerns about incidents of bullying and intimidation in relation to one CBS director, dating back to 2016. NAI has made every effort to deal with this matter privately and confidentially. Unfortunately, CBS' action today continues to enable and empower such conduct."
There are no signs the conflict will abate soon. National Amusements was preparing to file its own court papers as early as Tuesday.
"Pass the popcorn," Doug Creutz, a media analyst with Cowen & Co., wrote in a research report. "It is hard to gauge the chances of success for CBS, however, we view the suit as consistent with acting in the best interest of shareholders."
Shari Redstone has made two attempts in two years to reunite the companies that her father divided in 2006. She believes they would be stronger together as traditional media competes with such technology giants as Facebook, Google, Netflix and Amazon.
But CBS does not want to be weighed down by Viacom's cable channels, including MTV, Comedy Central, VH1 and Nickelodeon, which have lost steam in the ratings as viewers switch to streaming services that don't have commercials.
And Moonves and other CBS board members don't want Shari Redstone to have sway over the company that Moonves has successfully managed for 12 years.
Another sticking point in the merger talks is what role her handpicked lieutenant — Viacom CEO Bob Bakish — would play. Shari Redstone previously said that she would like Moonves to serve as chief executive of the combined company for at least two years.
"She has threatened to impose her and NAI's will on the company at the expense of all of the company's stockholders," CBS said in its lawsuit. "She has undermined management. It has been publicly reported that she will replace directors who will not do her bidding. She has sought to combine CBS and Viacom regardless of the strategic and economic merits of the transaction and to the exclusion of considering any other potential transaction."
The lawsuit is a "classic example" of why companies with two classes of stock, such as CBS and Viacom, can be problematic, said Charles Elson, director of the Weinberg Center for Corporate Governance at the University of Delaware.
Under CBS' structure, holders of Class A shares have voting power, while those with Class B shares do not.
With its lawsuit, CBS went for the "nuclear option," said C. Kerry Fields, a professor of business law and ethics at the USC Marshall School of Business. The suit, Fields said, is Moonves' way of communicating to shareholders that CBS is on a strong trajectory under his leadership and should not be saddled with Viacom's troubles.
Fields said the judge will "undoubtedly" grant the temporary restraining order to prevent interference with the board's special meeting.
"Judges typically are sympathetic to applications for temporary restraining orders when there is a matter of great seriousness that might be upset if this injunction isn't put in place," he said.
CBS shares closed at $53.65, up 2%. Viacom closed at $28.74, down nearly 5%.
---
UPDATES:
1:25 p.m.: This article was updated to include comments from University of Delaware professor Charles Elson.
9:55 a.m.: This article was updated to include a statement from National Amusements.
9:05 a.m.: This article was updated to include comments from USC professor C. Kerry Fields.
8:10 a.m.: This article was updated to add that the lawsuit accuses Shari Redstone of breaching her fiduciary duty.
This article was originally published at 7:35 a.m.