Chinese movie star Fan Bingbing's future looked bright. Then she vanished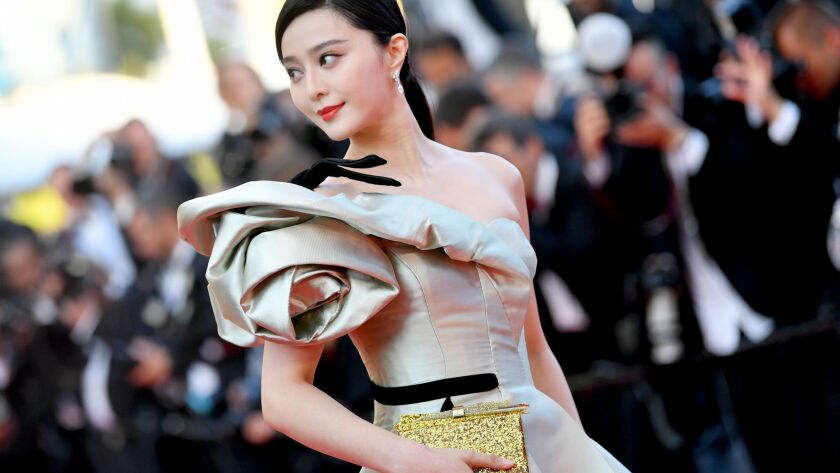 Until a few months ago, the future looked bright for Fan Bingbing. As one of China's biggest movie stars, she had been featured in a couple of Hollywood superhero blockbusters and scores of local films, with many other projects in the pipeline.
Then in June, she became embroiled in a scandal about movie stars underreporting their earnings, resulting in Chinese tax authorities investigating the industry — including Fan — for possible evasion.
The 36-year-old actress, who has 63 million followers on the Twitter-like Weibo, has since vanished from public view — no more social media updates, no more paparazzi photos and no more public appearances. Fan has denied wrongdoing, and a representative for her studio could not be reached for comment.
For film executives, Fan's disappearance is a reminder of the perils of show business in the most-regulated major entertainment market in the world, where the Communist Party weighs in on everything from the appropriateness of costumes to the salaries of movie stars. The episode is also prompting Chinese studios to wean off a reliance on A-list stars to drive big hits, a shift Hollywood made years ago.
"The crackdown will force studios to focus on making quality content rather than simply relying on the star-driven formula," said Leiger Yang, founding partner at Landmark Capital, a Beijing company that invests in entertainment start-ups and studios.
A shift away from star-driven fare would come just as China's cinema boom is regaining momentum, fueled by local hits steadily displacing Hollywood blockbusters. But underneath that healthy gloss, top Chinese studios including Huayi Brothers Media Corp. and Zhejiang Huace Film & TV Co. said in annual reports that higher celebrity pay is threatening profit margins.
Fan vanished from public view one day before the State Administration of Taxation on June 3 announced an investigation into the star's tax filings after a former China Central Television host posted what appeared to be partially redacted contracts that allegedly disguised compensation Fan received from a studio for a film. Weeks later, the host said the contracts weren't related to the star.
While authorities may not directly undermine bankable stars, industry trends show stellar casts are no longer sure bets.
Just before "Dying to Survive," a low-budget Chinese comedy-drama without big stars, became the summer smash hit, "Asura," the big-budget, star-studded epic based on mythology, bombed at the box office and was withdrawn immediately after its opening weekend.
A group of film and TV companies issued a joint statement Aug. 10 saying they would work together to resist overpaying top talent and devote more resources to better productions.
Only about half of the 800 or so films made by Chinese studios last year made it to a cinema and among those 400, fewer than a quarter sold at least 100 million yuan ($14.5 million) in tickets. That's in a market where the threshold for a hit is considered about 1 billion yuan in sales.
---
Your guide to our new economic reality.
Get our free business newsletter for insights and tips for getting by.
You may occasionally receive promotional content from the Los Angeles Times.