Fox says regulatory risk could delay or derail any Comcast bid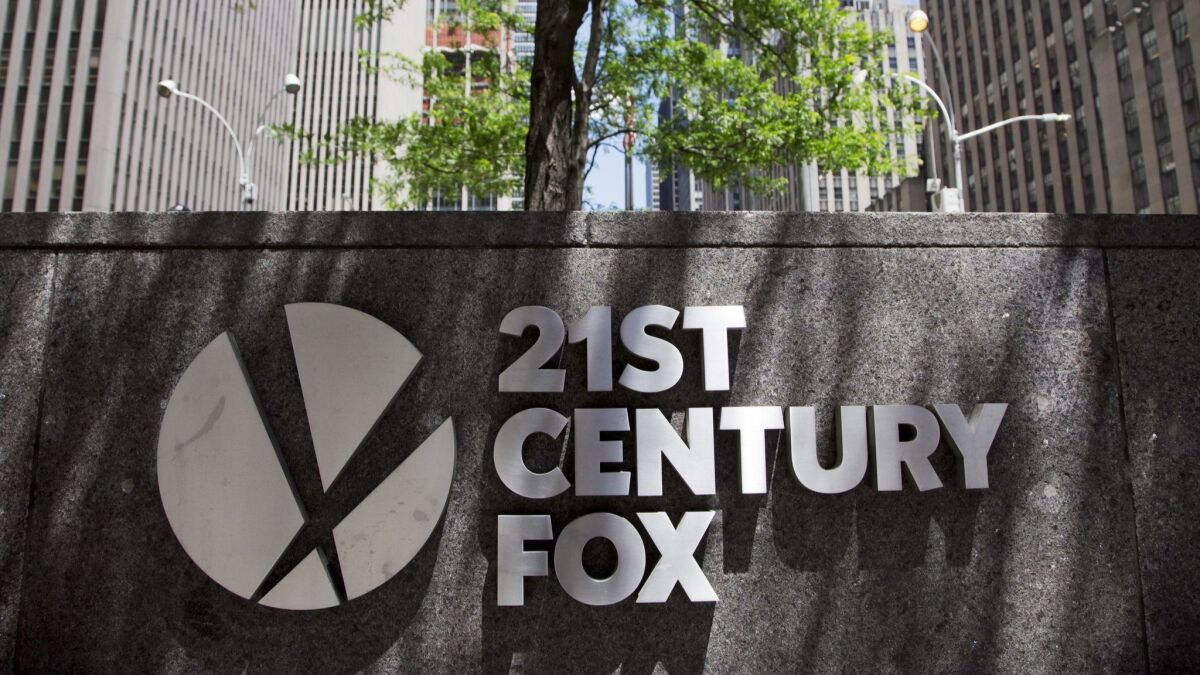 21st Century Fox Inc. determined that a deal with Comcast Corp. has more antitrust risk than its pact with Walt Disney Co., even after a judge chose not to block AT&T Inc.'s takeover of Time Warner Inc.
Fox's management and lawyers at Cleary Gottlieb Steen & Hamilton LLP — while reviewing Disney's revised offer this month — concluded that antitrust concerns could scuttle a transaction with Comcast, according to a regulatory filing Monday.
"While a potential Disney transaction was likely to receive required regulatory approvals and ultimately be consummated, a strategic transaction with Comcast continued to carry higher regulatory risk," it said in a registration statement filed with the Securities and Exchange Commission. That could lead "to the possibility of significant delay in the receipt of merger consideration as well as the risk of an inability to consummate the transactions."
The Fox board agreed last week to an improved, $71.3-billion deal to sell its entertainment assets to Disney, shunning Comcast for the second time in six months. The details in the filing highlight the steep challenge facing Comcast as it considers a counter-bid for the assets.
Regulatory factors
Fox's board considered eight factors on the regulatory front before accepting Disney's revised offer, according to Monday's filing.
That included the Department of Justice's "apparent sensitivity to the potential anti-competitive effects of vertical integration," Fox said in the filing.
The Justice Department lost its case to block AT&T's purchase of Time Warner due to a lack of evidence, not as a matter of law, Fox said. Other factors it weighed included Comcast's market share and strength in broadband, its acquisition of NBCUniversal, the prospect that Comcast will gain a controlling position in Hulu, and Comcast's ownership of regional sports networks that compete with Fox's sports assets.
Comcast also didn't offer "enhanced protections to address the higher regulatory risk," according to the filing. Although Comcast's proposals for assuaging regulatory risk were better than it had offered late last year, Fox was still reluctant to move forward, it said.
"A strategic transaction with Comcast would be subject to a greater degree of regulatory uncertainty, including the possibility of an outright prohibition and a higher risk of divestitures and delay to closing," Fox said. "A transaction with Comcast, given its asset mix, raised a significantly more difficult set of regulatory issues than a transaction with Disney."
Fox shares slipped 0.8% to $47.53 as of 12:10 p.m. Eastern time Tuesday.
Behind the scenes
The filing also details the efforts behind Disney's sweetened offer for Fox assets that include such properties as "The Simpsons" and "X-Men."
On June 14, the day after Comcast made its $65-billion offer, Disney asked five banks — JPMorgan Chase & Co., Citigroup Inc., BNP Paribas SA, HSBC Holdings and Royal Bank of Canada — to arrange a $35.7-billion bridge loan. The Disney board held a conference call June 15 to discuss the Comcast offer. On that call, Disney's management team outlined the potential terms of a revised offer at $38 a share.
Disney's strategy chief Kevin Mayer and Fox Chief Financial Officer John Nallen held multiple calls over the weekend of June 16 and 17 and into June 18 discussing the new offer. Disney wanted to make sure the Fox board would consider the new bid at its Wednesday meeting. Mayer told Nallen that Disney planned to make its offer June 19 but that it would be withdrawn if Fox directors decided that Comcast's bid could lead to a superior proposal or if management didn't recommend Disney's offer.
Mayer also warned that "any leak or public disclosure of the potential proposal would result in no proposal being made by Disney," according to the filing.
Disney Chief Executive Bob Iger presented his new offer to Rupert Murdoch at a meeting in London on June 19. The next day, the Fox board discussed Disney's new offer as well as Comcast's bid. Fox's management team presented the key terms of each of the deals before the board voted in favor of the deal. Rupert and Lachlan Murdoch, who will lead the remaining Fox businesses after the asset sale, and Viet Dinh, who may get an executive role at the new Fox, recused themselves from voting.
---
Sign up for the California Politics newsletter to get exclusive analysis from our reporters.
You may occasionally receive promotional content from the Los Angeles Times.