Universal Pictures aims for big part in China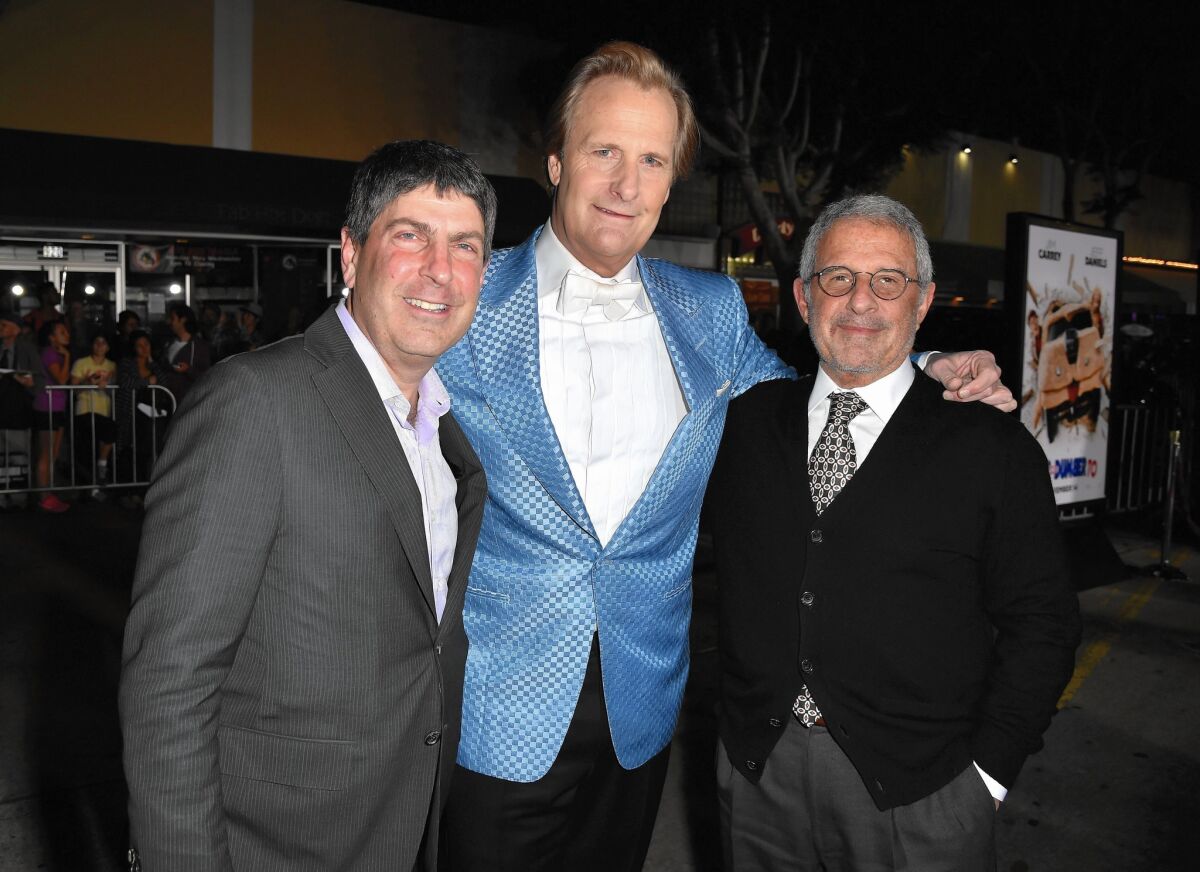 BEIJING —
Universal Pictures is ramping up in China.
The studio has been retooling since Comcast Corp. took over NBCUniversal nearly four years ago. The change of ownership brought new leadership at the century-old studio; Jeff Shell was named chairman of Universal Filmed Entertainment a little more than a year ago.
------------
For the Record
9:12 a.m., Nov. 18: A previous version of the photo caption identified Ron Meyer as vice chairman of Universal Filmed Entertainment. Meyer is vice chairman of NBCUniversal.
------------
The veteran Comcast television executive had been running NBCUniversal's London office and was handed clear marching orders: reposition the studio for the digital age. And international expansion has been a big part of that.
The company announced plans this fall to build a $3.3-billion Universal Studios theme park in Beijing. And on Monday it officially launched its Beijing office. Shell was in the Chinese capital for the ceremonies. Veteran Hollywood executive Jo Yan, who spent 20 years at Disney, will serve as managing director and vice president in Beijing.
The China expansion comes at an opportune time. International ticket sales made up nearly 70% of the total for Hollywood movie studios last year, and China represents the largest market outside the U.S. China moviegoers generated $3.6 billion at the box office in 2013, according to figures from the Motion Picture Assn. of America.
Shell sat down with The Times to discuss Universal's plans for China, which come down to the park, consumer products and of course, content, both movies and TV. On the film side, 2014 has been a bit lackluster for Universal. Although Universal triumphed at the weekend box office with the Farrelly brothers comedy sequel about two dimwits, "Dumb and Dumber To," with Jim Carrey and Jeff Daniels, the studio has seen its domestic market share shrink to 12% from 15% last year.
Universal has had only one release in China, "Despicable Me 2," which took in about $53 million, putting it behind the five other major Hollywood studios at the mainland box office. Last year was better for Universal in China, with four major films, including "Fast & Furious 6" and "Les Miserables," doing good business.
Universal on average over the last five years has accounted for only about 10% of imported, revenue-share films in China, according to figures from film consulting group Artisan Gateway. This year, you've only had one film, "Despicable Me 2," released in China. Are you satisfied with that?
That's part of the timing in launching our office here in the market; 2014 was a weird year everywhere for Universal. We had a couple of movies that moved out of the year for a variety of reasons; one of them was "Fast & Furious [7]" because of Paul Walker's tragic death; there were some other ones.
But our feeling is, with the huge slate in 2015, it's probably going to be our biggest slate ever. That's probably closer to representing what our slate will be going forward. That's a big one but we believe we're going to have a consistency of slate in the future so we felt it was the right time to have our own office here, given the product we see going forward.
What of your slate do you expect to be big in China next year?
We hope five movies will get dated here next year; obviously you don't know until you know, but [we're hoping for] "Unbroken"; "Fast & Furious 7," which is almost certain, given the performance of the past films, to get dated; "Minions," given what "Despicable Me 2" did here; "Jurassic World," which is a return to Jurassic Park, we rereleased "Jurassic Park" in 3-D here last year and that did good business here; and "Everest," which is based on the book "Into Thin Air."
We think with the way it looks and the gravity of mountain climbing — it's shot in a different way. And particularly in China where you've got so many Imax and large-format theaters, we think it's going to be big here. So in a perfect world we'll get those five movies in, and have a pretty big year.
You've had some success with animation in China. Do you have some particular plans to grow that part of the business?
It's actually critical to us here. We just announced the theme park here and what we need in this market is content that can not only be successful theatrically but that can roll through the different ancillary markets and be part of the content that people go to the theme park for. So obviously "Minions" is very important but we'd love to do even more in this market and look to even do some local animation if we could as a co-production. We have to find the right idea and the right partner.
Until now, do you feel like Universal has been making movies that have been hard to get into China, or just not that appealing in China?
I think it's a combination of things. I think we're a different company now than we have been in the past. There's a lot of factors. No. 1, we're now owned by Comcast and there's a strategy for Universal to be the best studio. I feel like we're kind of ascendant right now. We have the biggest media company in the world backing us; we have a strategy of having tent poles and franchises, which work in China. So it's not for the Chinese market but it fits with where the Chinese market is going.
We have a strategy, not just here but around the world, to invest in local product, and this is obviously a market you can't ignore for that. And then we have the theme park strategy. So you kind of look at all the factors in one and it makes it natural that we would enter this market.
I think the reason we haven't in the past is a combination of all the opposites of those factors — we didn't have a consistent tent pole slate, we had a rep here as opposed to having an office, and so that probably wasn't optimal. And we didn't have a consistent business strategy across multiple lines of business with the theme park and everything else.
When you think about greenlighting films, how much does China figure into the strategy?
It's interesting. I think first of all, taking a step back and answering a broader question, I think for a long time international didn't even matter. It was domestic; people sat in a room in Los Angeles and greenlit a movie. And international was kind of an afterthought — we can sell off those rights or do something else. The international business is now approaching 70% of our business. The U.S. is still a big territory but it is only one territory.
I ran international TV for the company before the studio and the first thing I realized was there was no [one] 'international' — there's a bunch of different markets. So I think when you're greenlighting a movie you have to take into account that movie, that genre, and that attracts us to the movie.
Some movies we greenlight based on U.S. box office alone, if it's a pure comedy we think will only work in the U.S. or a limited specialty movie; some movies we think might work in some markets but not others. And I think what you have to do as you're greenlighting movies, you have to take a real honest look at what markets that movie will be appealing in. China is the second-biggest market in the world, so that's critical in a lot of those conversations.
You're interested in streaming these kinds of releases in the U.S. In China, there are many Internet companies, such as Youku and IQiYi that are eager for American content. At the same time, there seems to be a squeeze on regulation in this area, limits on the amount of content. Do you see this as a significant revenue opportunity in the next one to two years?
It's already a big revenue opportunity for us right now. We're making a lot of money selling not just our movies but our TV content to a variety of the "over-the-'top" services. What's holding back that market right now is broadband penetration more than anything else. It's already a significant market for us. And I think we're looking to sell more content. The gating factor on its growth right now is broadband for consumers in the vast part of China to download things or stream things.
Can you quantify that part of the business?
I can't but it's significant for TV and movies already. It's a big part of the business.
Tiimes staff writer Meg James contributed to this report.
---
Sign up for the California Politics newsletter to get exclusive analysis from our reporters.
You may occasionally receive promotional content from the Los Angeles Times.