David Koch steps down: The conservative icon is leaving business and politics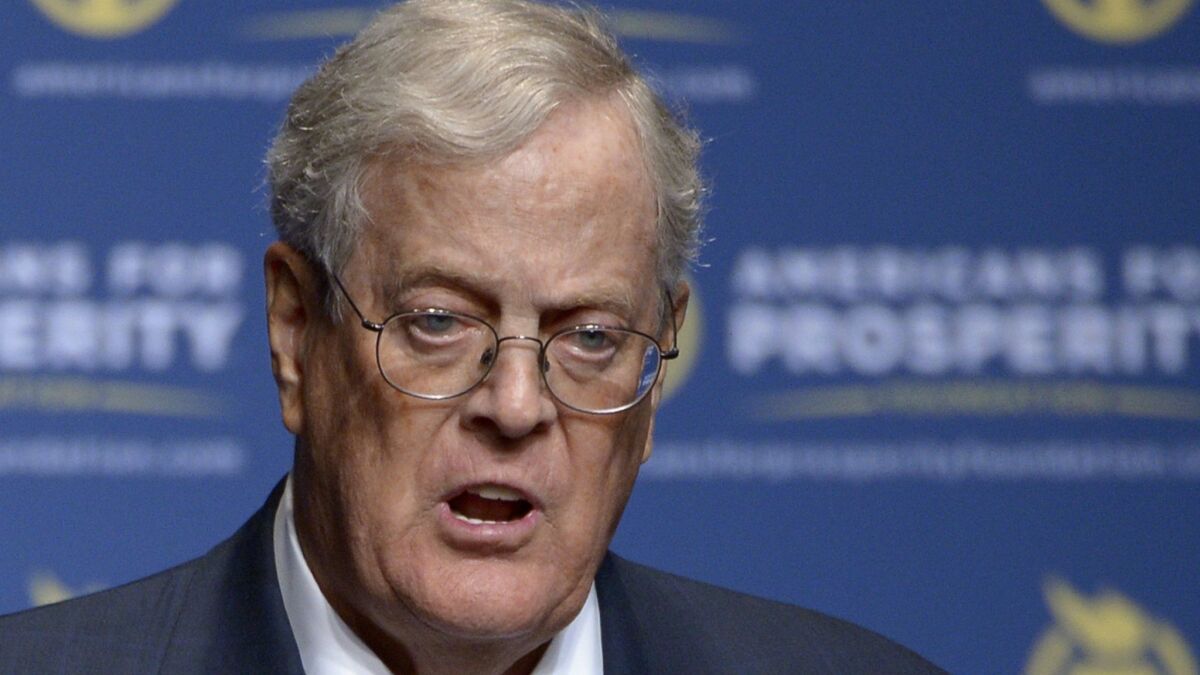 Billionaire conservative icon David Koch is stepping down from the Koch brothers' network of business and political activities.
The 78-year-old New York resident is suffering from deteriorating health, according to a letter that older brother Charles Koch sent to company officials Tuesday morning.
Charles Koch wrote that he is "deeply saddened" by his brother's retirement. "David has always been a fighter and is dealing with this challenge in the same way," he wrote.
David Koch is leaving his roles as executive vice president and board member for Koch Industries and a subsidiary, Koch Chemical Technology group, where he served as chairman and chief executive. Koch is also stepping down as chairman of the board for the Americans for Prosperity Foundation, the charity related to the brothers' primary political organization.
Charles Koch had assumed a more visible leadership role in the brothers' affairs in recent years. He will continue to serve as CEO of Koch Industries and the unofficial face of the network's political efforts.
Democrats have assailed the Koch brothers for their outsized influence in conservative politics over the last decade. Former Senate Majority Leader Harry Reid regularly attacked Republicans for what he called a "Koch addiction."
The Kochs have also clashed with the Trump administration at times.
Citing concerns about Donald Trump's style and substance, the network refused to endorse either presidential candidate in the 2016 election. And while the brothers have praised Trump's policies on taxes, deregulation and healthcare, they have aggressively attacked the Republican administration's trade policies. On Monday, the Koch network announced a multimillion-dollar campaign to oppose Trump's tariffs and highlight the benefit of free trade.
Using the money they made from their Kansas-based family business empire, the Koch brothers have created what is probably the nation's most powerful political organization with short- and long-term goals. Their network has promised to spend $400 million to shape the 2018 midterm election. They have also devoted significant time and resources to strengthening conservative influence on college campuses, in the Latino community and in the nonprofit sector.
David Koch, who served as the Libertarian Party's vice presidential candidate in 1980, had begun to focus more on philanthropy in recent years.
The Manhattan resident donated $150 million to New York City's Memorial Sloan Kettering Cancer Center in 2015, the largest gift in the organization's history. He has also given $185 million in total donations to MIT, his alma mater.
In an April interview with the Washington Examiner, Charles Koch said of his younger brother: "David is much more political than I am."
Charles continued: "David is a much better engineer than I am and is much more into the arts and social life. Obviously he's got to be or he wouldn't live in Manhattan. And David is much more into elective politics than I am."
In Tuesday's letter, Charles Koch said his brother's "guidance and loyalty, especially in our most troubled times, has been unwavering."
"David has never wanted anything for himself that he hasn't earned, as his sole desire has always been to contribute," he wrote.