Judge clears way for debt-relief rule to help defrauded students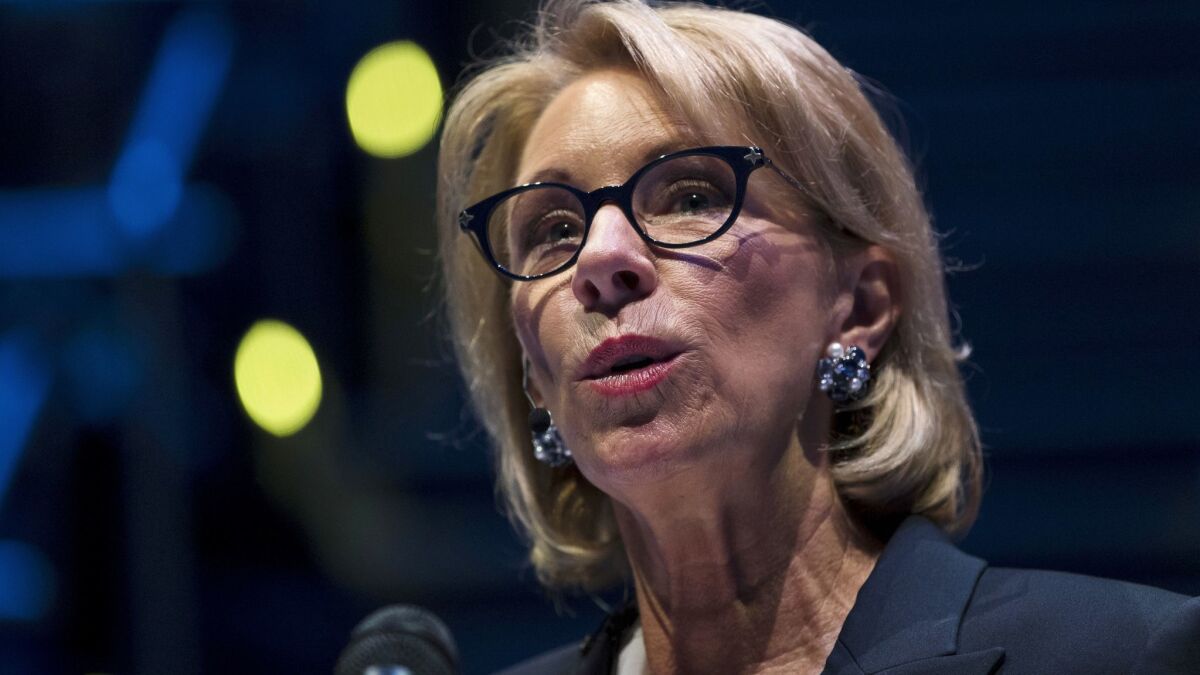 Students defrauded by for-profit colleges scored an important victory Tuesday, when a court cleared the way for an Obama-era policy that will make it easier for them to get their student loans forgiven.
Education Secretary Betsy DeVos had said the regulation, known as the borrower defense, made discharging loans too easy and was unfair to taxpayers. The rule was due to take effect in July 2017, but DeVos froze it while she worked on devising a new regulation.
But U.S. District Judge Randolph Moss ruled last month that DeVos' delay was unlawful. On Tuesday, he denied a request by an organization representing for-profit colleges in California to further postpone the rule, thus paving the way for the borrower defense to enter into force.
"The rule is finally in effect. No more excuses. No more delays," said Julie Murray, an attorney with Public Citizen, who is representing the defrauded students in their suit against DeVos.
Education Department spokeswoman Liz Hill said DeVos "respects the role of the court and accepts the court's decision" and will soon provide information about how the regulation will be implemented.
But DeVos continues to regard the regulation as "bad policy" and will continue writing a new rule "that protects both borrowers and taxpayers," Hill said in a statement Tuesday.
The ruling marks a significant setback for DeVos, who has made deregulating the for-profit college industry a top priority. The decision means that the Obama rule, which DeVos has fought hard to scrap, could be in effect until July 2020, when any new rule written by DeVos would enter into force.
Under the Obama rule, students whose schools closed mid-program or shortly after completion will become eligible for automatic loan discharge. The Century Foundation, a progressive think tank, estimates that Tuesday's decision will affect tens of thousands of attendees of more than 1,400 schools nationwide who will now be eligible for $400 million in automatic debt relief.
Other provisions in the rule allow students to apply for loan discharge as a group. It also prevents schools from forcing students to sign away their rights to sue the program and makes sure that the schools, not just taxpayers, bear financial responsibility if the schools shut down.
More than 100,000 students who say they have been swindled by their schools are waiting for the Education Department to consider their applications for loan forgiveness.
James Kvaal, president of the Institute for College Access and Success, said the agency must immediately halt debt collections and wipe out the loans of those borrowers whose schools have been shut down.
"This is a major victory for students across this country in the ongoing battle against the Department of Education and the for-profit college industry," said Toby Merrill, director of the Project on Predatory Student Lending at Harvard University, which also took part in the lawsuit.
But Steve Gunderson, president of Career Education Colleges and Universities, the industry lobbying group, described Moss' ruling as disappointing. "It will only create further confusion for students and schools," he said, and urged the Education Department to provide as much as guidance as possible while it finishes writing the new rule.
The group, whose motion to delay the rule was denied Tuesday — the California Assn. of Private Postsecondary Schools — did not return a request for comment.
Sign up for the California Politics newsletter to get exclusive analysis from our reporters.
You may occasionally receive promotional content from the Los Angeles Times.