Disneyland Resort hotel workers approve a new contract with a $15-an-hour minimum wage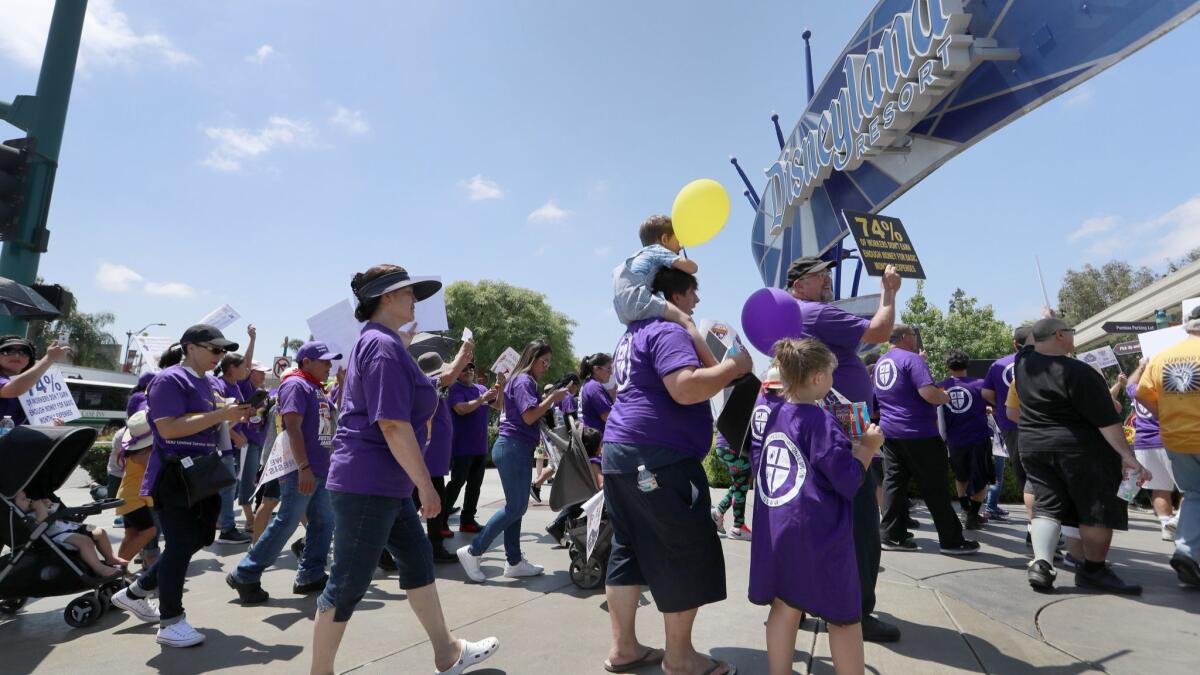 After months of demonstrations and protests, hotel workers at the Disneyland Resort in Anaheim overwhelmingly approved a contract that boosts hourly salaries by at least 40% over two years and clears the way for staff to get bonuses that were promised last year.
The five-year contract establishes wages and benefits for about 2,700 Disney workers, including housekeepers, valets, cooks, bellhops, servers and other staff at the resort's three hotels. Terms are retroactive to February 2017.
The agreement that was voted on over the weekend raises the starting salary to a minimum of $15 an hour, starting in January, up from $13.25, and pays workers a $1,000 bonus that was promised after the Republican tax plan was approved last year.
Housekeepers' minimum hourly pay rises to $15.80 immediately, Disneyland Resort said in a statement late Sunday. Starting pay for that job had been $11 an hour.
"I'm proud that all of us cast members stuck together and stayed strong to win the money we deserve for the value we create," said Glynndana Shevlin-Sanchez, a concierge who has been working at the resort for 30 years.
The contract takes effect Monday.
Members of Unite Here Local 11 voted 96% in favor of the contract, the union said.
"We are very proud to offer our cast peace of mind through affordable healthcare options and free educational opportunities with our groundbreaking new program called Disney Aspire," Disneyland Resort President Josh D'Amaro said, referring to a program that launched recently with an initial $150-million five-year investment by parent Walt Disney Co.
The program pays for hourly Disneyland Resort employees to take vocational or language classes and to pursue bachelor's and master's degrees.
Disneyland Resort said the new contract will roll out affordable employee healthcare coverage for workers, their families and eligible dependents. One plan could have an employee contribution of as little as $6 a week for single participants.
The unions for Disneyland Resort workers have pushed Disney management especially hard over the last year or so, arguing that the Burbank media giant has the financial means to boost salaries and offer better benefits to staff.
The union commissioned a study that was released in February which showed 73% of employees questioned said they don't earn enough to pay for such expenses as rent, food and gas. The study of workers at Disneyland and California Adventure Park also said that 11% of resort employees have been homeless or have not had a place of their own in the last two years.
Disney representatives called the study "inaccurate and unscientific."
The tactics seemed to have paid off.
Unions representing nearly 10,000 workers at the Disneyland Resort voted in July in favor of a three-year contract that raised hourly wages by as much as 20% immediately and an additional 13% in January.
Under that agreement, candy makers, custodians, retail workers, attraction operators and others received an immediate increase in the minimum hourly rate to $13.25 from $11. The wage jumps to $15 starting in January, three years before California's minimum wage is scheduled to reach that level. An increase to $15.50 an hour is slated for June 2020.
But the union has turned to other tactics besides contract negotiations to push for higher salaries.
This year, union members also collected about 20,000 signatures to place a measure on the Nov. 6 ballot in Anaheim that requires all large hospitality companies that accept a tax subsidy to pay a living wage.
Union leaders say the measure, if passed by a majority of voters, applies to the Disneyland Resort because it is benefiting from a 1996 bond agreement approved by Anaheim to build a six-story resort parking garage. Business leaders in Anaheim say the measure does not apply to the resort.
If the measure is passed, the wage increases called for in the initiative would supersede the union contracts of those companies in Anaheim that accept a tax subsidy. In all, Disneyland Resort has about 30,000 employees.
To read more about the travel and tourism industries, follow @hugomartin on Twitter.