PG&E hasn't run out of money. So why is it planning to file for bankruptcy?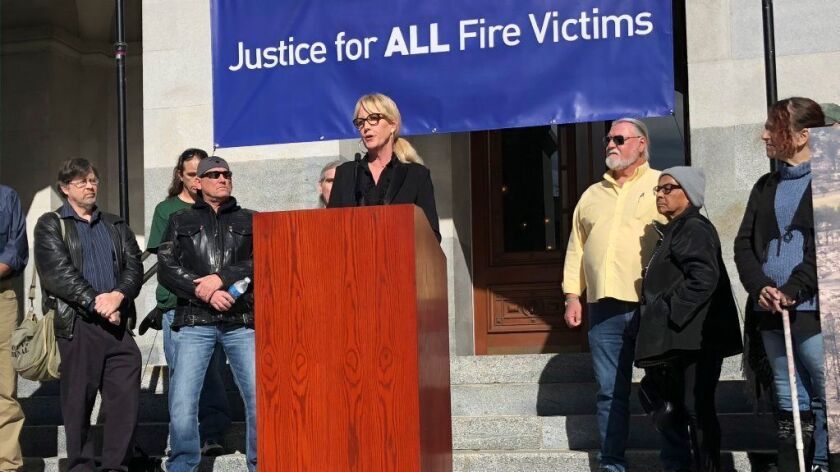 California's largest power company plans to file for bankruptcy as soon as next week, in the face of wildfire liabilities that could cost tens of billions of dollars.
But a growing chorus of shareholders, ratepayer advocates and lawyers for fire victims says there's no need for Pacific Gas & Electric to enter bankruptcy.
UPDATE: Battered by wildfires and scandals, PG&E files for bankruptcy »
Those critics point to the $1.5 billion in cash or cash equivalents PG&E says it has on hand, and to the company's claim that it could raise "a significant amount" of additional capital even without a Chapter 11 filing. Critics also say wildfire liability is far from the urgent crisis PG&E is making it out to be because it could be years before the company is forced to pay a single penny to fire victims.
The groups questioning PG&E's decision are strange bedfellows, although many of them have a financial interest in keeping the utility out of Bankruptcy Court.
One leading critic of a bankruptcy filing is BlueMountain Capital Management LLC, which owns more than 11 million shares of PG&E stock that could be wiped out. Then there are lawyers for victims of the Northern California fires, who might see court awards reduced by a bankruptcy judge. Some of those lawyers have joined forces with famed consumer advocate and PG&E foe Erin Brockovich.
Ratepayer watchdog groups also suspect PG&E is seeking bankruptcy protection not out of necessity but as a business strategy.
Loretta Lynch feels like she's seen this movie before. Lynch was president of the California Public Utilities Commission the last time PG&E filed for bankruptcy, during the energy crisis in 2001. At the time, the San Francisco-based utility said it needed relief from $9 billion in debt, incurred after a failed deregulation plan allowed Enron Corp. and other energy traders to manipulate markets and send prices skyrocketing.
PG&E emerged from its previous bankruptcy with a reorganization plan that saw investors largely made whole. The company was also allowed to boost its regulated profits for years to come. Customers, meanwhile, were saddled with higher rates.
The reorganization plan was approved by the Public Utilities Commission in a 3-2 vote, with Lynch in the minority. She called it "the richest bailout I've ever seen."
"PG&E was sitting in dough, the ratepayers were paying and paying, all the creditors were happy, everybody was a pig at the trough. And who paid? The California ratepayer," Lynch said. "Why wouldn't you want to try that again?"
Californians are paying billions for power they don't need »
PG&E officials say bankruptcy is the company's only option for addressing potential wildfire liabilities, especially after recent credit agency downgrades. In an emailed statement, PG&E spokeswoman Lynsey Paulo said the company's board unanimously chose to pursue a Chapter 11 filing "following a comprehensive review with the assistance of outside experts and at management's recommendation."
"Resolving our legal liabilities and financial challenges will be enormously complex," Paulo said, "and will require us to address multiple stakeholder interests, including thousands of wildfire victims and others who have already made claims and likely thousands of others we expect to make claims."
But Lynch thinks the main purpose of PG&E's bankruptcy filing is to frighten state officials into supporting another investor-friendly bailout. A federal judge would oversee the bankruptcy process, but the Public Utilities Commission would need to approve any reorganization plan that involved raising electricity rates. The state Legislature wouldn't have a direct role but could take steps to try to stabilize PG&E.
"They've created this crisis as part of their corporate strategy," Lynch said.
Bob Finkelstein, general counsel for the Utility Reform Network, has a similar fear. Finkelstein filed a motion with the Public Utilities Commission this week asking the commissioners to force PG&E to explain in more detail its decision to seek bankruptcy protection. He cited the company's filing to the Securities and Exchange Commission announcing its intention to file for bankruptcy, in which PG&E said it "could extend its liquidity for an extended period of time by using its assets to secure the issuance of additional capital or by accessing such forms of alternative capital."
"What they're very much saying is, 'We see a path that would allow us to stay out of bankruptcy, and we're choosing door No. 2, the bankruptcy door,' " Finkelstein said.
Finkelstein called bankruptcy "an opportunity that PG&E plans to use to advance its own interest," even if it's not yet clear what the company hopes to achieve.
"Things that PG&E would never be able to get from the Legislature or the Public Utilities Commission, they might get from the Bankruptcy Court," Finkelstein said. "We don't know what they plan to do, but we're not looking forward to its unveiling."
Although PG&E has said it still has access to capital, borrowing money has become much more expensive for the company since the Camp fire decimated its stock price and credit ratings. Travis Miller, director of utilities research at the investment analyst firm Morningstar, said a Chapter 11 filing was all but inevitable for PG&E at some point this year, barring fast action by state officials to stabilize the company.
"We didn't see a clear path to a non-bankruptcy scenario," Miller said.
PG&E bankruptcy could slow California's fight against climate change »
While consumer advocates worry a bankruptcy will create losers out of ratepayers and winners out of investors, some PG&E shareholders aren't happy, either.
The $19-billion hedge fund BlueMountain Capital Management sent PG&E's board of directors an open letter last week, arguing that the company was solvent and that a bankruptcy filing would be "an utter abdication" of the board's fiduciary duty to shareholders. The hedge fund followed up with a second letter this week, urging PG&E to delay a bankruptcy decision until after the firm's annual meeting in May.
"You have publicly stated that bankruptcy is in the best interests of all stakeholders. But you have failed to articulate a single cogent reason for why it is beneficial to any stakeholder," BlueMountain wrote in this week's letter.
PG&E shareholders are less likely to be made whole than the company's debt-holders. The investment analyst Morningstar says PG&E is one of the largest stock holdings in BlueMountain's portfolio, based on the hedge fund's most recent SEC filings.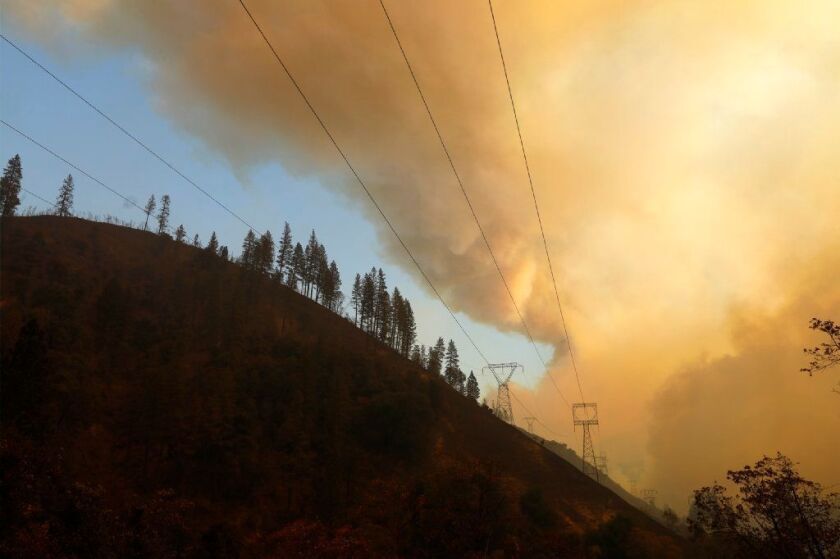 BlueMountain partner Omar Vaishnavi pointed out that PG&E faced no wildfire liability claims today, only potential claims in the future. And it's far from clear how much those claims will ultimately cost the company.
Cal Fire has concluded that PG&E's electric grid infrastructure sparked or contributed to more than a dozen fires that collectively killed 22 people in 2017. The state agency has yet to release an official cause for the deadliest blaze in recent years, the Camp fire.
Cal Fire announced Thursday that the Tubbs fire, which killed an additional 22 people in 2017, was ignited by a private electrical system, not PG&E's infrastructure. That could reduce PG&E's potential liabilities from the $30 billion or more the company has estimated, because the calculation included the Tubbs fire.
PG&E Corp. shares jumped $5.96, or 75%, to $13.95 on Thursday in reaction to the announcement.
Vaishnavi noted there had not been "a single judgment against the company."
"You first have to get a court date," he said, "you have to do pretrial work, then you have the trial, then the company can appeal it. You're talking about in some cases as long as 10 years."
Miller, the Morningstar analyst, said the reality wasn't so simple. Although PG&E might not have to pay out wildfire claims for years, he said, the looming threat of $30 billion in liability has already made it difficult for the company to access cheap capital.
"It's pretty clear that PG&E has enough cash to operate in the near term, but recent events have closed all of its access to capital markets," Miller said. "Given the amount of capital investment that it's planning over the next three-plus years, it can't afford to fund all of that investment as planned for much beyond late 2019."
People who lost their homes in the 2017 Northern California wildfires or the 2018 Camp fire may have the most to lose from a PG&E bankruptcy filing, if the utility is found to have sparked all those fires. A bankruptcy judge could allow PG&E to reduce its eventual payouts to wildfire victims, a scenario that experts say is likely.
In a protest outside the state Capitol on Tuesday, wildfire victims stood alongside Brockovich, whose fight against PG&E over groundwater contamination was portrayed in the 2000 film "Erin Brockovich," starring Julia Roberts. Brockovich urged state lawmakers to take steps that would allow PG&E to avoid filing for bankruptcy.
But the Legislature can't stop PG&E from filing for bankruptcy next week if that's what the company wants, said Noreen Evans, a former state senator who is now representing thousands of wildfire victims and is working with Brockovich.
"What we're trying to do is point out that PG&E appears to be solvent," Evans said, "and that it needs to pay the victims of its fires."
---
Must-read stories from the L.A. Times
Get the day's top news with our Today's Headlines newsletter, sent every weekday morning.
You may occasionally receive promotional content from the Los Angeles Times.