Dollar General throws a lifeline to hard-pressed communities. Not all welcome it
The village of Nice, Calif., has a name pronounced "Neece," like the city on the French Riviera, and it sits on a strip of land wedged dramatically between steep hills and the shores of Clear Lake. This was resort country a century ago, but tourists are scarce these days and the surrounding county is now among the poorest in the state, when measured by median income.
A perfect place, in other words, for a cinderblock Dollar General store, which now straddles Highway 20, a two-minute walk from the gazebo that marks the village center. When it opened back in 2015, some locals worried it was yet another symbol of civic decline. But for Dean Schneider, it was nothing but a blessing.
The 69-year-old retired commercial fisherman with a self-described "authority problem" now had a place to go for basic household items such as dish soap, tuna fish, bread and Coors Light, and the store saved him the 10-mile drive to the nearest major grocery store, where the prices were usually a few cents higher.
"This gave us some options," said Schneider, who lives on a fixed income. "I don't want to pay top dollar for toilet paper."
"Little-box" stores like Dollar General — and its main competitor Dollar Tree — have taken over a gigantic segment of the American household economy in the last decade by expanding into small towns overlooked by larger operators. Dollar General alone now has more than 15,000 stores nationwide, slightly more than the total number of McDonald's locations. Its annual sales exceed $6 billion.
And whereas many traditional retailers are staggering from online competition, Dollar General reported strong results for its latest quarter. Sales at stores open at least a year grew 3.7% over the year-earlier period. Net income rose 38%.
But the psychological effect may even top the economic effect in rural America when it comes to stores like Dollar General, which target areas where poverty and government dependence are endemic and unlikely to go away. Many of the towns that receive a new dollar store have not had a grocery option in years, and local officials typically welcome them with incentives such as tax abatements and free utilities.
The dollar store revolution has thrown a lifeline of food and capital to impoverished pockets in California and elsewhere, but it also raises a compelling question: How much quality is in that lifeline?
In the expansionist 1960s, McDonald's Chairman Ray Kroc chartered helicopters to take him over a prospective city for a look at where the suburbs were growing and likely to grow next. He would then make franchising decisions based on how he read the street patterns.
The Dollar General method is the curious inverse of this method, seeking not growth but decline.
"They are not waiting to see where a city is expanding," said Alexander Lowry, professor of finance at Gordon College in Wenham, Mass., who has studied the industry. "They are looking for contractions, reading the tea leaves in an opposite direction. This is the opposite of Ray Kroc's technique. And that's realistic. The trend is not upwards. The economy in rural America is getting worse."
Dollar General stores are cheap to build and operate, and the company likes to build them in clusters that can be more easily serviced by distribution trucks and share a staffing pool. Once land is acquired — either on the town's major highways or close to its historic center — a cinderblock box about the size of a large tract home can be erected for as little as a quarter-million dollars, compared with $14 million for a Walmart the size of an airplane hangar.
In 2017, the Tennessee-based chain, whose stronghold is in the rural Midwest and South, announced aggressive plans to build 900 stores nationally, including dozens more in California, where its incursion began six years ago. Dollar General — which did not respond to questions for this article — now has a distribution center at Tejon Ranch at the intersection of Interstate 5 and Highway 99, to serve more than 200 stores.
"In a way, you have to say, 'Good job, Dollar General,'" said David Procter, the director of the Rural Grocery Initiative at Kansas State University. "They are one of the very few businesses that are actively working to open stores in rural America. They have found a niche market. They have found an economic key."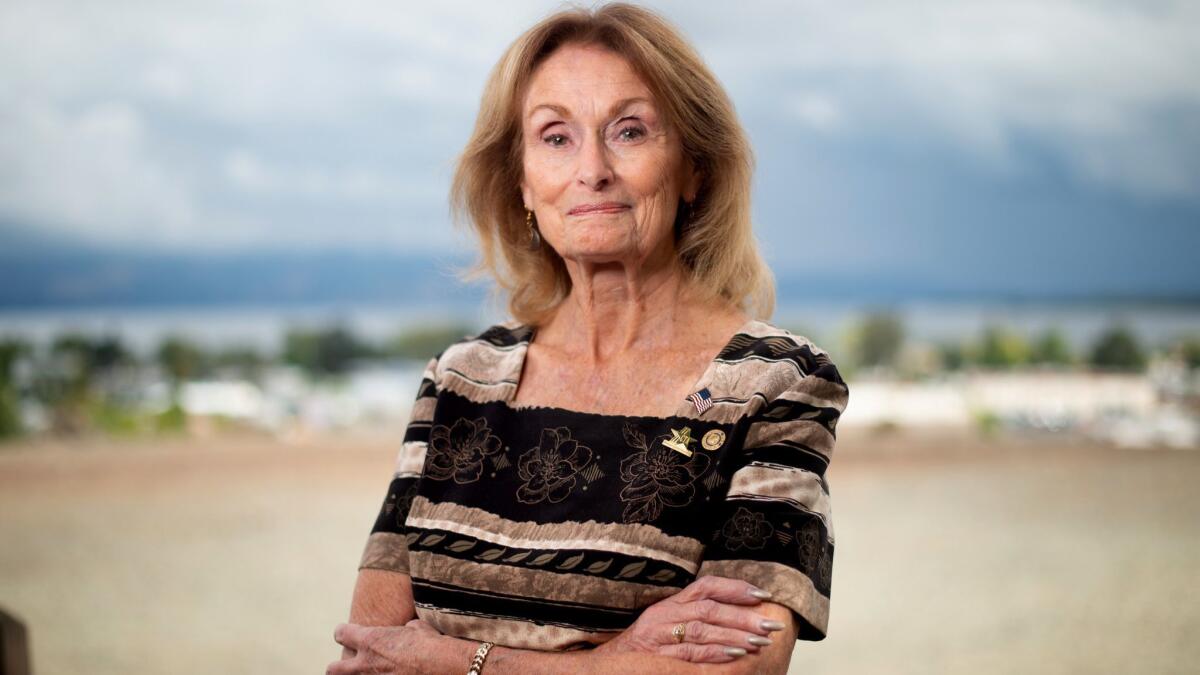 Few workers, low pay
While most outlying communities have welcomed the new shopping option, the jobs and the investment, there has been occasional pushback from Main Street vendors who fear ruin and from a few residents who see Dollar General's yellow-and-black plastic sign as a hostile flag announcing a version of economic colonialism in the poorer regions of the country.
Dollar General employs about one-third of the staff of an average hometown grocery, and the payroll is lean: The average annual salary for an assistant manager is just over $28,000, according to a survey by Payscale.com. Dollar stores are also designed on a grab-and-go model, meaning that any deli counter or coffee tables offered by local businesses are in jeopardy of obsolescence.
"What most concerns the grocery stores is that most of their business models are focused on canned goods, dry goods and paper products," Procter said. "If the dollar stores can offer whatever the grocery stores can offer, the independents are in real trouble."
Lake County, where Nice is located, has given the chain a mixed reception: Three stores received approval from the board of supervisors, but architectural plans for two others were rejected under pressure from residents who feared a host of consequences: increased traffic, incongruous design, bad symbolism. Even the customary civic boosters were ambivalent.
"I try to be objective, but Dollar General doesn't pay well and they don't hire many people," said Melissa Fulton, the chief executive of the Lake County Chamber of Commerce. "But if they meet all the requirements, then we have to give the right to open their doors. I'm looking down at the construction site for one of them right now."
Her office window has a view of the rebar and poured concrete of what would become the brand-new Dollar General serving Lakeport, the seat of a county where the median annual household income is $36,132, about half of the California median. About a quarter of the population is on some form of public income assistance, and the Nice store makes it clear from posters in the front window that it welcomes electronic benefit transfers from CalFresh, the state's food stamp program.
Its presence has also come close to driving away just about every other retail business in town. At the Nice Market, co-owner Pinda Kaur says that most of her regular customers have vanished and she cannot offer better prices to compete. She and her husband are contemplating closing up shop after 13 years selling basic foodstuffs.
"These are poor people who live here and they need to find the bargains," she said. "To spend $200 in food stamps in one grocery run is nothing."
Where she takes the biggest hit is milk. On a recent summer afternoon, the Dollar General just down Highway 20 was offering a gallon of Clover Sonoma 2% milk for $3.35, whereas the cheapest that Kaur was able to sell it was $5.99, thanks to the costs of her distributor.
"How do they sell it for that?" she wondered. "Is it from cows that don't eat?" The answer lies in Dollar General's business model: Beyond its low labor costs and distribution efficiencies, it is able to negotiate volume deals directly with manufacturers.
Living paycheck to paycheck
In a presentation to investors at a Nashville hotel in 2016, Dollar General Executive Vice President Jim Thorpe identified the American underclass as the company's "best friends forever."
The chief characteristics of the loyalists, he said, included "living paycheck to paycheck," and "relies on government assistance." Thorpe predicted the growing customer demographic — generally Caucasians with household income lower than $40,000 a year — would shortly expand to include large numbers of African Americans and millennials. The average Dollar General shopper is among the last "to feel the effects of improving economic conditions," the company said in a report to investors.
CEO Todd Vasos identified the ideal location to do business: a small town around which a cluster of about 22 other Dollar General stores are strategically placed in neighboring towns to save on labor and distribution. With such a grouping strategy, the company said it expected to reap an average of $1,033 per year in sales from each household within a radius of up to 30 miles.
Not everyone would shop there, of course. Just most people, and mainly for vital household goods such as soap, dog food and cooking oil in small sizes. This not only conserves shelf space, it reinforces the model of fast, convenient and impulsive purchases.
In this way, the strategy is the inverse of that of big-box giants such as Costco or Sam's Club that emphasize massive portions and consumption. Dollar General instead aims for micro needs. The average customer would not be the kind of person who shopped for a month's worth of ketchup, Vasos told the Wall Street Journal.
"The core customer uses her last bit of ketchup at the table the night prior and either on her way to work or on her way home picks up one bottle," he said.
Lake County's namesake body of water, Clear Lake, is California's largest natural lake. More than a century ago, it was at the center of a booming tourist economy. Resorts such as Bartlett Springs, Hoberg's, Soda Bay and Seigler Springs clustered around natural mineral waters and catered to a tony San Francisco crowd, and the boating settlements took on glamorous European names such as Lucerne, Nice and Buckingham Park. Period photos show ladies in petticoats and men with watch chains dangling from their vests posing in front of lodges.
But the rough topography meant the railroad never found it profitable to extend a line into Lake County. Nor could petroleum companies justify a natural gas pipeline, leaving inauspicious conditions for any meaningful industrial development. The passing of the "taking the waters" fad during the 1950s and the availability of cheap airfare to travel farther spelled the end of large-scale tourism, leaving Clear Lake with a lot of emptying motor courts and cabins around its 102-mile shoreline.
As nearby wine country counties like Napa and Sonoma grew less affordable, Lake County's abundance of housing — it is possible today to rent a two-bedroom house for as little as $600 a month — helped make it an attractive place to move, despite the lack of jobs and rough commutes. The volcanic ridgelines make it impossible to get in from the west or the south without going over a corkscrewing two-lane road that appears as tight squiggles on the map. A large proportion of the 1 out of 4 people who live below the poverty line are disabled or elderly.
Dollar General representatives were therefore surprised when residents of Kelseyville — a more affluent town to the south — pushed back against the company's plans to extend the footprint of stores into their town. Kelseyville has a more robust economy than the faded tourist towns on the north shore and a strip of contiguous businesses on Main Street that feared the competition.
"The big stores are going to drive us out," said Vijay Sharma, co-owner of Kelseyville Market and Liquor. "This isn't just me saying this. They are wrong for this area."
Resistance also sprang up in Middletown, where Dollar General tried to plant an outpost on a lot across the street from a church near the edge of the St. Helena River and a vineyard where the grapes are planted in rows as precise as tombstones in a military cemetery. Most of the objections centered on aesthetics.
"None of us liked the look of the Dollar General stores," said Monica Rosenthal, who owns a local vineyard. "We were like, 'Oh my God!' They are more concerned with maintaining their corporate identity than our unique country charm and diversity."
The board of supervisors denied the company a permit in a closely watched 3-2 vote after the planning department wrote that the squat Dollar General design was in contrast to the overall look of Middletown: "The proposed structure consists primarily of box elements, only somewhat softened by applied design elements such as faux shutters." This was, in fact, the same generic design common to Dollar Generals across most of the U.S.
The decision didn't sit well with those in the poorer parts of Lake County, who felt that there was an element of classism to the objections and that the design complaints were a fig leaf for deeper-set worries about building a monument to poverty in the midst of grape vines.
"I can safely say I've never set foot in a Dollar General. But this is someone trying to invest in this county," said Claude Brown, the second in command at Westgate Petroleum, which supplies local gas stations with fuel, and the former head of a Middletown advisory board. He sat at the edge of the Hidden Valley Lake Golf Course drinking an iced tea. "But some people are protectionist. The name Dollar General represents 'poor.' Well, we've got 24% of people on government assistance. This county fits their model."
Rich history of cheap retail
In many ways, this is nothing new. Big national chains have been driving down prices and chasing little businesses off American Main Streets since June 21, 1879, when Frank Woolworth opened his "Great Five Cent Store" in Lancaster, Pa., and sold nearly 30% of his inventory on the first day. His formula of offering an unpredictable explosion of cheap goods proved a hit with the public.
The "five and dime" fad spread quickly through the U.S. Woolworth's business model bore a striking resemblance to those of the dollar stores of a later generation. He dealt directly with manufacturers to negotiate rock-bottom invoice prices and studied demographic data to find out where the poorest Americans were living and shopping. He squeezed profits on tiny markups, sparked visual delight through carefully arranged shelves and spent almost nothing on publicity, knowing that the physical fact of the store in a prominent location — combined with word of mouth — would generate its own buzz.
At points, customer enthusiasm for Woolworth's rivaled that of any modern Black Friday event. In the hours before a location opened on Fulton Avenue in Brooklyn in 1895, the anxious crowd "threatened several times to go through the big plate glass windows in front of the store," reported the Brooklyn Times.
"The millions who daily go shopping and adventuring in these stores are not lured by advertising or other modern methods of salesmanship," wrote Woolworth biographer John K. Winkler in 1951. "They come because they know their every need can be satisfied quickly, conveniently — but most of all because of the sheer wonder of what their nickels and dimes will buy."
Woolworth's success generated a fleet of competitors: Ben Franklin, Kresge, McCrory, McLellan's. In 1962, Sam Walton opened his first Walmart in Rogers, Ark., the first of another wave of mass-merchandise discount stores that would plant outposts in small towns across America and make business difficult, if not impossible, for mom-and-pop retailers.
Dollar General emerged from that same era, though with a Woolworthian hook: J.L. Turner's store in Springfield, Ky., opened in 1955 with the explicit guarantee that none of the merchandise would cost more than $1. By 1968, the chain had reached out of the mid-South and was generating more than $40 million a year in sales.
The truly spectacular period of growth, however, happened in the Great Recession of the last decade after the chain had let go of the one-dollar price limit and started acting as a semi-substitute for the grocery stores that were withering away from small towns too far for a convenient Walmart trip.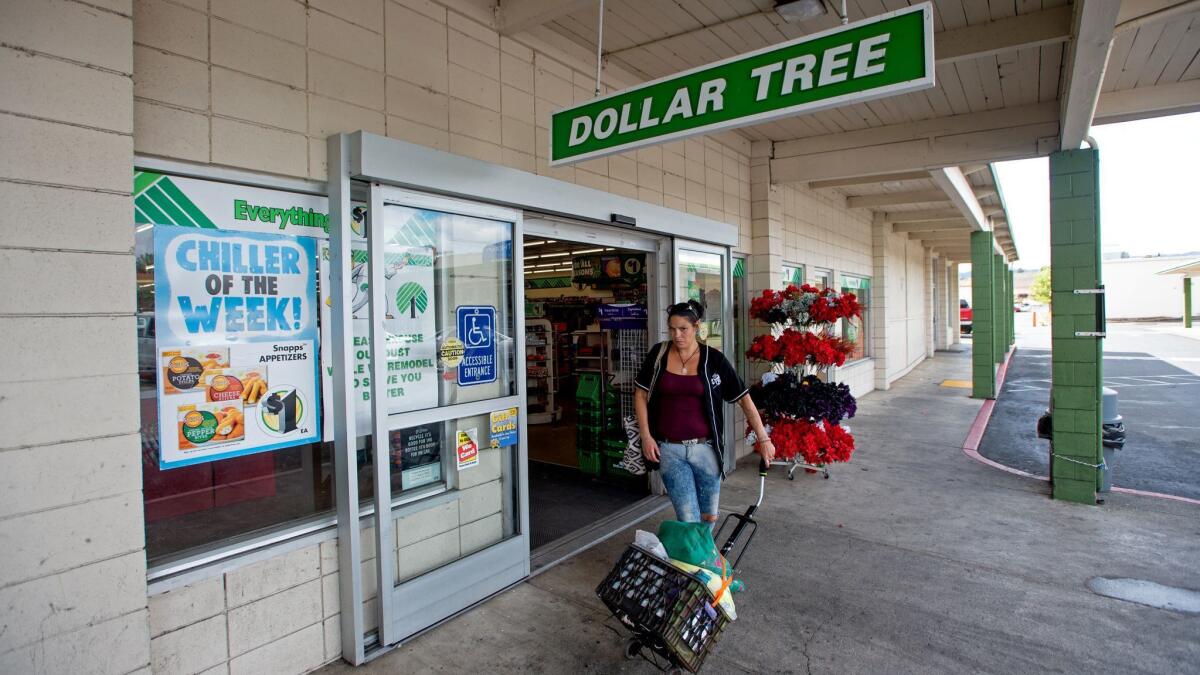 Dollar General is now spreading into rural California with even greater speed than anything Frank Woolworth ever did. In the Northern California city of Redding, for example, Dollar General opened three outlets in succession off the highways, making it hard for anyone to drive into town without brushing close to one.
The company's philosophy of minimum staffing takes a page from Frank Woolworth, who believed that clerks shouldn't have the job of fetching goods from a storeroom behind the counter and that customers would derive an addictive sort of entertainment from browsing the shelves themselves. Dollar General needs only a skeleton crew of about five permanent employees — a manager, an assistant manager and three associates — to unload trucks, stock shelves, patrol for shoplifting and run the register. This is part of what allows Dollar General to keep prices low and enable even the poorest customers to enjoy small luxuries.
"While you might be driving out poor Mr. Jones, he doesn't offer the same prices the dollar stores offer," said Elizabeth Racine, a professor of public health at the University of North Carolina who has studied the effect of dollar stores on struggling communities. "People want the good price and they will drive for them. You need to understand how stressful the lives of these poor people are before you start with narratives about driving people out of business."
A stroll through an average Dollar General store is a bit like walking into an explosion of name-brand confetti: packages of Crayola, Viva paper towels, Dixie cups, Gain detergent, Energizer batteries, Fructus shampoo, and yellow bursts of cardboard announcing prices typically a fraction cheaper than what can be found at any nearby merchant. The initial visual mosaic calms into a logical progression toward the register. An average store — as small as it seems — holds well over 10,000 products.
In Lake County, many people say they use the dollar stores as a supplement — if not a replacement — for the traditional grocery store. Those whose budgets are stretched have learned to pay attention to subtle fluctuations in prices.
Audrey Jackson said she goes to the Dollar General whenever there's a bargain. Perhaps because she used to work the register at a convenience market herself, she appreciates the democracy of the prices that cater to those who arrive by car and those too strapped to afford a vehicle, known by staff as "the walkers."
On a recent afternoon, Jackson took her grandson Eli out for an errand at the Dollar Tree in downtown Lakeport for a basketful of off-brand cookies, mustard, ketchup, corn dogs, pancake mix and peroxide, which came to slightly more than $14.
"I usually don't spend any more than that," she said. "I came here because the ketchup is 49 cents cheaper than at Grocery Outlet."
Tom Zoellner is a freelance writer. This story was underwritten by a grant from the Economic Hardship Reporting Project (economichardship.org).