6 Images
Boeing 787 Dreamliner takes flight
A
Boeing
787 Dreamliner passenger jet, escorted by a T33 chase plane, rises from the runway at Paine Field in Everett, Wash., on its first flight.
(Drew Perine / Tacoma News Tribune)
Charles Nowak, from left, Lorrie Stockman and Jami Compton, employees at a Global Aeronautica plant in North Charleston, S.C., where part of the Dreamliner fuselage was assembled, watch via satellite feed as the jet makes its first test flight.
(Alan Hawes / (Charleston, S.C.) Post and Courier)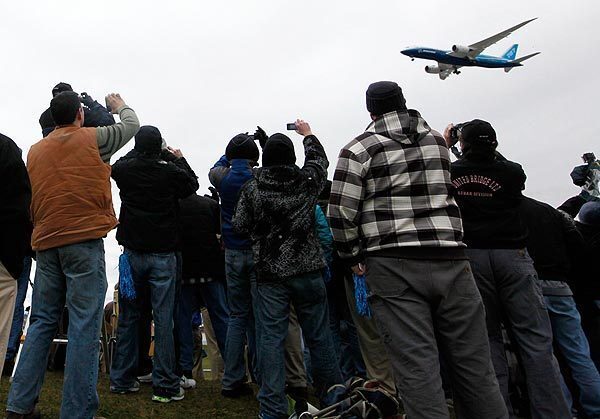 The first production Boeing 787 takes off on its inaugural flight in 2009 at Paine Field in Everett, Wash.
(John Froschauer / Associated Press)
A model of a
Boeing Co.
787 Dreamliner cockpit was on display at a reception for staff and the media on the eve of the jet's first flight.
(Kevin P. Casey / Bloomberg)
A large piece of a
Boeing
787 Dreamliner undergoes a static test to evaluate modifications at Boeing's facility in Everett,
Wash.
(Bloomberg News)