Drought revives 'forgotten art' at wineries: Farming without irrigation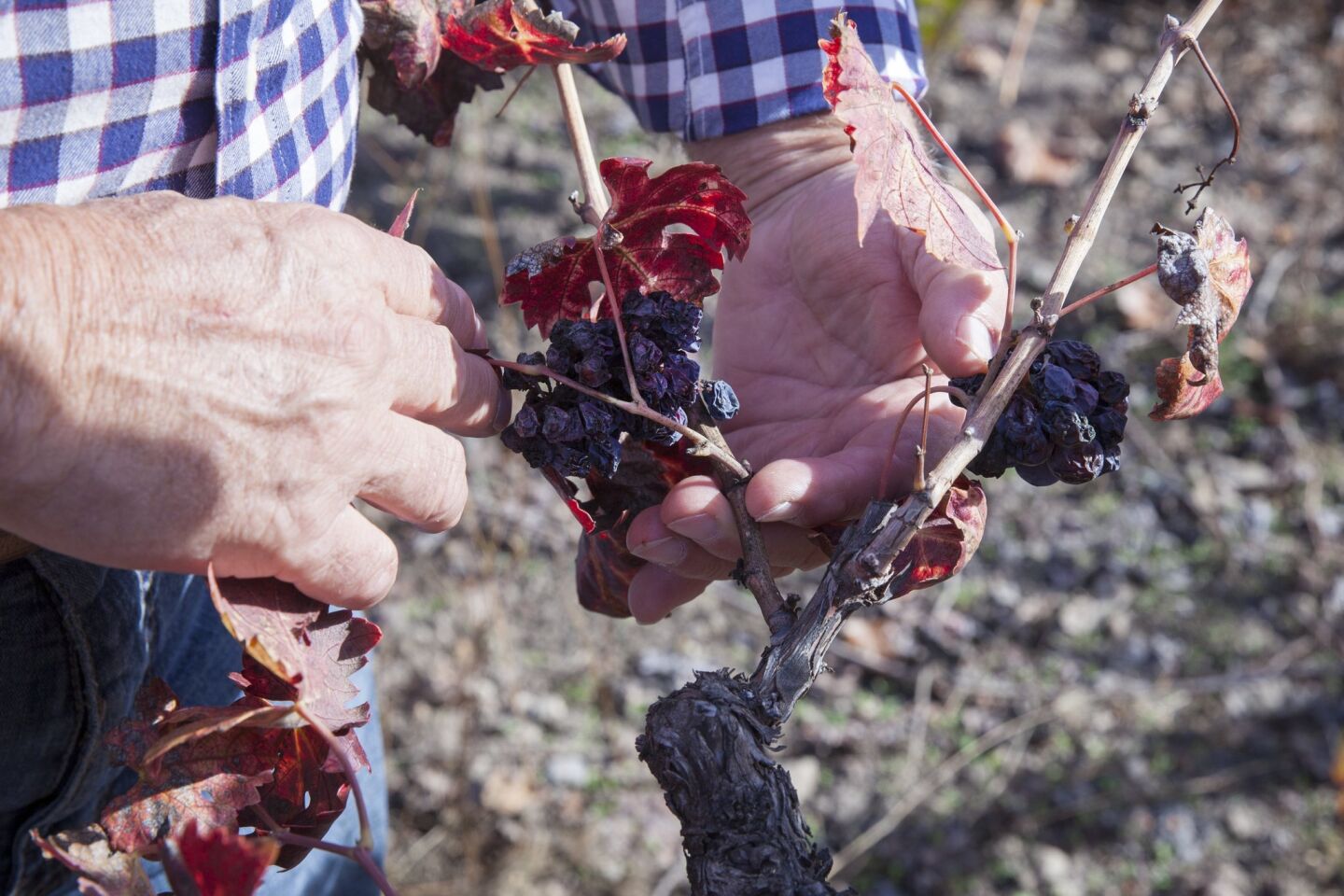 Rich Czapleski, owner of Canard Winery, shows off some of the leftover grapes from the recent harvest in his zinfandel vineyard.
(Peter DaSilva / For The Times)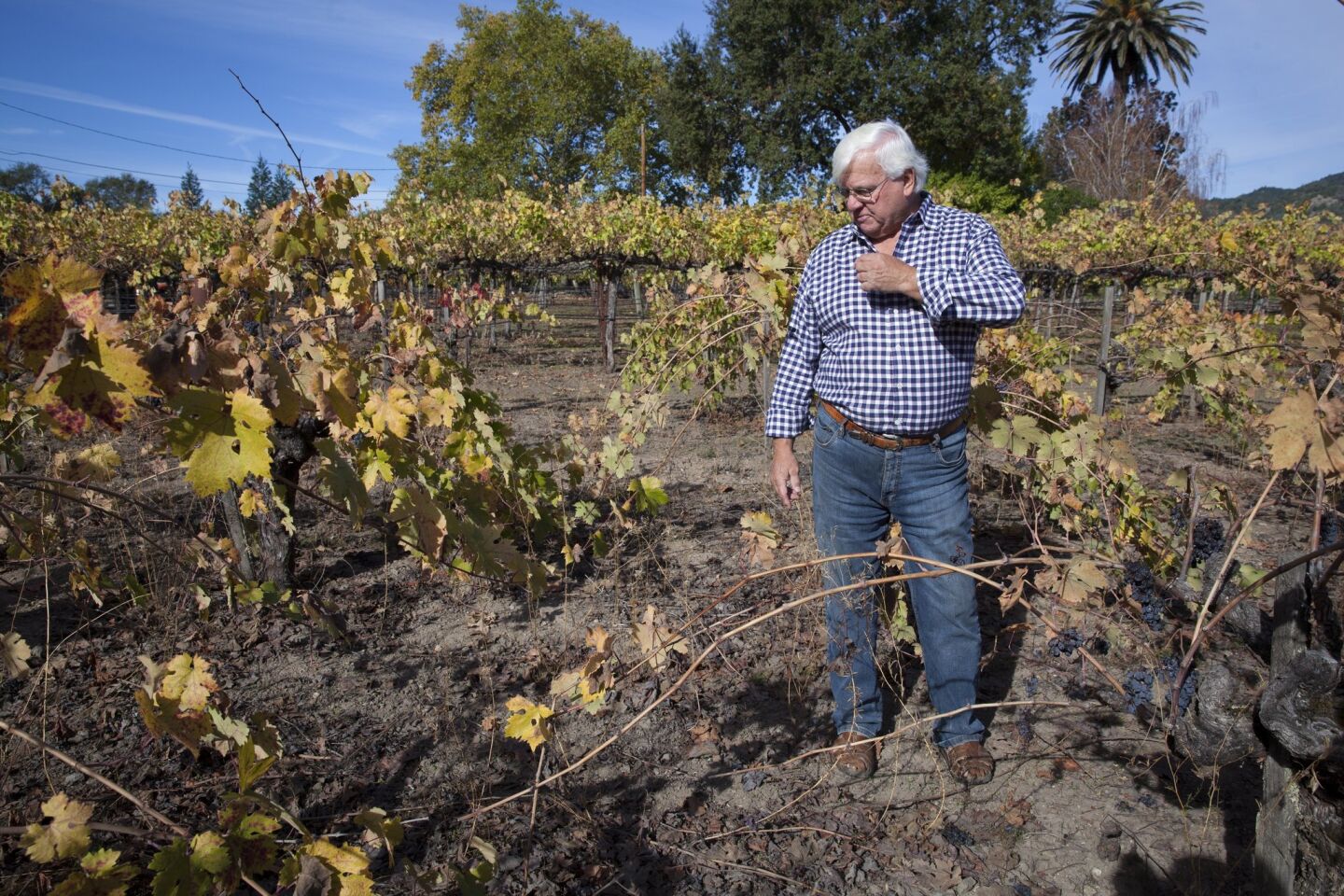 Rich Czapleski, owner of Canard Winery, walks through his zinfandel vineyard that is dry farmed. Some of the vines are more than 100 years old.
(Peter DaSilva / For The Times)
Winery owner Rich Czapleski does not irrigate any of his grapevines, which have weathered some of California's worst droughts.
(Peter DaSilva / For The Times)
A zinfandel vine grows in the dry-farmed Canard Winery.
(Peter DaSilva / For The Times)
Rich Czapleski, owner of Canard Winery, dry farms all his grapes, including cabernet sauvignon and merlot. "And as a result, I think we get better quality," he said.
(Peter DaSilva / For The Times)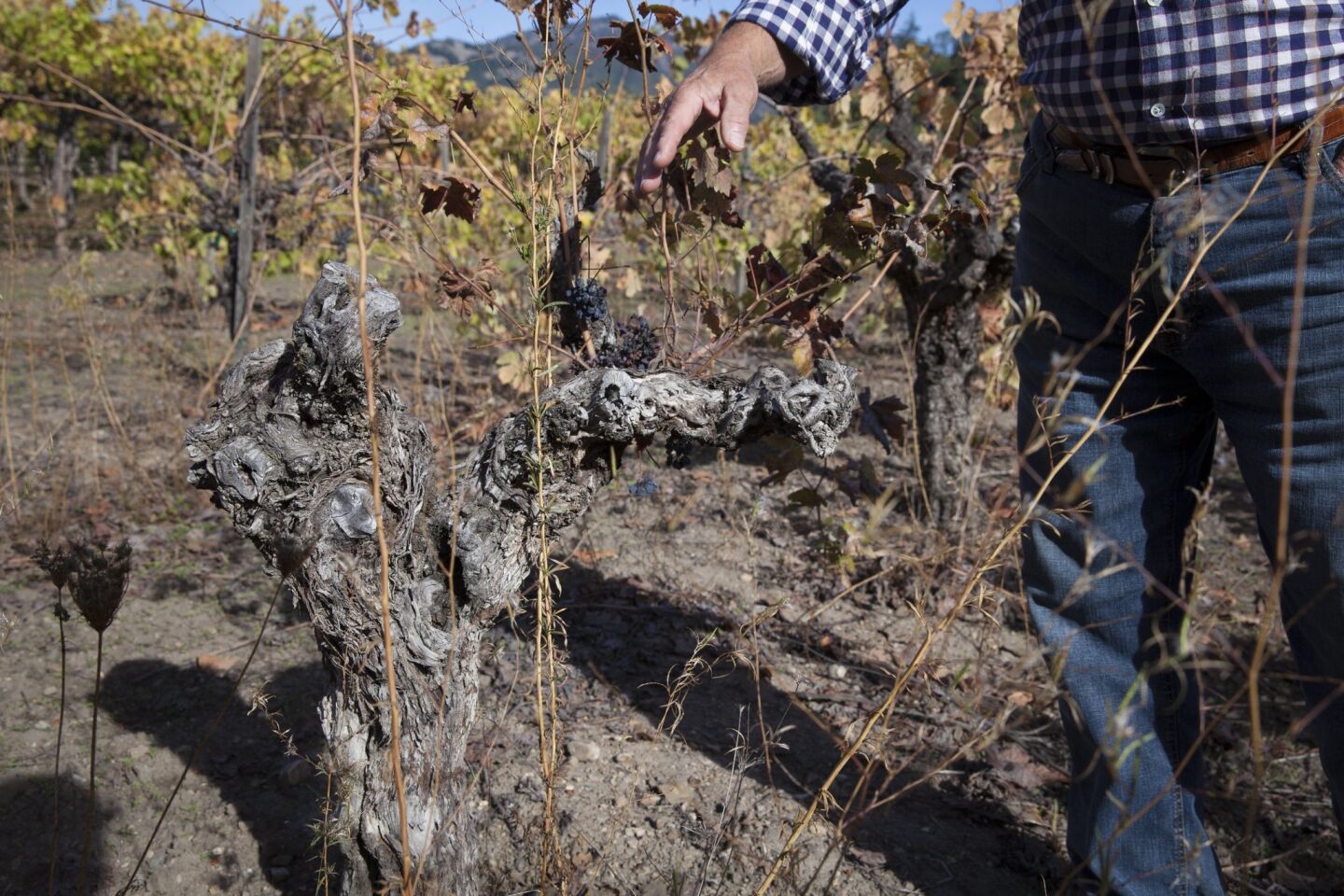 Dry farming requires the right kind of soil to absorb and retain natural moisture.
(Peter DaSilva / For The Times)
REPORTING FROM CALISTOGA, CALIF. —
The gnarled zinfandel grapevines on Rich Czapleski's land have borne fruit for more than 100 years, producing dark, intense wines that exemplify the special growing conditions in this coveted winemaking region.
Over that time, the vines have weathered some of California's worst droughts — including the last three years with little difficulty.
Their survival isn't owed to advancements in irrigation. Drip hoses like those seen at most vineyards across the state are curiously absent. Czapleski relies on dry farming — a classic method of cultivation that has fallen to the wayside.
"You use what Mother Nature gives you," said the 72-year-old owner of Canard Winery, who dry farms all his grapes, including cabernet sauvignon and merlot. "And as a result, I think we get better quality."
That doesn't mean leaving the vines idle and praying for rain. Dry farming requires the right kind of soil to absorb and retain natural moisture. It needs vines with deep roots to seek out that water, especially in times of severe dryness. And it takes careful tilling and pinpoint soil management to make sure the vines survive the hottest months.
The trade-off can be lower yields. That's a problem for cheaper wines but less so in top growing regions like Napa Valley where winemakers of all stripes limit yields to ensure flavor is sufficiently concentrated in the grapes.
Everyone used to dry farm wine grapes until the late 1970s, when irrigation was introduced. Dry farmed wines put California on the global map by winning a seminal blind tasting test in 1976 called the "Judgment of Paris."
Today, only a handful of producers continue the tradition — and only where there's just enough rain. Adherents are discovering revived interest in the practice now that California's $23-billion wine industry is facing an emerging water crisis of historic proportions.
"It's like a forgotten art," said Frank Leeds, head of vineyard operations for Frog's Leap Winery in Rutherford, a leading dry farm and organic wine producer in Napa Valley. "There's very few guys that dry farm and less guys that actively dry farm. It's easier, I'm sure, to turn on the tap."
Leeds estimates that up to 85% of Napa Valley has enough rain to practice dry farming. But it's hardly an option in Temecula, or in the largely bone-dry San Joaquin Valley, which produces more than 70% of the state's wine.
"If you don't water in the San Joaquin Valley, you're not getting a yield," said Larry Williams, a professor at UC Davis' Department of Viticulture and Enology.
Research that Williams conducted on Chardonnay grape vines in the Carneros region of Napa Valley found it took 14.2 gallons of water to produce a four-ounce pour of dry farmed wine. A same-sized pour of wine made from irrigated grapevines required 15.3 gallons of water — more than half of which was rainwater.
Wine grape growers across California saw this year's harvest begin weeks earlier than usual because of the dry and warm weather. Yields were slashed by as much as one-third compared with last year in regions such as Paso Robles, where the water table has been sinking dramatically. Producers in Temecula Valley were forced to irrigate their dormant vines last winter just to keep them alive. Even after surviving, water-stressed vines face the threat of long-term health problems.
Despite that, California's wine grape harvest this year is expected to be the third largest on record. Early reports suggest the 2014 vintage will be one to remember (though experts say there's no strict correlation between drought and quality). But if the drought doesn't abate, many believe it will be hard to sustain the state's bountiful wine grape yields.
"Most of the growers I talk to have had a great year," said Kendall Lambert, water program coordinator for the Community Alliance With Family Farmers, a nonprofit organization advocating sustainable agriculture. "The big question is what happens this winter. Are we going to get enough rain?"
Lambert said most winemakers are always looking for an edge in saving water. Drip irrigation, aided by satellite imagery measuring moisture loss, has reduced water wastage significantly over the years.
Still, Lambert said interest has never been greater for dry farm workshops held across the state. In Napa County earlier this year, 60 people attended their seminar, three times more than usual, she said.
Leeds at Frog's Leap has also increasingly been asked to share his expertise, most recently at a panel about dry farming at the Commonwealth Club in San Francisco. His daughter, a wine consultant, has helped winemakers in Southern Napa's Coombsville area convert their irrigated vineyards into dry farms because of water restrictions on expanding vineyards.
"There's so much interest now in dry farming I could definitely expand my business if I wanted to," said Leeds' daughter, Lauren Leeds Pesch.
John Callan turned to her for dry farming help when he doubled his vineyard to six acres.
"We couldn't use more groundwater and I didn't want to truck in water," Callan said.
Converting Callan's land required new rootstock for his cabernet grapevines. Those had to be irrigated the first year.
"By the second year, we didn't have to water at all," Callan said.
The Leeds family has been growing wine grapes at its Rutherford ranch since before the Great Depression and has never turned to pipes and hoses. Leeds, who was hired on at Frog's Leap in 1992, estimates he saves 65,000 gallons of water per acre each year by dry farming for the winery. Leeds says he primarily dry farms to make better wine.
"We don't dry farm in order to save water," Leeds said. "If we thought we could have more productive or healthier vines, we'd water. Yes, we're concerned with the environment, but we make more flavorful grapes and more flavorful wine by farming organically and dry farming."
One of the chief differences between dry farmed vines and irrigated ones is the depth of the roots. Leeds says there's no better way to showcase a wine's sense of place because deep roots drink water infused with the flavors and nutrients of the local soil. It's an esoteric quality better known by its French name, terroir.
Of course, great wines also come from irrigated grapes. Regardless of how water is delivered to the vines, winemakers are careful not to provide too much moisture. That can over-ripen and dilute a grape's flavor and make a wine taste flabby.
"Winemaking is all about controlling the vigor of the grapes," said James Laube, senior editor for Wine Spectator, which compiles closely watched annual rankings of the world's best pours. "Our selection of wine has nothing to do with how it's farmed."
Twitter: @dhpierson
Our six-week newsletter will help you make the right decision for you and your property.
You may occasionally receive promotional content from the Los Angeles Times.