Edison asks for bigger profits, says bills would rise $14.40 a month for the average home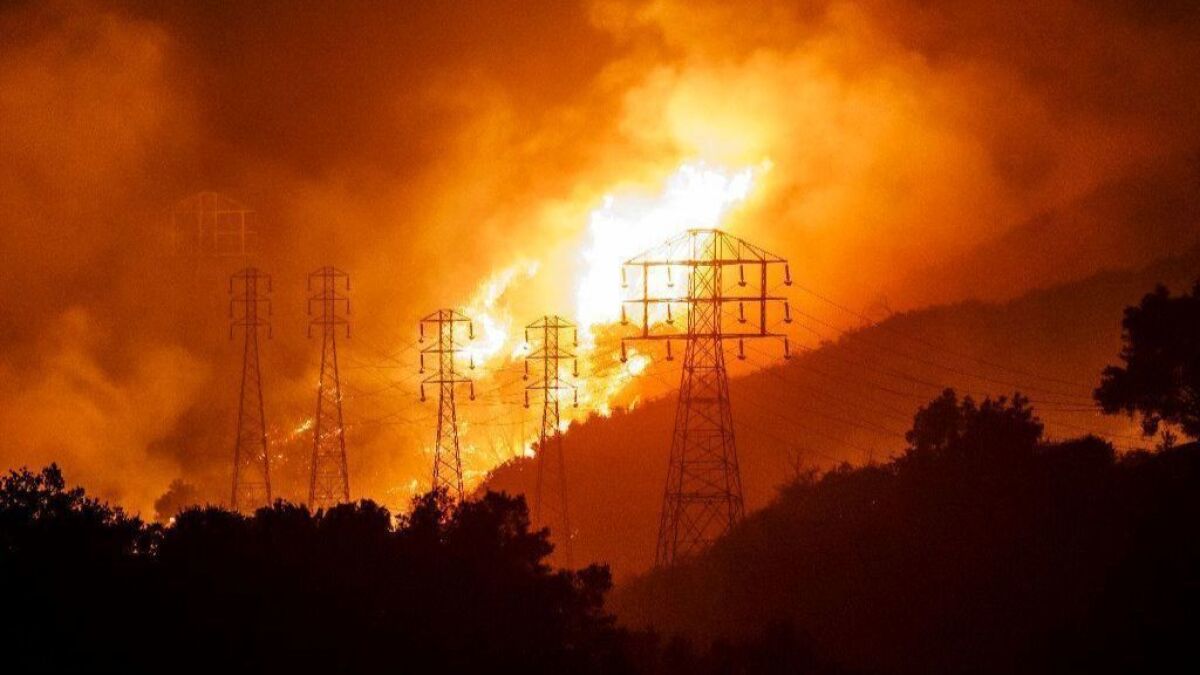 California's major monopoly utilities asked regulators Monday to approve higher profits for their shareholders amid a growing risk of destructive fires. The biggest request came from Southern California Edison, where the average household customers could see an annual bill increase of more than $170.
In separate filings to the California Public Utilities Commission, officials for the three companies said a larger return on equity for their shareholders is necessary to keep attracting investment. Without the lure of higher profits to balance out the financial threat posed by wildfires, company officials argued, they'll have trouble securing funding for infrastructure projects that support fire safety and renewable energy.
San Francisco-based Pacific Gas & Electric, which filed for bankruptcy protection in January after its electrical equipment was linked to a series of deadly fires, asked the commission to raise shareholder returns to 16% from the current 10.25%. The company estimated its request would cause a monthly bill increase of $7.85 for an average residential electricity customer and $4.25 for an average residential gas customer.
Southern California Edison sought an even bigger number, asking the commission to increase shareholder returns to 16.6% from 10.3%, with fire risks accounting for most of the increase. The utility estimated the impact at $12.20 monthly for an average residential customer.
Coupled with a similar request Edison made this month to federal regulators, an average home that pays $100 a month to the Rosemead-based company could see its bills rise by $14.40 a month if both requests are approved.
Edison doesn't face as much financial risk from wildfires as PG&E, which estimates it could face $30 billion or more in potential liabilities. But Edison's stock price has fallen as the fire threat, fueled in part by climate change, has risen. Edison's power lines were found to have sparked the deadly Thomas fire in 2017, and the company's credit ratings have been downgraded as financial analysts fret about fire risks.
Read more: SCE says investors need bigger profits because of fire risks »
San Diego Gas & Electric, the state's third-largest private utility, has also seen its credit ratings downgraded in recent months. SDG&E asked the Public Utilities Commission to increase shareholders returns to 14.3% from 10.2%, which the company estimated would lead to a summer monthly electric bill increase of $5.59 for the typical home.
SDG&E, a subsidiary of Sempra Energy, said its proposal "reflects the increased risk that SDG&E and other California Utilities face because of the potentially massive costs associated with catastrophic wildfire liabilities." The company pointed to state laws and policies that put electric utilities on the financial hook for fires started by their infrastructure even if they didn't do anything wrong, a situation that "may result in significant unrecoverable liability costs through no fault of the Utility," SDG&E wrote.
Edison, PG&E and SDG&E have asked lawmakers to shield them from the full liability of fires ignited by their equipment. It's a contentious request after two years of hellish blazes, including the Camp fire, which killed 86 people and was probably sparked by PG&E's infrastructure, the company says.
Discussions in Sacramento are ongoing, with Gov. Gavin Newsom and legislators debating how to pay for wildfire damages in an era when climate change is fueling bigger and more destructive conflagrations.
"Creditworthy investor-owned utilities are critical to the future of California," Caroline Choi, Edison's senior vice president of corporate affairs, said in a statement Monday.
It's hard to find precedent for the profit margins the three utilities are requesting. Over the last decade, they've been allowed to earn returns of 10% to 12% on state-regulated assets, according to the Public Utilities Commission. Across the country, electric utility profits approved by state officials averaged 9.45% in the fourth quarter of 2018, down from nearly 13% in the early 1990s, according to data from an industry trade group.
Critics slammed Edison's first request for higher returns as a rip-off for ratepayers, calling it a tactic to pressure lawmakers into limiting the company's liability. Matt Freedman, an attorney with the Utility Reform Network, said Edison is "attempting to extort relief from the state of California by pressing for obscene rates of return."
Edison said it would seek to "reduce or remove" the increase to shareholders profits "if there is a material reduction in its wildfire risk due to regulatory or legislative reform." PG&E made a similar pledge, saying it would amend its requested increase if state officials "reach a sustainable, and equitable, policy solution to the current situation."
Loretta Lynch, a former president of the Public Utilities Commission, said shareholder returns approved by the agency in recent years have been "amazingly high in this low-interest environment," allowing the utilities to reap excessive profits instead of being forced by the commission to accept lower returns. Now the utilities, Lynch said, are "taking advantage of a disaster, which is the wildfires, in order to profit all the more."
Our six-week newsletter will help you make the right decision for you and your property.
You may occasionally receive promotional content from the Los Angeles Times.