Estee Lauder eyes younger customers with $1.45-billion purchase of Too Faced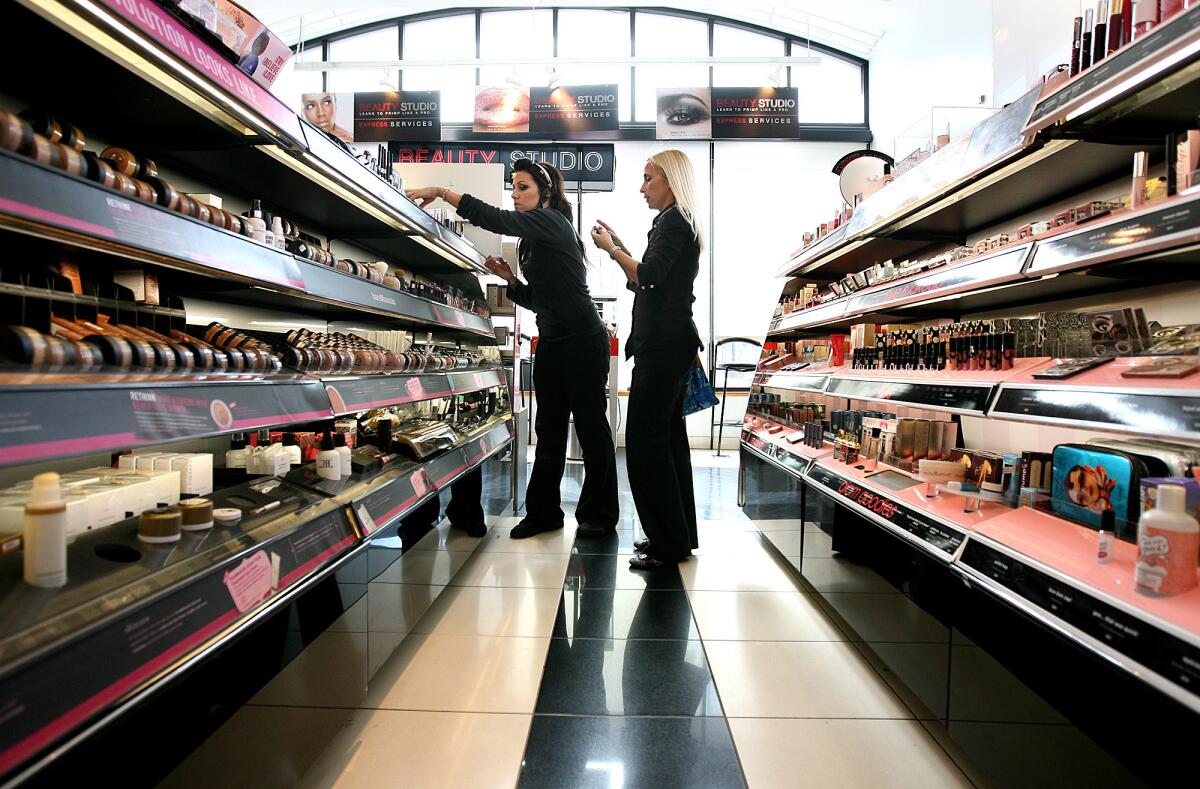 Irvine-based makeup brand Too Faced is a clear hit with young shoppers. Its Instagram account, filled with social media starlets and pastel-colored product arrangements, has 7.3 million followers. Its makeup is often featured in online posts by young beauty editors. Its co-founder, Jerrod Blandino, frequently appears in videos on the company's YouTube account that have racked up more than 200,000 views.
Such youth appeal doesn't come easy — or cheap.
By announcing its $1.45-billion purchase of Too Faced on Monday, the Estee Lauder Cos. became the latest established company to acknowledge that its more cost-effective to buy hipness than to attempt to build such buzz in-house.
In October, Estee Lauder, which also owns brands such as MAC and Jo Malone, announced it was buying another youth-oriented brand, Becca Cosmetics, for a reported $200 million. Unilever dropped $1 billion this summer to buy Marina del Rey men's grooming company Dollar Shave Club. The consumer products giant also looked at acquiring the Santa Monica start-up Honest Co. before buying Seventh Generation, a maker of plant-based detergents and cleaners. Too Faced itself has changed hands before. Last year, private equity firm General Atlantic bought a majority stake in the company for a reported $500 million.
In a statement, Estee Lauder acknowledged the importance of younger shoppers, who are drawn to Too Faced products such as the cheekily named (and very popular) Better Than Sex Mascara.
Too Faced, founded in 1998, is expected to "win with millennials," Estee Lauder said Monday, especially among those "who are passionate about social media, fashion and pop culture."
Too Faced said the deal would open itself up "to a bigger more global audience."
"We will always stay true to the brand DNA and roots and never test our products on animals," the company said in a Tuesday statement.
That carefully honed appeal to young shoppers is attractive for a brand such as Estee Lauder, whose primary customers are 35-years-old and up, analysts said.
"Too Faced tends to target a demographic" — the 18 to 34 crowd — "that Estee Lauder doesn't necessarily have," said Miro Copic, a branding expert and marketing lecturer at San Diego State. Its website, for example, is clearly geared for a younger audience — it touts the company's cruelty-free stance with a cartoon bunny, advertises stickers created by an Instagram artist and sells eye shadow shades named Bunny Fu-Fu and Meow!
"Those consumers are less susceptible to traditional advertising," Copic said. "They are not reading magazines. They are looking at social media, and that's not where Estee Lauder is."
Reaching those customers is increasingly urgent for decades-old brands like Estee Lauder, founded in 1946, which has traditionally been sold at makeup counters in struggling department stores. In August, Macy's announced the closing of another 100 stores.
"This has plagued Estee Lauder, given that it derives around 9% of its sales from Macy's alone," Erin Lash, a director of consumer sector equity research at Morningstar, wrote in a research note.
Too Faced, on the other hand, is booming. The company is on track to rake in north of $270 million in sales in 2016, growing more than 70% compared with the year before, Estee Lauder said.
Although Too Faced and Estee Lauder are both available at many of the same retailers, there's not much competition between the two companies, analysts said. Estee Lauder customers have been groomed to shop at department stores with more white-glove service, while younger shoppers are gravitating toward specialty stores such as Sephora and Ulta, where they can buy brands that are more buzz-worthy.
"There is very little cannibalization," Copic said. "Right now Estee Lauder doesn't have an entry brand that's cool or hip or relevant."
Eventually, Too Faced customers may age into Tom Ford Beauty, La Mer or other more expensive brands owned by Estee Lauder. The sale is expected to close by December.
That's the same kind of so-called migration strategy that companies like Urban Outfitters Inc. have honed, with teenagers spending their allowance at Urban Outfitters, twentysomethings buying from Free People and older women shopping the pricey Anthropologie stores.
"Estee Lauder is thinking this is a great complement" to its stable of brands, Copic said. "That's why they are going to pay that much."
Follow Shan on Twitter @ByShanLi