Some online retailers seeing value in opening bricks-and-mortar shops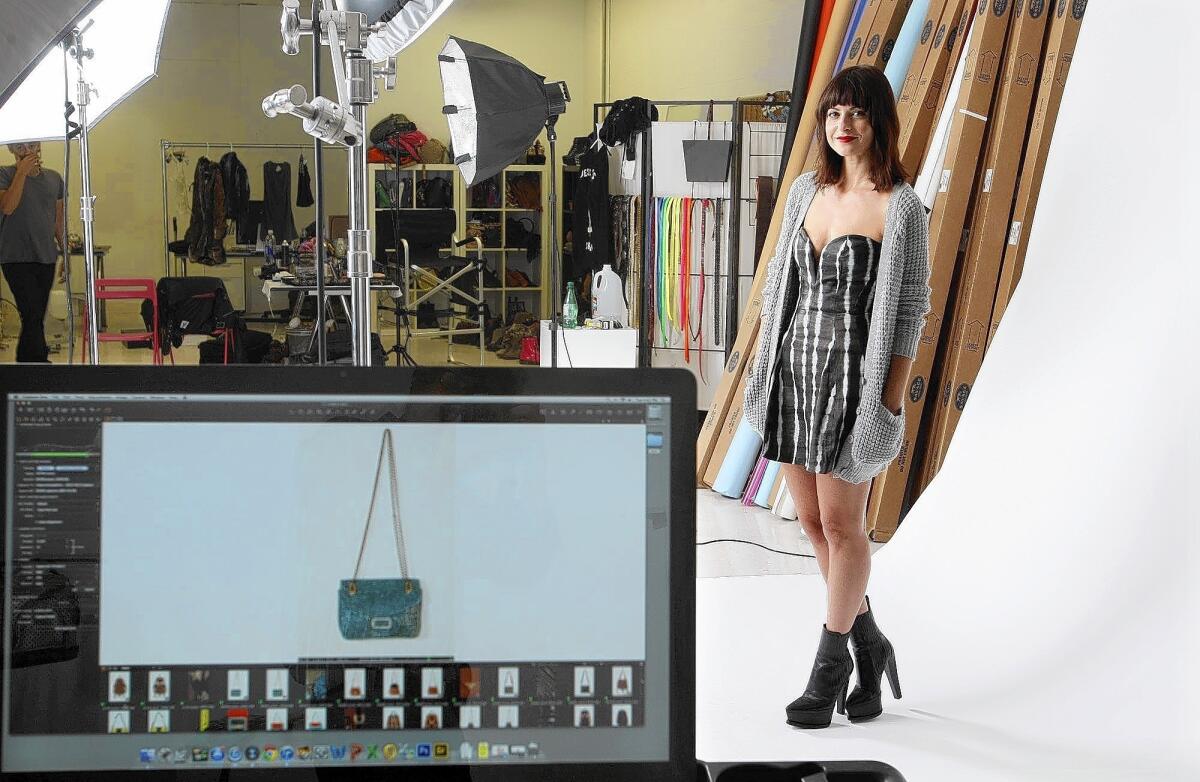 Some of the hippest online retailers around are pioneering an old concept: offline retailing.
After years of squeezing traditional retailers, e-commerce companies that were once digital-only are seeing the value of hanging up shingles in malls and bustling shopping streets.
Los Angeles e-commerce darling Nasty Gal recently announced plans to debut a shop in the Southland. Beauty purveyor Birchbox opened its first store this month in New York. Bonobos brought its men's fashion brand to La Brea Boulevard last month. And JustFab gave up being just online in September when it opened a flagship in the Glendale Galleria.
Instead of bricks-and-mortar, these shops might more aptly be called click-and-mortar.
"It's all about having the online retail world figure out, 'Maybe we can showcase our products better in store,'" said Marshal Cohen, chief industry analyst for NPD Group. "We are going to use retail as a way to eliminate some of the challenges online has because you can't touch and feel and smell and taste."
Of the thousands of merchandisers dedicated to working on the Web, only a relatively small group has opened a physical space, analysts say. But in going back to the industry's shopkeeping roots, these merchants are acknowledging that no matter how easy or efficient a website is, some people still like to browse the old-fashioned way.
Makeup company Birchbox wanted to bring something extra to its first permanent store in the trendy Soho shopping area of New York. In addition to thousands of beauty items, the cosmetics company is also offering hair stylists, nail technicians and makeup artists who teach classes on the latest beauty trends.
Adding those services, co-founder Katia Beauchamp said, reinforces what the company is all about: indulgences at affordable prices.
"We wanted to create something that is her playland," she said.
Designing the stores themselves can be a challenge. Retailers that once worried only about providing a seamless online shopping experience now have to decide what elements of their digital selves to import into the store and what to borrow from their more traditional competitors.
When JustFab Inc. opened its flagship store in the Glendale Galleria, the El Segundo company wanted to present its products in a clean space that mimicked its sleek website.
Shoes and handbags were displayed in well-lighted cubby holes built into the white walls, like pieces of art. The rest of the shop was kept relatively bare with a few display tables, spokeswoman Kimberly Tobman said.
But shoppers, who are used to a more bountiful display of items, ended up treating the products as "untouchable," she said. JustFab quickly doubled the number of tables and brought more shoes for customers to pick up and try on.
"We tried so hard to make it like our online store," Tobman said. "We thought, 'Can we merge'" tech and fashion? The answer: "Not so much," she said. "Retail is retail. Sometimes the tried and true works best."
Stephanie Torres, 24, ended up buying a pair of plum-colored pumps for $39.95 after checking out the JustFab store for the first time. The downtown Los Angeles housekeeper said she'd signed up for a membership on the retailer's site months ago but didn't feel comfortable buying shoes without trying them on first.
"Now that I know my size, I'm going to start ordering online," Torres said. "Without the store, I probably never would have bought anything ever."
Exposure to customers in person is especially important for digital brands without the name recognition of an Amazon.com to create buzz in the early years, said Brian Sozzi, chief executive of Belus Capital Advisors.
"As an upstart brand you need to have a storefront and you need to connect to people walking on the ground," he said.
Besides offering extra customer service, retailers can also deepen the connection with shoppers by offering extras that can't be delivered via computer.
Swimwear e-tailer SwimSpot found that women who visited its temporary pop-up stores needed extra help in picking swimsuits, which can be a fraught experience, said Chris Lohman, the Tustin firm's vice president of marketing. Sales clerks were trained accordingly.
The strong sales that resulted, Lohman said, convinced the company that it should turn three temporary mall beachheads into permanent spots at the Oaks in Thousand Oaks, the Outlets at Orange and the Westfield Topanga in 2012.
"The personal confidence of having someone there with you is always going to be stronger in retail than it would be online," he said.
Digital retailers that master the bricks-and-mortar frontier can not only boost sales but also cut costs in areas such as online marketing, said Sucharita Mulpuru, an analyst at Forrester Research.
Men's fashion retailer Bonobos has opened 10 stores in the last few years. In that time, the company has been able to slash its digital marketing expenses by more than 50%, Chief Executive Andy Dunn said.
The Guideshops, as they are called, serve as showrooms rather than full-blown stores. Men go into the stores to find their sizes in pants, shirts and suits; instead of walking out with a bag, customers place an online order in the store and receive their packages usually within 48 hours.
The shops have enabled Bonobos to win over the segment of potential customers who are uneasy about buying from a digital-only brand, Dunn said. The effort has proved so successful that Bonobos hired its first director of retail, and plans to quadruple its store count within two years.
"Say what you want about a digitized world," Dunn said, "a great face-to-face interaction still goes a long way."
But the company said its bread-and-butter is still the website. Although the average order placed in a store is about $360 — double that of a purely Web purchase — shoppers who come back to the brand usually opt to buy online without visiting a Guideshop.
"Guys are fundamentally lazy," Dunn said. "What happens is, once you know what you like and what fits you, the repeat business is happening online."
Gap Inc., the epitome of mall retailing, went deep into the digital retail world six years ago when it spent $150 million to buy Athleta, a Web seller of premium women's sportswear. Gap already operated Piperlime, an online fashion shop made famous by its exposure on design reality show Project Runway.
Now the San Francisco giant is pushing its online offspring out onto the street: Piperlime has launched a store in New York, and Athleta is boosting its store count by about 27% to 100 by the end of its fiscal year on Jan. 31, 2015.
Athleta has found success with physical shops, said Tess Roering, vice president of marketing and creative, partly because the old-fashioned back-and-forth is harder to duplicate online. The Petaluma, Calif., company discovered that shoppers didn't interact as much with customer service after Web sales began edging out catalog sales, she said.
"The retail stores," she said, "are about creating a human connection."
Twitter: @ByShanLi