Reporter says he was 'manhandled' by FCC security at net neutrality meeting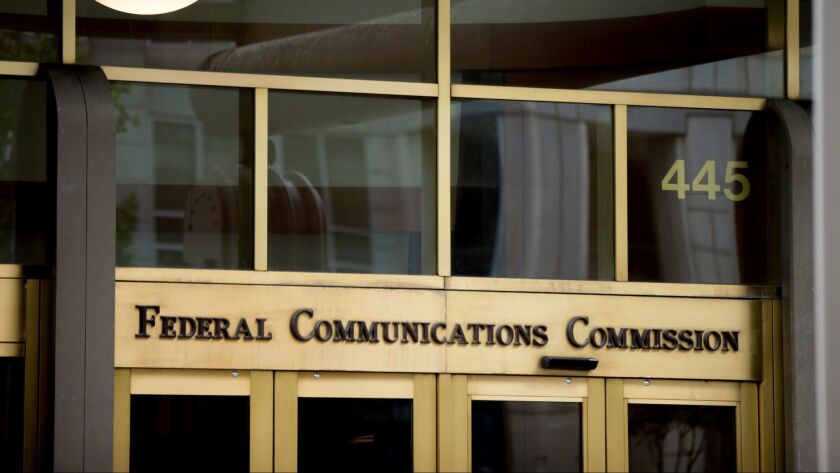 Reporting from Washington —
As the Federal Communications Commission considered changes to net neutrality rules designed to preserve an open Internet, some people said the environment at the agency's public meeting this week was anything but open.
John Donnelly, a reporter for CQ Roll Call, said he was manhandled by two FCC security guards when he tried to question Commissioner Michael O'Rielly as he left the room after voting on Thursday to start dismantling the online traffic rules.
"Not only did they get in between me and O'Rielly but they put their shoulders together and simultaneously backed me up into the wall and pinned me to the wall for about 10 seconds just as I started to say, "Commissioner O'Rielly, I have a question," Donnelly said Friday.
Donnelly said he was stopped long enough to allow O'Rielly to walk away.
Donnelly said he was dumbfounded and asked the security guards, including Frederick Bucher, head of the FCC's Security Operations Center, why they treated him like that.
"It couldn't have been a more civil response in my opinion," said Donnelly, chairman of the National Press Club's Press Freedom Team.
Bucher then followed him and used an "implied threat of force" to force him to leave the building, Donnelly said.
FCC officials, including O'Rielly, later apologized to Donnelly. But it wasn't the only incident at the meeting.
Former FCC Commissioner Gloria Tristani, who now works for a group that supports the tough net neutrality regulations the agency began to dismantle on Thursday, said she and other people were not allowed to sit in vacated chairs in the public section of the room during the meeting.
Tristani was allowed to sit in the media area but said she was not allowed to move from there during the meeting. Other protesters were allowed only in an overflow room that had a video feed of the meeting.
"It's very troubling," said Tristani, a Democrat who served as a commissioner from 1997 to 2001 and is a special policy adviser to the Pasadena-based National Hispanic Media Coalition.
"It speaks to the current atmosphere," she said of Washington after President Trump took office. "It's a Trumpian atmosphere not only with the press but with anybody who has a different view."
Earlier this month, a reporter was arrested after trying to question Health and Human Services Secretary Tom Price during a visit to the West Virginia state capitol building in Charleston, W.Va.
On Friday, Sens. Tom Udall (D-N.M.) and Maggie Hassan (D-N.H.) wrote to FCC Chairman Ajit Pai demanding answers about Donnelly's treatment.
They said the incident "seems to be a part of a larger pattern of hostility toward the press characteristic of this administration, which underscores our serious concern."
The FCC was on heightened alert Thursday because of the passions surrounding net neutrality, a high-profile issue that spurred about 4 million people to file public comments with the agency when it last considered the rules in 2014-15.
About 1.6 million people have filed comments in recent weeks as the agency considers dismantling the tough regulations. At least one comment included a death threat against Pai and his family, and there have been protests outside his house.
Pai recently tried to poke fun at the focus on him by posting a video reading mean tweets about him.
On Thursday, protesters opposed to Pai's proposal to loosen net neutrality regulations rallied outside the FCC's Washington headquarters.
"We apologized to Mr. Donnelly more than once and let him know that the FCC was on heightened alert today based on several threats," said Neil Grace, an FCC spokesman said.
O'Rielly also apologized to Donnelly via Twitter, saying, "I didn't see anyone put a hand on you. I'm sorry [this] occurred."
Pai, a Republican appointed chairman by Trump, said during the meeting that he was conducting the latest net neutrality proceeding "in a far more transparent way" than the FCC did under Democratic control in 2015.
Asked about Tristani and others not being able to fill in empty seats in the commission meeting room, Pai said Thursday he was unaware of it.
"I've been focused on the items we were voting on today," he said. "I haven't had a chance to look at the administrative issues regarding who was in the room."
As is standard procedure, all people entering the FCC building Thursday had to present a government-issued ID card, then had to walk through a metal detector while their belongings were X-rayed.
Donnelly, a defense reporter who does not usually cover the FCC, said he was wearing his congressional press pass and was carrying a tape recorder and a notepad, clearly identifying him as a journalist.
"Donnelly was doing his job and doing it with his characteristic civility," said National Press Club President Jeff Ballou.
"Reporters can ask questions in any area of a public building that is not marked off as restricted to them. Officials who are fielding the questions don't have to answer," he said. "But it is completely unacceptable to physically restrain a reporter who has done nothing wrong or force him or her to leave a public building as if a crime had been committed."
Donnelly said Bucher asked why he didn't wait to ask his questions at a news conference after the meeting. Donnelly said he was working on a story unrelated to net neutrality and did not want to ask questions in front of other reporters.
Bucher had another confrontation with a journalist last summer.
He demanded the visitor pass from Bloomberg News reporter Todd Shields after Shields attempted to interview a protester after a commission meeting in July. FCC officials apologized to Shields after that incident.
Bucher did not respond to an email request for comment on Friday.
Tristani said FCC commissioners have received threats before but that the treatment of Donnelly on Thursday was "horrendous."
"I was a commissioner. We're public servants," she said. "Particularly when we're at our place of business and doing the public's work, it shouldn't surprise us when the press asks us questions. You say no comment. It goes with the job."
Donnelly said he appreciated the FCC's apology and hoped it leads to changes in how reporters and the public are treated.
"I'm hopeful that this incident and the attention it's gotten has made other agencies sit up and say, 'We don't want this kind of blow-back and we need to train our security people about the 1st Amendment,' " he said.
Twitter: @JimPuzzanghera
---
UPDATES:
1:05 p.m.: This article has been updated with information about a letter from Sens. Tom Udall and Maggie Hassan to the FCC about the incident with Donnelly.
This article originally was published at 12:45 p.m.
---
Must-read stories from the L.A. Times
Get the day's top news with our Today's Headlines newsletter, sent every weekday morning.
You may occasionally receive promotional content from the Los Angeles Times.