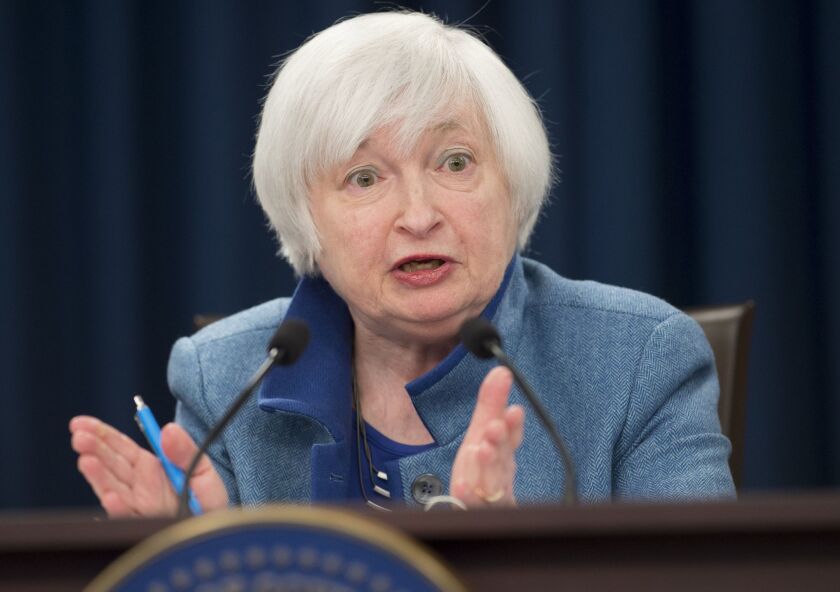 Reporting from Washington —
The Federal Reserve left interest rates unchanged Wednesday after its first policy meeting of the year, and gave not a wink of new information as to when it might next raise rates.
Instead, the Fed's statement announcing its 10-0 vote to stand pat on interest rates reaffirmed that the economy was continuing to grow moderately and that the central bank was maintaining an easy-money policy to further boost the labor market and return inflation to a more favorable level.
"The Fed held their cards very close to their vest, and they made only minuscule changes to their communications," said Carl Tannenbaum, chief economist at Northern Trust in Chicago.
The Fed last raised its benchmark short-term interest rate in December, for only the second time in more than a decade and by just a quarter point to a still very low range of 0.5% to 0.75%.
Job growth slows in 2016, but wages are rising »
But after helping steer the economy out of recession and through more than seven years of steady, if unspectacular, growth, Fed policymakers are looking at raising rates to more normal levels.
The question is, how quickly?
The Fed's monetary policy committee, which meets eight times a year, in December projected three more quarter-point rate hikes this year. And there was nothing in the statement Wednesday to suggest that had changed.
Markets, which are also betting on three rate hikes, had little reaction to the Fed statement.
Fed officials have repeatedly said the pace and timing of rate increases will depend on their evolving view of the economy, inflation and employment. But the outlook has been obscured by the uncertainty of President Trump's plans for tax cuts and infrastructure spending.
The Fed's statement Wednesday noted that inflation, which has been unusually low for several years, increased in recent quarters. The central bank's preferred measure of inflation ended last year at 1.6%, and 1.7% when more volatile energy and food prices are excluded. That is very close to the Fed's target of 2%.
In its latest statement about the economy, the Fed said: "Measures of consumer and business sentiment have improved of late."
That improvement is tied to Trump's economic plans, which have lifted some private economists' forecasts for economic growth as well as inflation. But Trump's rocky first couple of weeks as president — his sparring with the Mexican president over a border wall and a controversial executive order on refugees and immigration — have cast some doubt on how well tax reform and other fiscal stimulus might end up.
"I don't think they have enough clarity; there's just too much uncertainty," said Ryan Sweet, who covers the Fed for Moody's Analytics.
How the Fed is factoring fiscal stimulus into its policy discussions may become clearer when minutes of this week's two-day meeting are released in three weeks. And at the Fed's next meeting in mid-March, policymakers will provide an updated forecast on economic growth, unemployment and inflation, as well as new projections on future interest rate movements.
The minutes may also give a better reading of the Fed's debate on employment.
The nation's jobless rate in December was 4.7%, a figure that most economists see as at or very close to maximum employment — a level at which more or less all workers who are willing and able have jobs, excluding those moving in and out of employment.
If policymakers think the economy is at full employment, then they will be more prone to raise interest rates to ward off risks of overheating.
The unemployment rate was as low as 4.4% in the first half of 2007 before the economic downturn began at the end of the year, and the jobless figure fell below 4% for a few months in 2000.
Fed Chair Janet L. Yellen has suggested that she still sees room for the Fed to help jobless workers through accommodative interest rate policies supporting economic growth. In December, for example, there were 5.7 million people not in the labor force who said they want a job now. That's up from 4.4 million people in December 2006. There's a similar gap in the number of part-time workers who want full-time hours.
In recent months, the tight labor market has pushed up wages, which could prompt more employers to offer full-time work and lure more unemployed people back into the job market.
What's more, even though inflation has picked up recently, most economists don't see a threat of runaway prices, thanks to inflation-restraining forces that include the strong dollar, moderate global growth and commodity prices.
Potentially complicating this debate is that the Trump administration has suggested it would like to take the focus off the traditional unemployment rate and instead spotlight a broader measure of joblessness that includes people who are neither working nor looking for work but are available for a job.
That unemployment measure in December stood at 5.9%, down from 11.4% in December 2009 but 1.2 percentage points higher than the traditional measure of joblessness.
The next monthly jobs and unemployment report, for January, will be issued Friday.
"If the intent of the administration is to raise the bar for the Fed against raising interest rates, I think that would be an unfortunate thing," Tannenbaum said, noting that, increasingly, people who are out of work fall into a narrow category of workers with lower levels of education or have issues with disability.
"The question for the Fed is whether interest rates are the best tools to get them back to work," he said. "I don't think so personally. The solutions to lingering unemployment are really to be found in social policy, education, rehabilitation."
Will the Fed's Janet Yellen 'take away the punch bowl' after Trump takes office? »
Follow me at @dleelatimes
ALSO:
Reality check: Manufacturers returning to U.S. may mean jobs for robots, not people
Why this is the perfect time to invest in infrastructure, and why it probably won't happen
Millennials aren't big spenders or risk-takers, and that's going to reshape the economy
---