Fed hikes its key interest rate again and signals more increases coming despite Trump's criticism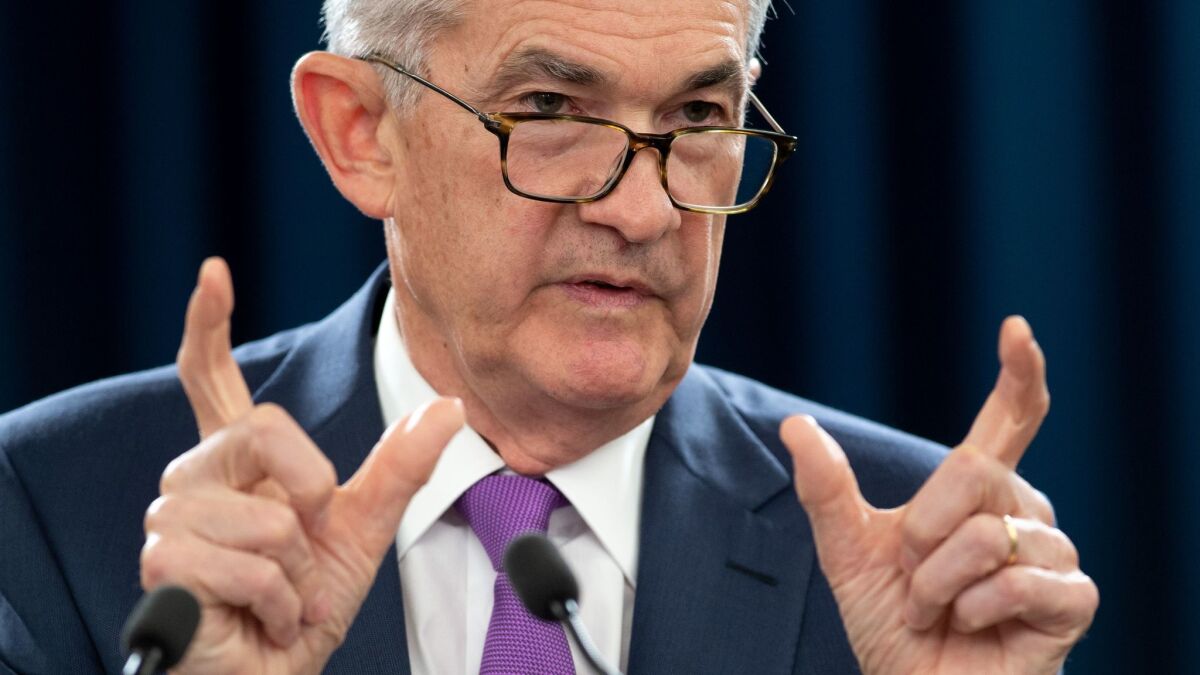 Despite President Trump's unusual public criticism of their monetary policy, Federal Reserve officials inched up their key interest rate again on Wednesday — and indicated they would do so again in the face of strong economic growth.
The latest 0.25-percentage-point increase, approved by a unanimous vote, brings the target of the central bank's benchmark federal funds rate to between 2% and 2.25%.
"If you look back over the last decade, this is a pretty good moment for the U.S. economy," Fed Chairman Jerome H. Powell told reporters after the rate hike announcement.
"We still expect … further gradual increases in the target range of the federal funds rate," he said.
Fed officials projected they would raise the rate another 0.25 percentage point by the end of this year and three more times in 2019. Those were the same forecasts as in June, before Trump criticized the recent rate hikes, worrying they would slow growth.
If those projections hold, the target for the federal funds rate would be between 3% and 3.25% by the end of 2019.
The Dow Jones industrial average dropped about 200 points during Powell's news conference as it became clear the Fed intended to continue raising the interest rate. It closed the day down 107 points, or less than half a percent.
The Fed now has raised the federal funds rate by 0.25 of a percentage point three times since Powell took office in February in a normalization process begun under his predecessor, Janet L. Yellen.
The rate, which is used by banks to determine rates for credit cards, car loans, small business loans and home equity lines of credit, has been increased eight times since December 2015 after it was held at an unprecedented level of near zero for seven years.
The increases come amid strong U.S. economic growth, which hit a 4.2% annualized rate in the second quarter of the year, the best since 2014, boosted by solid growth worldwide and the stimulus of the tax cuts that kicked in Jan. 1.
On Wednesday, Fed policymakers boosted their projections for economic growth to 3.1% this year from a 2.8% estimate in June and held their inflation forecast steady at 2.1%.
Fed officials said the economy has been growing at a "strong rate" and the job market has "continued to strengthen." Inflation is near the Fed's annual 2% target, although it has been running above that recently. Powell said that the recent higher inflation was caused by a rise in oil prices and that he expected it to be "transitory."
But analysts don't expect U.S. economic growth to continue at its recent pace. Growth is expected to slow to about 3.1% in the third quarter. A trade war with China also could slow growth this fall.
"We've been hearing a rising chorus of concerns from businesses all over the country about disruption of supply chains, materials costs increases and loss of markets and things like that," Powell said.
So far, there are no measurable economic effects from the tariffs the U.S. and China have slapped on each other's imports but Fed officials are closely watching the developments, he said.
If the trade dispute ends with lower overall tariffs, that would be good for the economy. But Powell warned of a dark side.
"If this perhaps inadvertently goes to a place where we have widespread tariffs that remain in place for a long time, a more protectionist world, that's going to be bad for the United States economy and for American workers and families and also for other economies," he said.
Despite the Trump administration's promise that the tax cuts would create sustained growth of 3% or higher, Fed officials forecast Wednesday that growth would slow next year to 2.5% and then to 2% in 2020.
Trump publicly criticized the Fed's monetary policy this summer, saying he was "not thrilled" that Powell was slowly raising the benchmark rate.
Although Trump frequently has incorrectly said that the U.S. economy is doing better than it ever has, he also complained in a Reuters interview last month that he "should be given some help by the Fed."
Lower interest rates boost economic growth by luring people to spend rather than save. But an economy that grows too quickly can cause prices to jump sharply, eroding the buying power of consumers and businesses.
Powell would not say if he and his colleagues discussed Trump's comments during their two-day meeting. But he gave a strong defense of the Fed's independence.
"We've been given a really important job to do on behalf of the American people by Congress and we've been given the tools to do it and my colleagues and I are focused exclusively on carrying out that mission," Powell said.
"We don't consider political factors or things like that," he continued. "So that's who we are, that's what we do and that's just the way it's always going to be for us."
The Fed tries to use its interest rate policy to strike the right balance, raising it when the economy heats up to stave off high inflation and lowering it when growth slows to try to prevent a recession.
"We're always trying to navigate between those two shoals," Powell said.
After the Fed's rate hike announcement Wednesday, Trump told reporters, "I'm not happy about that."
"I'm worried about the fact that they seem to like raising interest rates," he said during a news conference in New York. "We can do other things with the money, but they raised them and they're raising them because we're doing so well."
Trump's criticism has made the Fed's job potentially more difficult.
Asked whether he believed in the institution's independence, Trump said in the Reuters interview, "I believe in the Fed doing what's good for the country."
The last time a sitting president publicly criticized the Fed on interest rates was in June 1992.
Presidents typically have avoided public criticism of the Fed to preserve its independence, which is crucial to investor confidence in its actions. When presidents do try to influence the Fed, they typically do it behind the scenes.
White House audio recordings show that President Nixon pressured then-Fed Chairman Arthur Burns to keep interest rates low to boost Nixon's reelection chances in 1972. Burns did, and the move is widely believed to have helped fuel a decade of high inflation.
In their announcement Wednesday after a two-day meeting, Fed officials no longer called their monetary policy "accommodative" as they have since they began raising the rate in 2015. That means the short-term interest rate is approaching a more normal level after years of staying low to fight the Great Recession and its aftermath.
Powell stressed that removing the word didn't indicate any change in the Fed's plan to raise interest rates.
Twitter: @JimPuzzanghera
---
UPDATES:
3:40 p.m.: This article was updated with the Dow Jones industrial average, comments by President Trump and additional comments from Jerome Powell.
11:45 a.m.: This article was updated with comments from Fed Chairman Jerome H. Powell.
This article originally was published at 11 a.m.
---
Sign up for the California Politics newsletter to get exclusive analysis from our reporters.
You may occasionally receive promotional content from the Los Angeles Times.