Fed doesn't change interest rates, but hints it probably will soon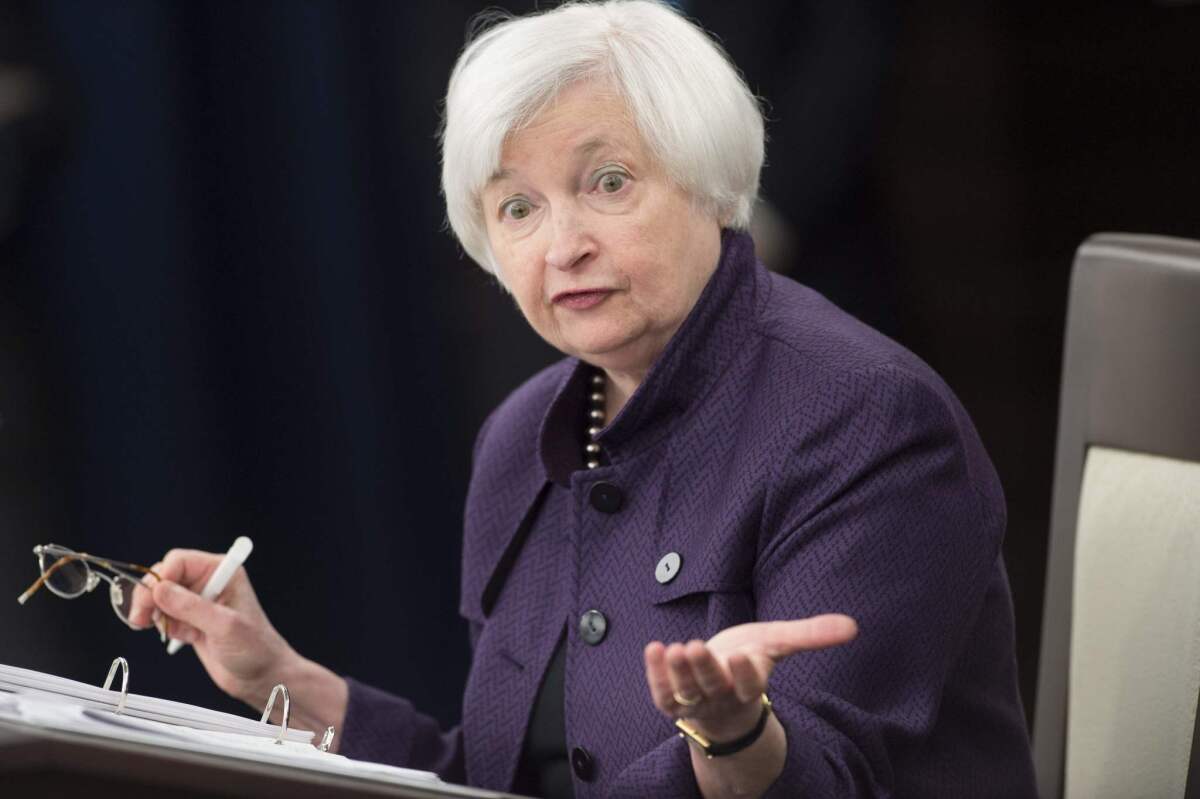 The Federal Reserve left interest rates unchanged Wednesday, six days before Americans choose a new president, but hinted again that it probably would raise rates soon.
The Fed said that the case for a rate hike has "continued to strengthen" but that it decided to wait for further evidence of progress toward its objectives. Most analysts and investors expect a rate hike at the Fed's next meeting in mid-December.
The Fed's Wednesday statement closely tracked the statement it released after its September meeting, noting that the job market has continued to strengthen and that economic activity has picked up. The Fed had been widely expected to leave rates alone Wednesday, in part to avoid any perception of affecting next week's vote.
Analysts also said that whether the Fed raised rates this week or not until mid-December would make little economic difference. With inflation still running below the Fed's 2% target, some Fed officials have said they think they have room to continue pursuing an extremely gradual approach to rate increases.
From job growth to home purchases, the U.S. economy has been demonstrating its resilience seven-plus years after it began recovering from the Great Recession. The economy grew at a respectable 2.9% annual pace in the July-through-September quarter, the government estimated last week.
The unemployment rate is 5%, typical of a healthy economy, down from 10% in 2009. The housing market, whose meltdown triggered the 2008 financial crisis and the recession, has largely recovered.
A rate increase next month would mark a resumption of the increases the Fed began in December, after having left its benchmark rate at a record low near-zero for seven years.
The Fed's decision at its September meeting not to raise rates drew an unusually high three dissents from members of its policy committee. The three dissenters wanted to act immediately to raise rates.
Next month's Fed meeting will include a news conference by central bank chief Janet L. Yellen, which would provide a platform for her to explain any action the Fed takes then and perhaps provide guidance on how many rate increases are probable in 2017.
The Fed's years of record-low short-term rates were credited by many analysts with rejuvenating the economy after the Great Recession. When the Fed finally raised rates modestly in December, most economists and the central bank itself expected multiple rate increases in 2016. But economic weakness, market turmoil in China and Europe, and a slowdown in U.S. growth kept the Fed on the sidelines.
Yellen's go-slow approach to rate increases may mean one move this year and then one, or at most two, increases in 2017.
ALSO:
NASA advisory committee questions SpaceX's unorthodox fueling process
Why City National Bank sticks with cross-selling, a strategy that led up to Wells Fargo's scandal
Justice Department sues AT&T-DirecTV, alleges collusion in blocking Dodgers channel
---
UPDATES:
11:30 a.m.: This article was updated throughout with additional details about the Fed's statement and background information.
This article was originally published at 11:05 a.m.
---
Sign up for the California Politics newsletter to get exclusive analysis from our reporters.
You may occasionally receive promotional content from the Los Angeles Times.