Justice Department sues AT&T-DirecTV, alleges collusion in blocking Dodgers channel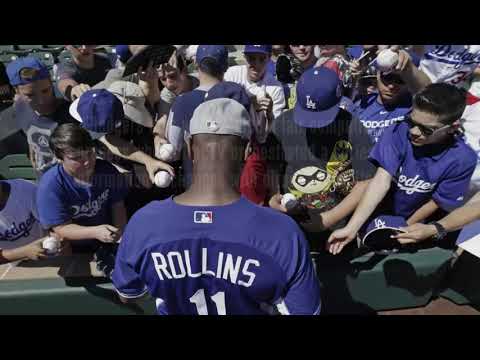 The U.S. Justice Department accuses DirecTV of orchestrating an illegal campaign to block wide carriage of SportsNet LA.
For three seasons, thousands of frustrated Los Angeles Dodgers fans have missed Clayton Kershaw's brilliant pitches. They also never got to watch Vin Scully's emotional final season and a dominant march to the playoffs.
Now, the U.S. Department of Justice says that baseball fans were shut out because of unfair play by DirecTV, which allegedly colluded with rival pay-TV companies in an effort to make sure that Dodgers games were not widely available in Los Angeles.
In an extraordinary legal move Wednesday , the Justice Department filed a 57-page lawsuit in federal court in Los Angeles, accusing DirecTV, which is now owned by AT&T, of conspiring with Cox Communications, Charter Communications and AT&T to refuse to carry the channel, SportsNet LA.
The lawsuit alleges that the four companies engaged in illegal conduct, sharing nonpublic information among themselves to gain leverage in negotiations with Time Warner Cable, which was responsible for recruiting other pay-TV companies to carry the sports channel.
Although the Justice Department stopped short of requiring that AT&T/DirecTV begin carrying the sports channel, the lawsuit could pave the way for a settlement that could bring the Dodgers into an additional 1 million DirecTV households in Southern California.
"Dodgers fans were denied a fair competitive process when DirecTV orchestrated a series of information exchanges with direct competitors that ultimately made consumers less likely to be able to watch their hometown team," Deputy Assistant Atty. Gen. Jonathan Sallet of the Justice Department's antitrust division said in a statement. "Competition, not collusion, best serves consumers and that is especially true when, as with pay-television providers, consumers have only a handful of choices in the marketplace."
The Dodgers called the allegations "shocking but not surprising."
"We hope today's action leads to all Dodger fans finally being able to view all Dodger games everywhere in the market," Stan Kasten, president and CEO of the Dodgers, said in a statement.
Fans welcomed the move, which they hope will prompt more pay-TV companies to pick up the channel by next spring. Isaac Espinoza, 24, said he has had to rely on sports apps to get play-by-play news. As a result, he said he didn't get a chance to fully appreciate Scully's last year as a Dodger broadcaster.
"That changes everything," Espinoza said of the lawsuit. "Hopefully we get to see the games next season."
For AT&T, which acquired DirecTV last year, the lawsuit comes at an awkward time. The Dallas-based phone company just unveiled an $85.4-billion deal to buy media and entertainment giant Time Warner Inc., which is separate from Time Warner Cable. AT&T will need Justice Department approval for the proposed merger.
Although the lawsuit is unrelated to a review of that massive deal, it underscores the government's increasing scrutiny of the pay-TV industry. Many critics already believe the pay-TV industry already is too consolidated, controlled by a handful of powerful players, including AT&T.
In its lawsuit, the Justice Department laid out a trail of emails, text messages and phone calls to build its case against AT&T, one of the largest pay-TV operators in the Los Angeles region with 1.25 million customers.
The feud between AT&T/DirecTV and Time Warner Cable began in 2012 when the cable company launched a sports channel dedicated to the Los Angeles Lakers. Smaller pay-TV providers quickly agreed to carry the the basketball channel at a lofty price. DirecTV tried to hold out to negotiate a better deal, but it lost hundreds of subscribers and ultimately capitulated to Time Warner Cable's demands to keep more customers from fleeing.
The following year, Time Warner Cable started promoting a new channel — this time one that featured the Dodgers. The company had inked an $8.35-billion, 25-year distribution deal and was responsible for selling the channel to other pay-TV distributors.
But this time around, Time Warner Cable discovered that it lacked the leverage that it thought it had. None of the other companies would play ball, something that they had secretly agreed to, according to the Department of Justice.
"The sharing of this competitively sensitive information among direct competitors made it less likely that any of these companies would reach a deal because they no longer had to fear that a decision to refrain from carriage would result in subscribers switching to a competitor that offered the channel," the Justice Department lawsuit said.
Documents underscored that point, the suit said.
At one point, DirecTV's former chief executive, Mike White, emailed Daniel York, the company's chief content officer, that he believed the distributors "may have more leverage if we all stick together," according to the lawsuit. York agreed, saying "others holding firm is key."
It was unclear what prompted the Justice Department investigation into the Dodger channel negotiations — or when the probe began. Officials declined to discuss their investigation.
However, the lawsuit noted that people had reported concerns about York to DirecTV's ethics line.
In responding to the lawsuit, AT&T's general counsel, David McAtee, said: "We respect the [Justice Department's] important role in protecting consumers, but in this case, which occurred before AT&T's acquisition of DirecTV, we see the facts differently."
AT&T maintained its reason for not carrying the channel came down to its high cost — nearly $5 per month per subscriber home.
"The reason why no other major TV provider chose to carry this content was that no one wanted to force all of their customers to pay the inflated prices that Time Warner Cable was demanding for a channel devoted solely to L.A. Dodgers baseball," McAtee said. "We make our carriage decisions independently, legally and only after thorough negotiations with the content owner. We look forward to presenting these facts in court."
Charter Communications, which now owns Time Warner Cable, declined to comment.
A Cox spokesman said the company was "gratified that we were not named as a defendant.… We continue to be committed to making independent decisions on program content."
Matt Wood, policy director of Free Press, a digital-rights group, said the Dodgers channel antitrust suit "shows the danger of concentrating too much media power in too few hands."
"AT&T and DirecTV had too much power over the pay-TV, Internet and content markets even before their ... merger closed last year," he said. "Now that they've joined forces, the absolute last thing we need is approval of a deal to put these bad actors in control of Time Warner's video content empire."
Fans, too, said the lawsuit sheds light on the behind-the-scenes maneuvering and why no agreements were being reached.
"I always felt that something had to be going on because the demand for the product was always there," said Brandon Knudsen, 31, of Los Angeles, who described himself as a lifelong fan. "For all of these companies to flat out refuse to come to the negotiating table for a crown jewel of Major League Baseball didn't make any sense. The deck was stacked against Time Warner Cable from the get-go."
Staff writers Ruben Vives in Los Angeles and Jim Puzzanghera in Washington contributed to this report.
ALSO
Fed doesn't change interest rates, but hints it probably will soon
The 'saga is over': Gawker settles with Hulk Hogan for $31 million
Wells Fargo will pay $50 million to settle allegations it overcharged homeowners for appraisals
---
UPDATES:
4:55 p.m.: This article was updated with comments from the Dodgers and fans of the team.
12:10 p.m.: This article was updated to include information from the lawsuit and commentary from critics of AT&T's proposed acquisition of Time Warner Inc.
This story was first published at 9:26 a.m.
Inside the business of entertainment
The Wide Shot brings you news, analysis and insights on everything from streaming wars to production — and what it all means for the future.
You may occasionally receive promotional content from the Los Angeles Times.