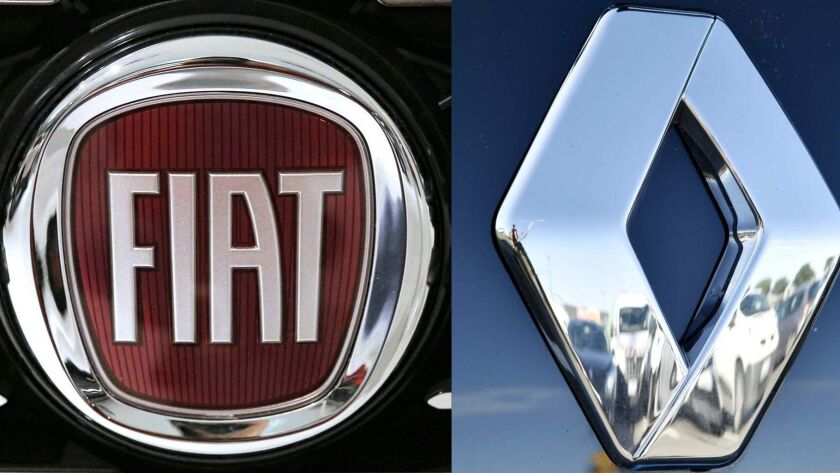 Fiat Chrysler Automobiles has withdrawn its proposal for a $37-billion merger with French carmaker Renault after the French government sought to delay a decision in order to consult with the company's Japanese alliance partner, Nissan.
Just before the decision by Fiat Chrysler, confirmed by people familiar with the matter, Renault's board had once again delayed on whether to pursue the proposal, saying that the French government — whose 15% ownership stake makes it Renault's largest shareholder — had requested the vote be pushed back.
The board, after more than six hours of discussion Wednesday evening at Renault's headquarters in Paris, said it "was unable to take a decision due to the request expressed by the representatives of the French state to postpone the vote to a later council."
People briefed on the decision said that French officials and a union representative were the only board members who hadn't voted for the deal, apart from the Nissan representatives on the board who abstained.
Two people close to the board said that the French state had asked for the decision to be delayed by about a week to allow the government to speak directly to Nissan about the merger.
Fiat Chrysler decided to pull out after it emerged that the French government and unions were doubtful about the Italian-American company's reassurances over job security at Renault, a person briefed on the matter said.
Fiat Chrysler's proposal for a 50-50 combination under a Dutch holding company would have created the world's third-largest carmaker. The companies were seeking scale to help them share costs and resources while tackling an expensive shift to electrification and autonomous driving.
It's unclear whether Fiat's decision is final. Should the proposal collapse, it would mark a significant retreat for Chairman John Elkann, who leads the company's founding Agnelli family. After discussions with Renault's crosstown rival Groupe PSA, Elkann opted for the riskier path, proceeding with an offer for Renault despite its strained relationship with Nissan.
The breakdown also leaves Renault Chairman Jean-Dominique Senard in a difficult position, having sought and failed to bring the French carmaker's various constituencies into agreement.
U.S.-listed shares of Fiat Chrysler dropped 5% in after-hours trading.
© The Financial Times Ltd. 2019. All Rights Reserved. FT and Financial Times are trademarks of the Financial Times Ltd. Not to be redistributed, copied or modified in any way. Bloomberg contributed to this report.
---