Stocks waver as earnings and central-bank news dominate attention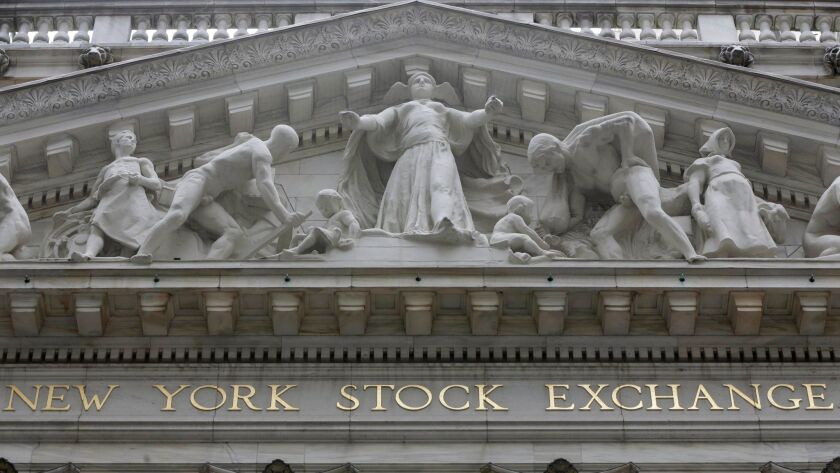 U.S. stock indexes snoozed Thursday as investors were relieved the European Central Bank didn't announce any changes to its stimulus policies.
The European bank maintained its current policies, and ECB President Mario Draghi said it hasn't even set a date for considering changes. Investors were startled a month ago when he spoke about scaling back the bank's billions of dollars in monthly bond purchases.
On an up-and-down day, second-quarter results moved other stocks: Healthcare companies including Abbott Laboratories climbed, and paint, trucking and railroad companies fell.
Sears announced an online appliance sales pact with Amazon.com, and appliance makers and home improvement stores dropped.
Read more: Sears will begin selling its appliances on Amazon »
But overall the market hardly budged. Stocks have been setting records for most of 2017 — with the Nasdaq composite and the Russell 2000 index each edging up to new highs Thursday — but the market is having its quietest year in decades.
"There's the belief that the Fed and the ECB are backstopping markets" and would step in if something bad happened, said Brent Schutte, chief investment strategist at Northwestern Mutual Wealth Management. "If you throw a bunch of money at a problem, typically risk moves lower and people feel more confidence."
The Standard & Poor's 500 index slipped at the finish and closed down 0.38 of a point at 2,473.45. The Dow Jones industrial average fell 28.97 points, or 0.1%, to 21,611.78. The Nasdaq composite rose 4.96 points, or 0.1%, to a record high of 6,390. The Russell 2000 index of smaller companies rose 0.58 of a point to 1,442.35, also a record.
The S&P 500 has had only four moves of 1% or greater this year so far. In a typical year, that happens more than 50 times.
Abbott Laboratories, which makes infant formula, drugs and medical devices, climbed 2.9% to $50.85 after reporting results that were better than expected. Healthcare products giant Johnson & Johnson rose 1% to $136.57, and drugmaker AbbVie, which split from Abbott in 2013, increased 1.7% to $74.01.
Paint and coatings maker PPG Industries fell 6.1% to $106.72 after it reported weaker-than-expected sales. PPG said higher raw materials costs hurt its results, as did unfavorable foreign currency exchange rates.
Competitor Sherwin-Williams had a weak second quarter. It also pointed to rising costs as well as lower exterior paint sales. The stock fell 2.5% to $350.78.
Sears jumped 10.6% to $9.60 after the retailer said it will begin selling Kenmore appliances on Amazon.com, including smart appliances that can be synced with Amazon's voice assistant Alexa. The stock is still down 36% over the last year.
Home Depot slid 4.1% to $147.03 as analysts wondered if its appliance sales will be affected. That was Home Depot's biggest loss in a year and a half, and it wiped 43 points off the Dow average. Lowe's dropped 5.6% to $72.56. Appliance maker Whirlpool sank 4.3% to $189.74.
Amazon edged up $1.83 to $1,028.70.
Avista surged 20.7% to $52.28 after the utility accepted an offer from Hydro One, the largest power transmitter and distributor in Ontario. Hydro One will buy Avista for $5.3 billion, or $53 a share.
Qualcomm fell to $53.97. The San Diego chipmaker had a solid third quarter, but investors were concerned about its fight with Apple and other companies over patent fees.
Read more: iPhone manufacturers counter-sue Qualcomm over patent fees »
Benchmark U.S. crude fell 33 cents to $46.79 a barrel. Brent crude, the standard for international oils, fell 40 cents to $49.30 a barrel.
Wholesale gasoline fell 1 cent to $1.61 a gallon. Heating oil fell 1 cent to $1.54 a gallon. Natural gas fell 2 cents to $3.04 per 1,000 cubic feet.
Bond prices rose. The yield on the 10-year Treasury note fell to 2.26% from 2.27%. High-dividend stocks such as utilities climbed, as reduced bond yields make those stocks more appealing to investors who want income.
Gold rose $3.50 to $1,245.50 an ounce. Silver rose 5 cents to $16.35 an ounce. Copper rose 1 cent to $2.72 a pound.
The dollar rose to 111.99 yen from 111.78 yen. The euro rose to $1.1626 from $1.1517.
Britain's FTSE 100 index advanced 0.8% while the French CAC 40 lost 0.3%. The DAX in Germany was little changed. The Nikkei 225 of Japan advanced 0.6%, South Korea's Kospi gained 0.5%, and the Hang Seng in Hong Kong rose 0.3%.
---
UPDATES:
2:50 p.m.: This article was updated with closing prices, context and analyst comment.
This article was originally published at 7:50 a.m.
---
Your guide to our clean energy future
Get our Boiling Point newsletter for the latest on the power sector, water wars and more — and what they mean for California.
You may occasionally receive promotional content from the Los Angeles Times.