U.S. stocks close lower on fears the Fed may raise interest rates four times this year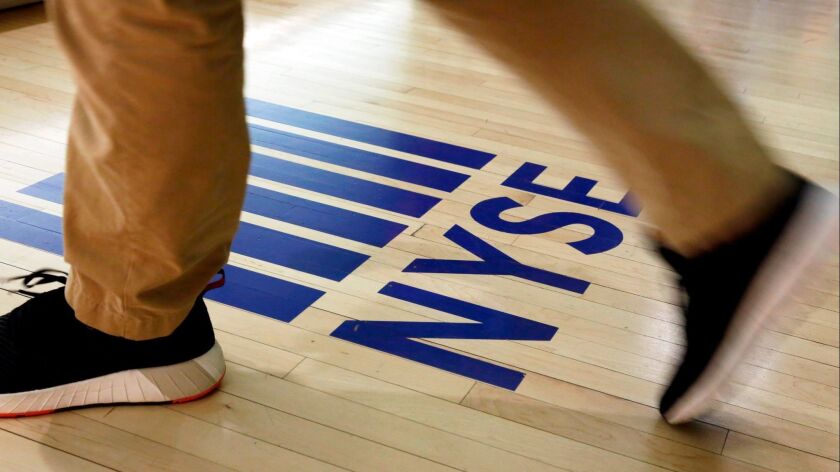 A late slump left U.S. stocks mostly lower Wednesday as investors appeared to grow more concerned about the possibility of rising interest rates.
After a two-day meeting, Federal Reserve monetary policymakers left interest rates unchanged as investors and analysts expected, and said they expect to keep raising interest rates gradually. The central bank said inflation has approached its 2% target, but it didn't suggest it is overly concerned that inflation will strengthen more than that.
Steve Wood, chief market strategist at Russell Investments, said investors believe the Fed doesn't expect to do much to prop up the economy.
"The Fed views the economy as having improved and inflation has returned to normal," he said. "That environment, in the Fed's opinion, no longer justifies overly accommodative monetary policy."
One of the key debates on Wall Street is whether the Fed will raise rates three times as planned, or if it will raise them four times in response to more signs of inflation and faster economic growth. That question wasn't answered Wednesday, but Wood said he thinks a fourth increase is possible.
That kind of thinking led the major indexes to sell off in the last hour of trading.
The S&P 500 index fell 19.13 points, or 0.7%, to 2,635.67 for the day. The Dow Jones industrial average lost 174.07 points, or 0.7%, to 23,924.98. The Nasdaq composite slid 29.81 points, or 0.4%, to 7,100.90.
The Russell 2000 index of smaller-company stocks added 4.58 points, or 0.3%, to 1,554.92 as smaller technology companies and retailers advanced.
The bond market had little reaction to the Fed's statement, and bond prices were little changed. The yield on the 10-year Treasury note remained at 2.97%. The dollar weakened and fell to 109.73 yen from 109.81 yen. The euro fell to $1.1988 from $1.1993.
Among the noteworthy gainers for the day was Apple Inc.
After months of concerns on Wall Street about weak iPhone sales, the Cupertino, Calif., tech giant had a slightly better fiscal second quarter than expected, and investors were pleased with its projections for the current quarter as well.
The company also is giving its shareholders a lot of cash. Apple bought back almost $23 billion in stock in the first three months of the year and will spend another $100 billion on stock repurchases. It's also raising its dividend.
The Republican-backed tax package temporarily lowered the taxes that companies pay when they bring cash stashed overseas back to the U.S., which encouraged companies like Apple to bring that cash back to the U.S. Apple stock climbed 4.4% to $176.57.
Among the big losers was Snap Inc., which skidded 21.9% to $11.03 after its first-quarter revenue fell far short of estimates. The Venice company blamed a redesign of its Snapchat messaging app, which has lost some users.
Brewer Molson Coors suffered its biggest one-day loss in 13 years after it said the U.S. beer industry got off to a slow start in 2018.
Molson Coors Brewing said cold weather may have prompted consumers to cut back on their drinking. The company's results fell short of analyst projections, and it also said sales to wholesalers declined. Its stock shed 15.4% to $60.64.
Weak results from drugmaker Gilead Sciences and animal health company Zoetis weighed on healthcare companies.
Xerox's chief executive and most of its board will resign as investors Carl Icahn and Darwin Deason push the company to stop its sale to longtime partner Fujifilm. The duo called for CEO Jeff Jacobson to resign in late January, shortly before Xerox announced a deal that would result in Fujifilm taking majority control of Xerox. Jacobson and five other directors are being replaced.
Xerox said the new board will reconsider the deal with Fujifilm and could terminate or restructure Xerox's relationship with the company. Xerox shares fell 9% to $29.38.
After posting its highest growth in a decade during 2017, the 19-country eurozone saw economic growth slow a bit in the first quarter, largely because of temporary factors such as cold weather. Despite the slowdown, growth was higher than the equivalent in the U.S.
The DAX in Germany soared 1.5% and the French CAC 40 picked up 0.2%. In Britain the FTSE 100 rose 0.3%.
Benchmark U.S. crude jumped 1% to $67.93 a barrel in New York. Brent crude, the international standard, rose 0.3% to $73.36 per barrel in London.
Wholesale gasoline lost 0.4% to $2.08 a gallon. Heating oil rose 1% to $2.12 a gallon. Natural gas fell 1.7% to $2.75 per 1,000 cubic feet.
Gold fell 0.1% to $1,305.70 an ounce. Silver jumped 1.5% to $16.38 an ounce. Copper added 1% to $3.07 a pound.
Japan's Nikkei 225 slipped 0.2% and the Hang Seng in Hong Kong lost 0.3%. South Korea's Kospi gave up 0.4%.
---
UPDATES:
3:40 p.m.: This article was updated throughout with final market data.
12:15 p.m. This article was updated with the latest market data.
This article was originally published at 7:30 a.m.
---
Must-read stories from the L.A. Times
Get the day's top news with our Today's Headlines newsletter, sent every weekday morning.
You may occasionally receive promotional content from the Los Angeles Times.