Stocks mostly rise as economy strengthens and central banks step back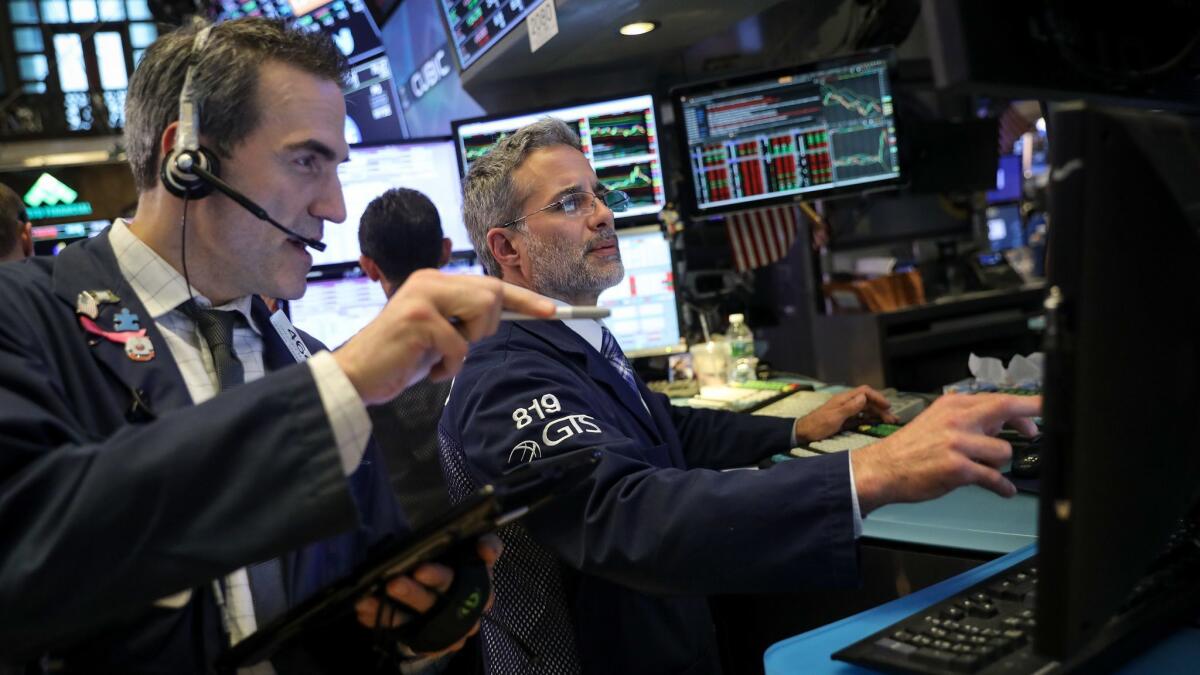 U.S. stocks mostly rose Thursday, as markets get accustomed to the idea of investing with less of a safety net from central banks around the world.
The European Central Bank laid out its plan to pull back from the stimulus it has pumped into markets, but it also said it plans to hold off on raising interest rates for longer than some investors expected. More evidence arrived that the U.S. economy is improving, meanwhile, which helped send the Standard & Poor's 500 index to its fourth gain in the last five days.
The S&P 500 index rose 6.86 points, or 0.2%, to 2,782.49. The Dow Jones industrial average slipped 25.89 points, or 0.1%, to 25,175.31, and the Nasdaq composite rose 65.34 points, or 0.8%, to a record 7,761.04. Roughly four stocks rose for every three that fell.
For years since the Great Recession, central banks around the world have thrown massive amounts of stimulus at markets, chiefly through the purchase of billions of dollars' worth of bonds each month. That era is nearing its end: Europe's central bank said Thursday that it will begin phasing out its bond-buying program this fall and cease the program after December.
The European Central Bank also said it will hold off on raising interest rates until at least summer 2019, which was more accommodative than some investors had expected.
Its U.S. counterpart, the Federal Reserve, has already halted bond purchases and has increased interest rates seven times since late 2015. Its latest move came Wednesday, when it raised its benchmark rate by another quarter of a percentage point and indicated two more increases may come this year because of the improving economy. Higher rates can stave off inflation, but they also can hinder economic growth.
"It is momentous because you're moving to something more normal," said Brent Schutte, chief investment strategist at Northwestern Mutual Wealth Management. "At the same time, you're moving grudgingly toward that. Central banks around the world are going to err toward being more accommodative, and they don't want to cause a market shock."
Both the Fed and the European Central Bank have said that their next moves will depend on what the economic data says, and that if growth is strong enough, they'll raise rates more quickly. That could make markets around the world more volatile, Schutte said, as investors handicap what each weekly or monthly economic report means for interest rates.
On Thursday, the data for the U.S. economy were nearly uniformly encouraging.
Retail sales jumped in May after shoppers spent more at home-and-garden stores, gas stations and restaurants. It was the strongest gain in six months, and it fits with economists' projections that economic growth is picking up after a slowdown during the first quarter.
A separate report showed that fewer U.S. workers than expected filed for unemployment claims last week, an encouraging sign for the labor market.
The yield on the 10-year Treasury fell to 2.93% from 2.98%. It gave up gains from Wednesday, when the Federal Reserve surprised some investors by speeding up its timetable for rate increases.
Lower interest rates can hurt banks by crimping the profit they make from making loans. Financial stocks in the S&P 500 fell 0.9%, the biggest loss among the 11 sectors that make up the index.
On the winning side were dividend-paying stocks, whose payouts look more attractive when interest rates are falling. Utilities, telecom companies and real-estate investment trusts were among the top-performing sectors in the S&P 500.
Etsy soared 26.3% to $41.65 after the online marketplace said it is raising its fees and increased its annual revenue forecast.
Dropbox surged 14.1% to $36.12, the data storage company's best day since its March IPO.
Royal Caribbean Cruises rose 5.1% to $113.50 after the company said it will pay $1 billion for a 66.7% stake in Silversea Cruises.
Tailored Brands dropped 21.7% to $26.19 after saying its profit margins decreased. The clothing retailer — parent of Men's Wearhouse and Jos. A. Bank — had a big rally over the last few months.
Michaels sank 14% to $18.86 after the arts-and-crafts supplies chain gave disappointing profit and revenue forecasts for the year.
European stock markets rose more than U.S. indexes, with France's CAC 40 rising 1.4% and Germany's DAX up 1.7%. The FTSE 100 in London gained 0.8%. In Asia, Japan's Nikkei 225 index dropped 1%, South Korea's Kospi sank 1.8%, and the Hang Seng in Hong Kong lost 0.9%.
Stocks from developing economies continued their struggles. Investors worry that higher U.S. interest rates will hurt emerging-market economies.
The dollar rose to 110.57 Japanese yen from 110.55 yen. The euro fell to $1.1591 from $1.1773, and the British pound fell to $1.3281 from $1.3358.
Benchmark U.S. crude rose 25 cents to $66.89 a barrel. Brent crude, the international standard, fell 80 cents to $75.94 a barrel.
Heating oil fell 3 cents to $2.16 a gallon. Wholesale gasoline fell 3 cents to $2.09 a gallon. Natural gas was close to flat at $2.97 per 1,000 cubic feet.
Gold rose $7.00 to $1,308.30 an ounce. Silver rose 27 cents to $17.26 an ounce. Copper slipped 3 cents to $3.22 a pound.
---
UPDATES:
2:05 p.m.: This article was updated with closing prices, context and analyst comment.
1:20 p.m.: This article was updated with the close of markets.
9:35 a.m.: This article was updated with the latest market data.
This article was originally published at 7:10 a.m.