Trade tensions send world stocks mostly lower Wednesday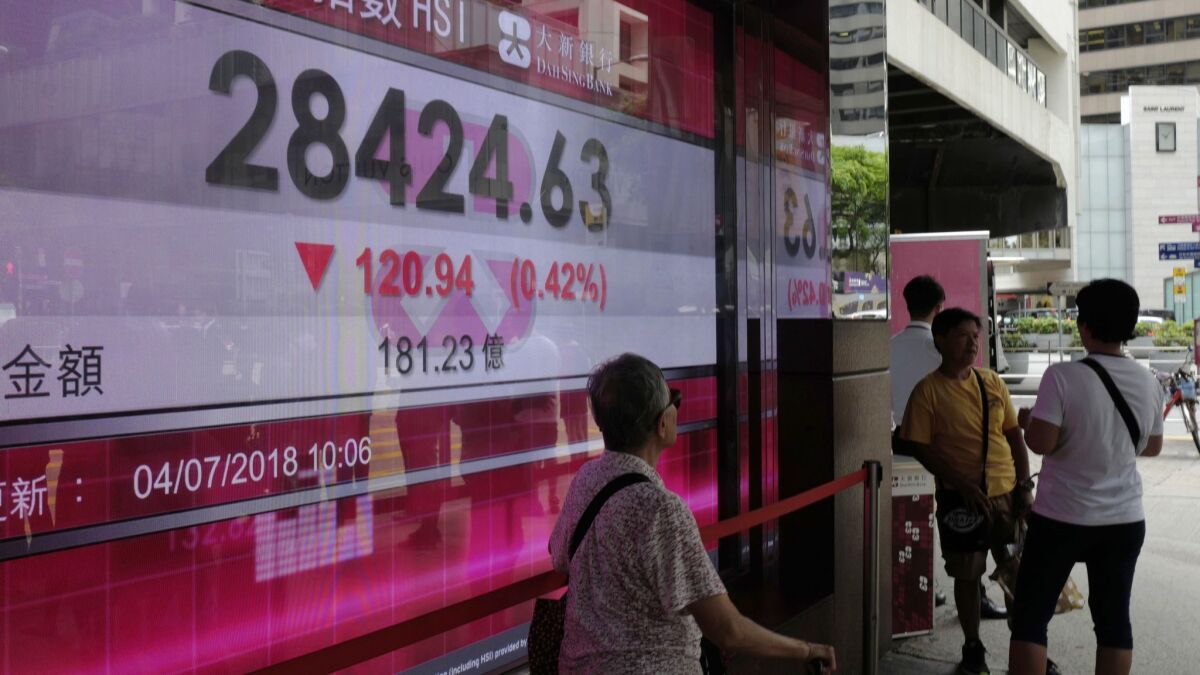 World stocks closed mostly lower Wednesday as tech shares in particular were hit by worries over the trade dispute between China and the U.S. Trading volumes were subdued as U.S. markets are closed for Independence Day
Germany's DAX lost 0.1% to 12,337 while the CAC 40 of France rose 0.3% to 5,329. Britain's FTSE 100 fell 0.2% to 7,580.
Japan's Nikkei 225 index fell 0.3% to 21,717.04 and the Shanghai Composite index dropped 0.1% to 2,759.13. Hong Kong's Hang Seng index fell 1.1% to 28,241.67 and the Kospi in South Korea lost 0.2% to 2,265.46. Australia's S&P ASX/200 gave up 0.4% to 6,183.40.
On Tuesday, U.S. stocks closed lower following a swift sell-off in the final minutes of a shortened trading day, snapping a three-day winning streak. The losses came amid investor anxiety over rising trade tensions.
On Friday the U.S. is set to impose a 25% tariff on $34 billion worth of Chinese imports. And China is expected to strike back with tariffs on a similar amount of U.S. exports. The big question is how far the two countries will go in their dispute over trade.
The Trump administration has said it won't target an additional $16 billion worth of Chinese goods until it gathers further public comments. It's also identifying an additional $200 billion in Chinese goods for 10% tariffs, which could take effect if Beijing retaliates.
German Chancellor Angela Merkel said Tuesday the European Union will strive to avoid a trade war with the United States. But Washington needs to join in that effort, Merkel said. President Trump's administration has imposed tariffs on EU steel and aluminum imports and is mulling whether to add tariffs on cars, trucks and auto parts.
Reported comments by the head of China's central bank saying he's closely watching the recent slide in the value of the yuan against the dollar have helped reassure investors. People's Bank of China Governor Yi Gang said financial risks were under control and that China's international balance of payments and currency flows were stable.
"The statement puts paid to any fears that the [People's Bank of China] could be engineering a depreciation to cushion the economy," Chang Weiliang of Mizuho Bank said in a commentary. The yuan ended trading Wednesday at 6.66 to the dollar.
Benchmark U.S. crude fell back, losing 30 cents to $73.84 per barrel in electronic trading on the New York Mercantile Exchange. It added 20 cents to $74.14 a barrel on Tuesday, reaching more than $75 a barrel in early trading. Brent crude, used to price international oils, rose 33 cents to $78.09 per barrel.
The dollar fell to 110.51 yen from 110.59 yen on Tuesday. The euro dropped to $1.1641 from $1.1657.
---
Sign up for the California Politics newsletter to get exclusive analysis from our reporters.
You may occasionally receive promotional content from the Los Angeles Times.