Stocks end day lower after report Fed weighed more aggressive hike in key interest rate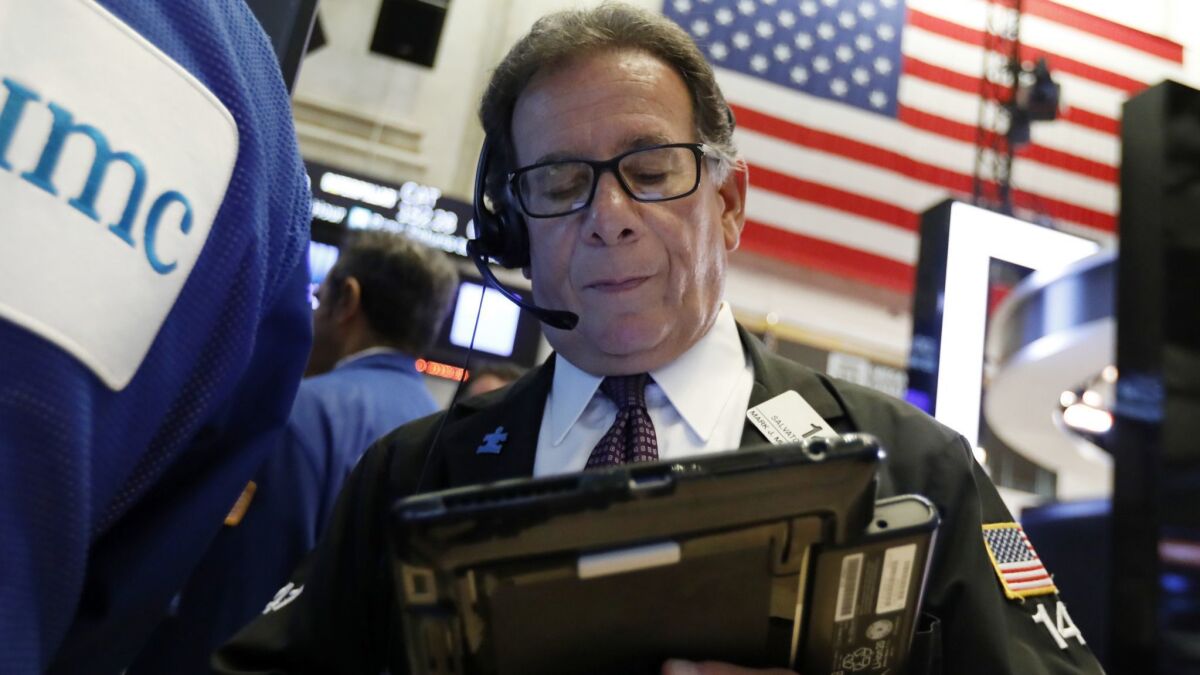 After an early slide, U.S. stocks clawed back much of the ground they lost and ended just slightly lower Wednesday. Banks climbed, but retailers, home builders and smaller companies fell.
Stocks slumped in morning trading as home builders and retailers took sharp losses after the Commerce Department said construction of new homes dropped in September. Technology companies fell as IBM suffered its biggest loss in 5 ½ years after it reported weak sales. Stocks were coming off their biggest gain Tuesday in more than six months.
Bond prices fell, sending yields higher, after the Federal Reserve said some of its policymakers argued in their latest meeting that the central bank should raise the federal funds rate to a level that slows economic growth slightly. After years of record low rates following the financial crisis, the fact that some policymakers are talking about eventually using them to slow the economy is a big change.
Jeremy Zirin, head of investment strategy for UBS' global wealth management business, said the Fed won't raise rates to those levels unless there is clear evidence inflation has increased. But he said it makes sense for investors to be wary.
"Overly restrictive monetary policy is a risk to the bull market," he said. "It would be a mistake for [the Fed] to raise rates in the absence of inflation beyond their target, and it's exceedingly unlikely to do so."
The S&P 500 index fell 0.71 points to 2,809.21. The Dow Jones industrial average slumped 91.74 points, or 0.4%, to 25,706.68. It lost as much as 319 points Wednesday morning before briefly turning higher.
The Nasdaq composite slid 2.79 points to 7,642.70. The Russell 2000 index of smaller-company stocks skidded 7.23 points, or 0.5%, to 1,589.60.
Stock trading has been erratic recently. This month the benchmark S&P 500 index went through a six-day losing streak that included huge drops Oct. 10 and 11. Then on Friday the S&P 500 jumped 1.4%, its biggest rally in three months, fell Monday, and surged 2.1% on Tuesday. Trading had been steady from late June to early October.
The Federal Reserve released minutes from its meeting in late September, when it raised interest rates for the third time this year. A few participants believed that the Fed's key interest rate would eventually need to "become modestly restrictive" to make sure inflation doesn't climb too high. Other officials felt the Fed shouldn't take that step unless there are signs the economy is overheating and inflation is rising quickly.
Bond prices sank. The yield on the 10-year Treasury note rose to 3.19% from 3.15%.
U.S. home construction fell 5.3% in September, according to the Commerce Department. The pace of home-building has slowed since May, and the report is the latest sign that the combination of rising home values and increasing mortgage rates may be weighing on the market.
Lennar gave up 2.3% to $43.08 and PulteGroup shed 3.4% to $22.82. Among retailers, Home Depot fell 4.3% to $185.17 while Target lost 1.6% to $84.42 and Macy's dipped 5% to $31.84.
Some investors worried that a weaker housing market is a bad sign for the economy. Zirin, of UBS, said the housing market should keep getting stronger as long as employment is high and wages are rising, but investors aren't sure what is ahead for the economy or stocks.
"When you get into the latter stages of a bull market or the economic expansion, investors get more nervous about the latter stages turning into the end of the cycle," he said. "They start looking for any signals that would lead them to believe that a downturn is imminent."
Insurer Prudential rose 1.9% to $99.70 after regulators lifted the strict government oversight that was imposed on the company after the 2008-09 financial crisis. Prudential was deemed "systemically important," which meant it was subject to special restrictions because of its importance to the financial system.
IBM sank 7.6% to $134.05 after its sales in the third quarter fell short of analysts' estimates.
The price of U.S. crude oil dropped 3% to $69.75 a barrel in New York, its first close below $70 a barrel in a month, after the U.S. government said energy stockpiles jumped last week. Brent crude, the international standard, fell 1.7% to $80.05 a barrel in London.
Wholesale gasoline lost 3% to $1.92 a gallon and heating oil fell 1.2% to $2.31 a gallon. Natural gas jumped 2.5% to $3.32 per 1,000 cubic feet.
Netflix added 5.3% to $364.70 after the streaming video company said it picked up 7 million subscribers in the third quarter, a total that was above Netflix's own projections as well as analyst forecasts.
The stock set a record high in early July, but a week later, Netflix announced disappointing subscriber totals and gave a weak forecast and its stock tumbled. It is still about 13% from its highest price.
The dollar rose to 112.49 yen from 112.18 yen. The euro fell to $1.1507 from $1.1578.
Gold slipped 0.3% to $1,227.40 an ounce. Silver lost 0.3% to $14.66 an ounce. Copper fell 0.1% to $2.78 a pound.
Germany's DAX and the French CAC 40 both fell 0.5%. In Britain, the FTSE 100 slipped 0.1%.
Japan's benchmark Nikkei 225 jumped 1.3% and the Kospi in South Korea advanced 1%. Markets in Hong Kong were closed for a holiday.
---
UPDATES:
2:10 p.m.: This article was updated with closing market results.
This article was published at 7:25 a.m.
---
Sign up for the California Politics newsletter to get exclusive analysis from our reporters.
You may occasionally receive promotional content from the Los Angeles Times.