Ford, in push to profitability, nearly abandons sedan market its Model T created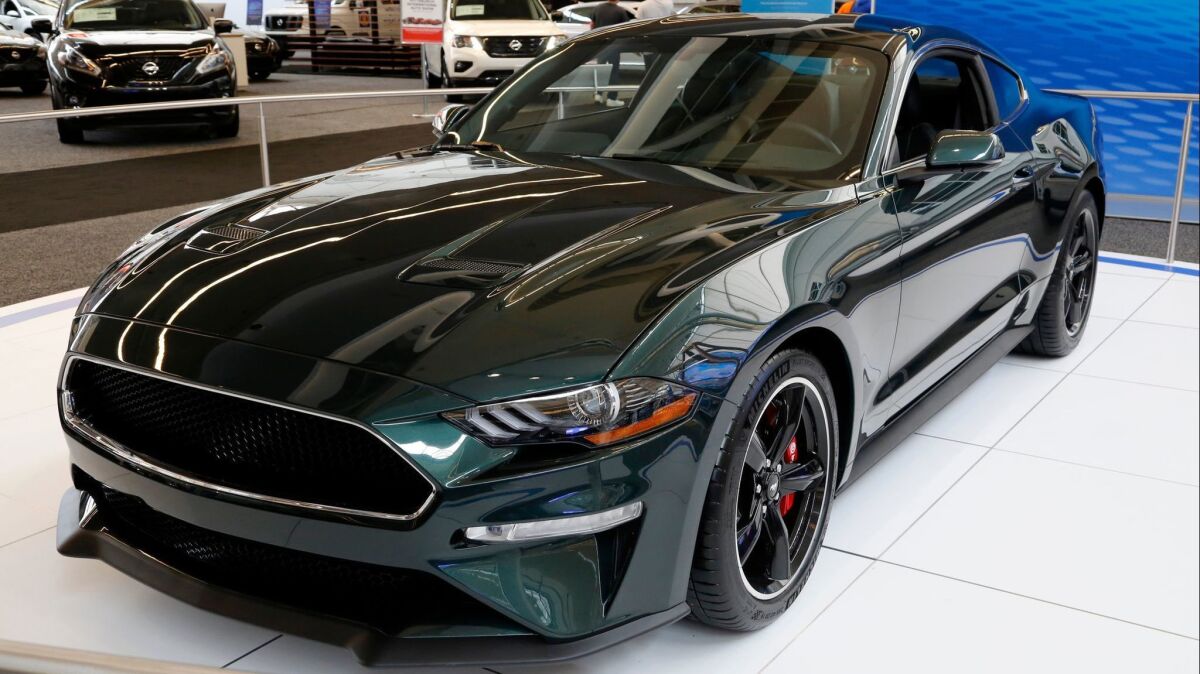 The Model T, the '32 deuce coupe, the Thunderbird, the Mustang: for much of its 115-year history, Ford Motor Co. has been synonymous with cars.
But now Ford, one of the great engines of 20th century American industry, is about to do the unthinkable: abandon the American car business almost entirely.
Just two years from now, a mere 10% of the vehicles rolling off Ford assembly lines and into North American showrooms will be sedans and sports cars like the Taurus or Mustang. The rest will be pickups, SUVs and commercial vehicles — more lucrative models that the company hopes will secure its future as change tears through the global auto industry.
What would Henry Ford think? What might seem like a radical departure for Ford has, in fact, been years in the making. The fuel price shock that left Detroit on its knees during the Great Recession didn't last, and American consumers have gone right back to buying sport utility vehicles and trucks like the bread-and-butter F-Series.
Ford's board ousted its chief executive officer last year and replaced him with Jim Hackett, a cost-cutter who's prepared to make the sort of audacious gambles that Wall Street thinks have been missing.
"The passenger car rationalization plan is just the sort of bold and decisive action we believe investors have been waiting for," Ryan Brinkman, an auto analyst at JPMorgan Chase & Co., wrote in a report Thursday. "It is indicative of a management team for whom there are no sacred cows and which seems increasingly likely to pull other such levers to aggressively improve earnings and shareholder value."
Hackett, 63, is choosing a route similar to the one Fiat Chrysler Automobiles NV used to pass Ford in North American profitability. Sergio Marchionne, CEO of the Italian American automaker, killed off the Dodge Dart and Chrysler 200 sedans and retooled the factories that had been assembling them to build Jeep SUVs and Ram pickups instead. Marchionne now wants to surpass GM's margins in North America before his retirement in 2019.
While scrapping several sedans continues to pay off for Fiat Chrysler — the automaker almost halved net industrial debt in the first quarter — the move wasn't devoid of risk for Marchionne. It won't be for Ford's Hackett, either. Both are counting on gasoline prices remaining low and supporting demand for Ford Expeditions and Jeep Wrangler SUVs, and the F-Series and Ram truck lines.
In the long term, abandoning car segments could turn out to have been the wrong move if the Trump administration's plans for weaker mileage standards don't last long after his presidency. Japanese automakers also are likely to welcome less competition for some of their best-sellers, including the Toyota Camry and Honda Civic.
"For Ford, doubling down on trucks and SUVs could be just what the brand needs," Jessica Caldwell, an analyst for Edmunds.com, said in an email. "But this move isn't without risk: Ford is willingly alienating its car owners and conceding market share."
By not investing in next generations of any car for North America except the Mustang, Ford now anticipates it'll reach an 8% profit margin by 2020, two years ahead of schedule. Abstaining from that spending is part of Hackett's plan to cut $25.5 billion in costs by 2022. That figure, announced Wednesday, is almost double what the CEO laid out in October.
"We're going to feed the healthy part of our business and deal decisively with areas that destroy value," Hackett said on an earnings call Wednesday.
While battery-powered vehicles have been money losers thus far, Ford's plans aren't completely inconsistent with the global march toward electrification that's shaking up the auto industry.
Ford will hedge against risk of rising pump prices by spending $11 billion to bring out 40 electrified vehicles by 2022. Among those will be 16 battery-only models, including the Mach 1, a high-performance electric SUV coming in 2020.
The Mustang muscle car will be all that's spared from Ford's slashing of its sedan lineup in North America. The Focus nameplate will live on only thanks to an all-new crossover variant called the Focus Active coming next year.
That means the end of the road for slow-selling sedans such as the Taurus, Fusion and Fiesta. The automaker conspicuously left Lincoln's Continental and MKZ sedans off its hit list, but since those models share mechanical foundations with Ford siblings, their futures also are in doubt.
"Everything will be on the table" to fix the company, CFO Bob Shanks told reporters Wednesday at the company's headquarters in Dearborn. "We can make different investments, we can partner, we can exit products, markets -- and we will do that."
Sign up for the California Politics newsletter to get exclusive analysis from our reporters.
You may occasionally receive promotional content from the Los Angeles Times.