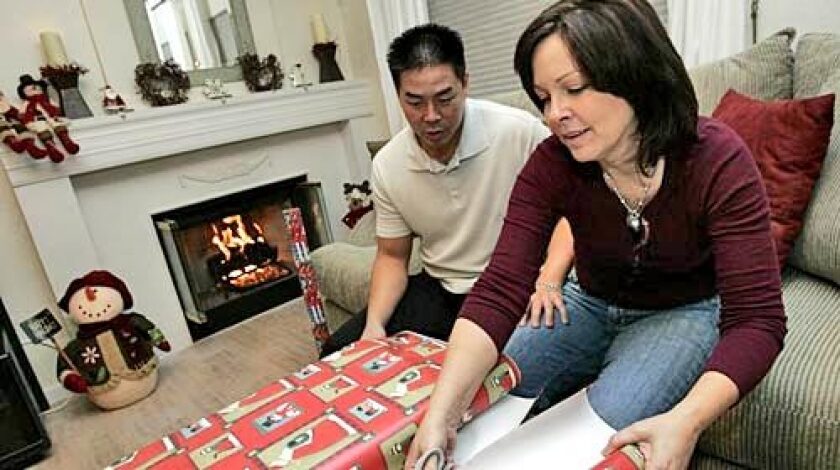 Los Angeles Times Staff Writer
The Bush administration's plan to slow the mortgage meltdown gave a lift to Wall Street. But on Hoss Ghitkammanee's street, the signs of hope are harder to find.
When he steps out the front door of his Palmdale home, Ghitkammanee sees a four-bedroom house much like his own. Instead of festive holiday reindeer on the lawn, however, the place across the street is decorated with a big, red sign spiked into the dead grass, declaring that the property can be bought at an upcoming foreclosure auction.
Another vacant house sits at the end of the block, with an eviction notice in its window and a "Substandard Property" poster stuck to the door. The surrounding streets are peppered with "For Sale" signs. Ghitkammanee fears many of those homes will wind up vacant too if their cash-strapped owners don't find buyers soon.
"It's starting to degrade," the 37-year-old Ghitkammanee said of his community. As payments on adjustable-rate home loans reset higher, more of his neighbors are likely to be pushed into foreclosure. "As those rear their head, it's just going to be more difficult to keep the neighborhood progressing," he said.
Rocked by the sub-prime loan crisis, Palmdale is one of the places that should benefit most from the Bush plan. With less than 3% of Los Angeles County's population, it and neighboring Lancaster account for nearly 20% of the county's foreclosures.
Yet homeowners, real estate agents and loan brokers interviewed here in recent days were generally downbeat about the plan, frequently characterizing the prescription as too little, too late.
The White House plan attempts to help troubled homeowners by calling on lenders to voluntarily freeze low interest rates on some adjustable mortgages for up to five years. It quickly cheered the stock market, helping the Dow Jones industrial average post a 175-point gain Dec. 6, the day President Bush outlined the plan.
According to official estimates, the plan could help about 600,000 of the roughly 2 million homeowners whose loans will adjust higher in the next 2 1/2 years. Primarily, these are homeowners who have not missed mortgage payments but can't afford to pay higher interest rates.
But people who are already in foreclosure or have missed payments won't be helped. Nor will people like Ghitkammanee, who can afford to make bigger payments as their loan rates climb.
Palmdale mortgage broker Aaron Szabo said about half a dozen homeowners who had come into his office in the last six months might have qualified for the Bush relief plan. But though some people may benefit from the rate freeze, it won't reverse the slide in Antelope Valley housing, real estate agents say.
The situation is likely to get worse as more financially distressed homeowners put their properties up for sale, said Joe Mayol, a Palmdale agent. He noted that the market was already soft because of unsold new homes and foreclosures being sold at a discount.
These days, Mayol said, he mostly works for banks that are selling their repossessed houses.
James Baker, a Lancaster agent, said years of unrealistic financing, such as loans with artificially low "teaser" rates, led to wild price inflation. For the market to recover, "the median price has to come down to match incomes," he said.
Edward Leamer, director of the UCLA Anderson Forecast, agrees with that assessment. The White House plan "focuses on a sliver of individuals at risk of foreclosure but ignores the bigger picture," he said.
"Californians need to get interested in buying again," Leamer said. That won't happen, he said, until prices inflated by the shaky loans of recent years fall further.
Ghitkammanee said he and his wife bought their home on Cheetah Lane in 2005 using an adjustable-rate loan. They're among the lucky ones who can handle the escalating payments, so they won't be helped by the Bush plan.
But they are worried about the plummeting value of their home.
The looming shakeout is something Ghitkammanee hadn't expected when he ventured to Palmdale from Chatsworth. Two years ago, he and his wife, Janene, bought their home on a hilltop subdivision here, financing 100% of its $385,000 purchase price.
The loan was a bit of a stretch, but the Ghitkammanees, who work in Woodland Hills for different health insurance companies, were eager to buy their first home.
Like many others who took out adjustable-rate mortgages, Ghitkammanee was confident that his home's value would rise quickly, enabling him to refinance before having to pay the higher rate.
At the time, home prices were galloping ahead and foreclosures were almost nonexistent. Houses often sold for more than their asking prices as buyers engaged in bidding wars.
The Ghitkammanees were outbid on the first house they sought in Palmdale. When they visited sales offices in new developments, Ghitkammanee said, the dioramas of the communities were filled with little red flags atop most of the miniature houses, marking homes already sold.
But as housing prices leveled off last year and then fell this year, many homeowners became unable to make the higher payments -- and lacked enough equity to refinance into new loans, triggering defaults and foreclosures.
There were 678 foreclosures in Palmdale and Lancaster in the three months ended Sept. 30, compared with 79 during the same period in 2006, according to DataQuick Information Systems.
Ghitkammanee wonders how the value of his home will hold up. One of identical size nearby is listed for $325,000 -- $60,000 less than he paid for his. An even larger foreclosed house in the neighborhood is being offered for $282,000.
He fears the worst is yet to come. "Foreclosures keep popping up," he said. "This is far from over."
---