L.A. registry criticized over run-down foreclosures
A homeless man sits in a bank-owned home in Watts. Neighborhood advocates would like the city to keep a close watch on foreclosures so they don't become run-down eyesores.
(Don Bartletti / Los Angeles Times)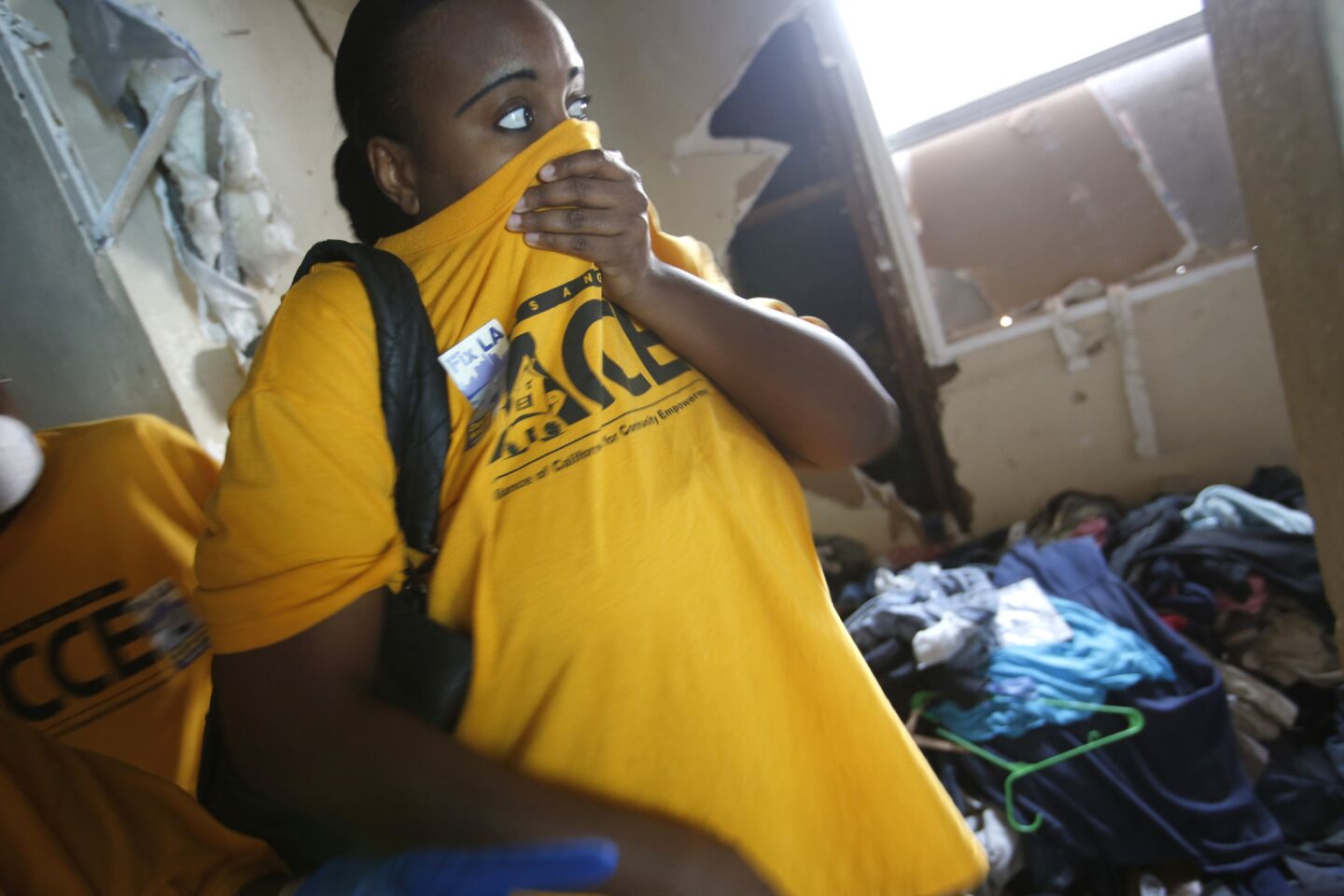 Community activist Lynnette Steele surveys the putrid, trash-strewn Watts home, which neighbors say has been vacant for years.
(Don Bartletti / Los Angeles Times)
Alvivon Hurd of Alliance of Californians for Community Empowerment watches as a homeless man leaves a bank-owned property in Watts.
(Don Bartletti / Los Angeles Times)
The teal blue house on E. 111th Street was surrounded by trash, its parking pad piled with everything from egg cartons to a busted couch. Most of its windows were broken. The door sat ajar.
Inside, chicken bones and cans of Mothers Maid carrots and kidney beans were scattered on the floor. A raggedy bed sat in the corner. Flies swarmed.
According to city property records, it is owned by GMAC Mortgage — once one of the biggest home loan lenders in the country.
The foreclosure crisis may be easing in Southern California, but the damaged houses it left behind still litter the landscape. And a Los Angeles city registry designed to hold banks accountable for maintaining the properties appears to be doing little to help.
In the four years since the registry was created, nearly 32,000 houses have been listed on it, including 9,200 last year. That gives the city a local contact who is responsible for the property. But the city has never imposed the up to $1,000-a-day penalty that the registry law allows on negligent owners who fail to live up to city codes. Nor has it issued one of the $250-a-day penalties the law created for failing to register a foreclosure.
The arm of city government charged with enforcing codes on single-family homes says it doesn't use the registry at all, and treats bank-owned foreclosures no different than any other house, responding only when there's a complaint.
"Our inspectors are really busy," said Luke Zamperini, spokesman for the city's Division of Building and Safety. "We can't afford to be driving around the streets looking for work."
Neighborhood advocates say the city would be better served by keeping a close watch on foreclosures, so they don't become run-down eyesores in the first place. They've been pushing for city legislation — first filed in 2012 by then-Los Angeles City Council member Eric Garcetti, now L.A.'s mayor — that would toughen the registry program and nearly triple its fees to raise money for six dedicated inspectors. That measure has been held up in the council's Housing Committee since September.
On Thursday, about 25 community activists, most affiliated with a coalition of labor and neighborhood groups called Fix LA, came to the house at E. 111th Street to increase the pressure on City Hall.
"This is unacceptable," said Betty Steele, a South L.A. resident who's active with the Alliance of Californians for Community Empowerment. "This ordinance has been in effect for four years, and they haven't collected one cent. We're sick and tired of it."
While the $1,000-per-day penalty sounds harsh, Zamperini said, it's hard to enforce. Buildings must be long-term damaged and vacant, and an owner can skirt the fee just by filing plans to improve it.
The bigger issue, Zamperini said, is a lack of funding for day-to-day enforcement. Most Building Division inspections, he said, are funded by specific fees, like a building permit. The corps of inspectors dedicated to responding to complaints is already stretched thin.
"We just don't have the resources to pull away from other programs to inspect foreclosures," he said.
That's a typical problem for these registries, which have proliferated nationwide since the housing crash began in 2007, said Ascala Sisk, director of community stabilization at Neighborworks America, a Washington, D.C., nonprofit that works with local groups on foreclosure relief.
"Code enforcement is one of the most critical tools to counter blight," she said. "But municipal budgets are struggling. It's a really under-resourced area."
Some cities charge higher fees than L.A.'s $155, which covers the costs of operating the registry. In Oakland, registering a foreclosure costs more than $600, and some of that money funds inspections too.
A measure filed in the L.A. City Council in 2012 would have added a $274 inspection fee and ordered banks to register homes that are in default, awaiting foreclosure, as well as those that have already been foreclosed upon.
Since September, City Atty. Mike Feuer has been reviewing the legal issues. He's planning to report back in "a few weeks," a spokesman said.
A spokesman for Garcetti said the mayor still supports strengthening the registry and inspections, and that city departments are working to enforce the current ordinance.
The house on E. 111th has been empty for two years or so, neighbors said. There used to be boards on the windows, but they were pulled off. The front gate is gone. People started doing drugs inside, and prostitutes set up shop.
Maurice Lopez, who owns the well-kept house next door, said he has trouble sleeping at night because of the noise, and he believes that someone who was staying there broke into his house and stole some of his children's toys. He has never called the city to complain, he said, in part because he's worried about retaliation.
"Sometimes they throw rocks," Lopez said.
The house is not actually on the foreclosure registry, according to Department of Housing and Community Investment, which runs the registry. And the Building Division hasn't received a complaint about it since 2005, Zamperini said.
Ocwen Financial Corp., which last year purchased most of GMAC's loan portfolio, did not return messages seeking comment Thursday afternoon.
While the foreclosure crisis may not be big news anymore, too many blighted houses remain in Los Angeles, said Peggy Mears, a community organizer with the Alliance of Californians for Community Empowerment, and they're costing taxpayers and neighbors.
"We have properties like this all over this city," she said. "We're paying to clean them up."
After the news conference was over, and the activists donned blue gloves and dust masks to clean up the piles of trash themselves, three women emerged from the house, where they'd been sleeping. One carried a battered suitcase. Another led a big black dog on a leash. They headed off across the street.
"Where are they going to go?" Betty Steele asked her daughter-in-law Lynnette, who had come to the news conference too.
"I don't know," Lynnette said. "Probably to the next house."
Twitter @bytimlogan
Sign up for the California Politics newsletter to get exclusive analysis from our reporters.
You may occasionally receive promotional content from the Los Angeles Times.