Swan, flamingo and Pegasus pool floats. How one L.A. business blew up after a nod from Taylor Swift
Taylor Swift started the trend, posting Instagram photos of her 2015 Fourth of July pool party with celebrities sitting on several colorful and elaborate Funboy pool floats.
Katy Perry admires a sunset as her inflated seahorse waits nearby. Demi Lovato lounges on a pair of giant red cherries amid impossibly turquoise waters. Wiz Khalifa somehow stays afloat on a flamingo despite all that bling.
As celebrities and regular folks fill the Web with selfies aboard fanciful inflatables, it makes sense that some entrepreneurs helping pump up the craze live in a spot known for sun, pools, fame and narcissism: Venice Beach.
"When people think of summer, we want them to think of Funboy," said Blake Barrett, one-fourth of the company's founding group, which also includes his wife, brother and sister-in-law. "We want to be part of the best days of the lives of our customers."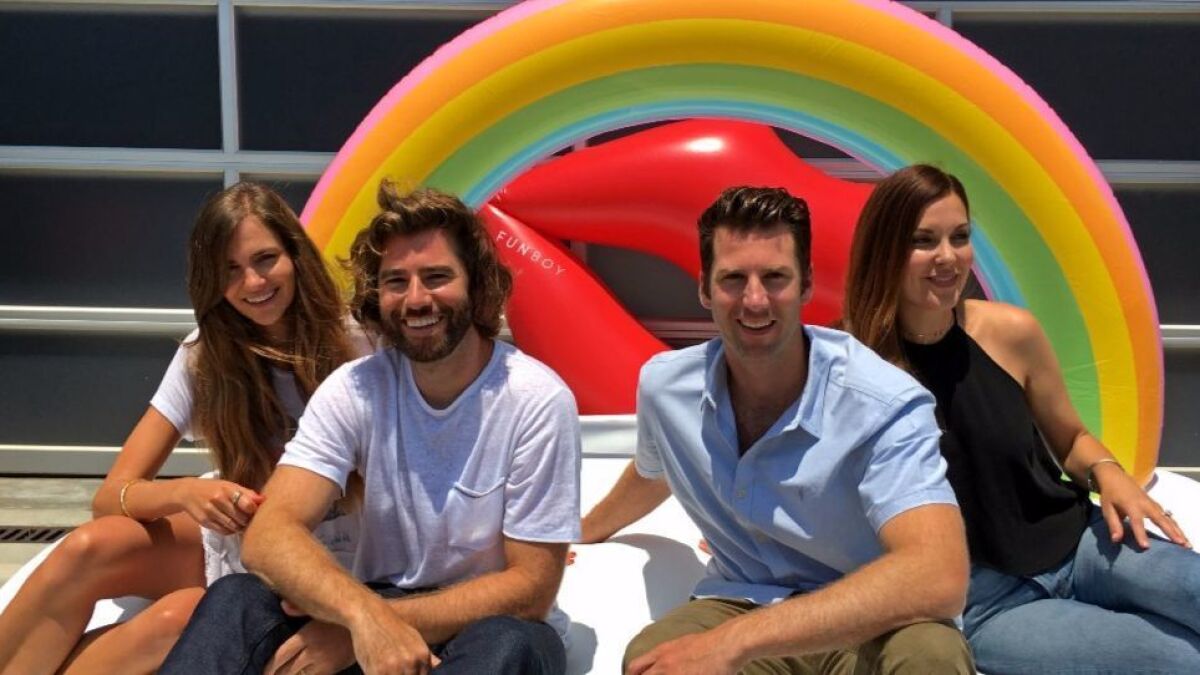 The two couples were vacationing in the Caribbean when they first got the idea. And they were partying on the Fourth of July shortly after launching their small collection when they got the celebrity endorsement that blew up the business.
Taylor Swift, they learned, had loaded her Instagram feed with shots of well-known swimsuit-clad friends celebrating Independence Day 2015 aboard Funboy's swan, flamingo and Pegasus floats. Swift captioned them: "Swan squad." The snaps went viral.
"Our company had been open for three weeks. We didn't even know who made the order," Max Barrett said.
"That summer was so humbling," he said. "There were people coming to Taylor Swift's concerts bringing our pool floats, like trying to re-create the pool experience, and from there, it just caught on naturally."
By catching on naturally, Barrett means that the company went from three float styles in its first year to six times that number this summer. All that free celebrity advertising drew not only customers but also competitors, including big-box retailers such as Target Corp. and online giant Amazon.com Inc.
It wasn't a given that anyone would want to buy the luxury floats, which include angel wings, a mermaid and a peacock. The products range in price from $24 for a single drink holder to $169 for a floating rainbow-cloud bed.
Funboy has branched out to a bomber jacket ($169) and beach towels ($69). There's even a 1.5-liter Funboy rose wine with a white wax top, produced by Del Dotto Vineyards in Napa Valley, that sells for $75.
"When it's the Fourth of July and people are posting with our products, that's something we can't take for granted, and so we need to continue to innovate," Blake said. "We very much want to be the next large global lifestyle brand."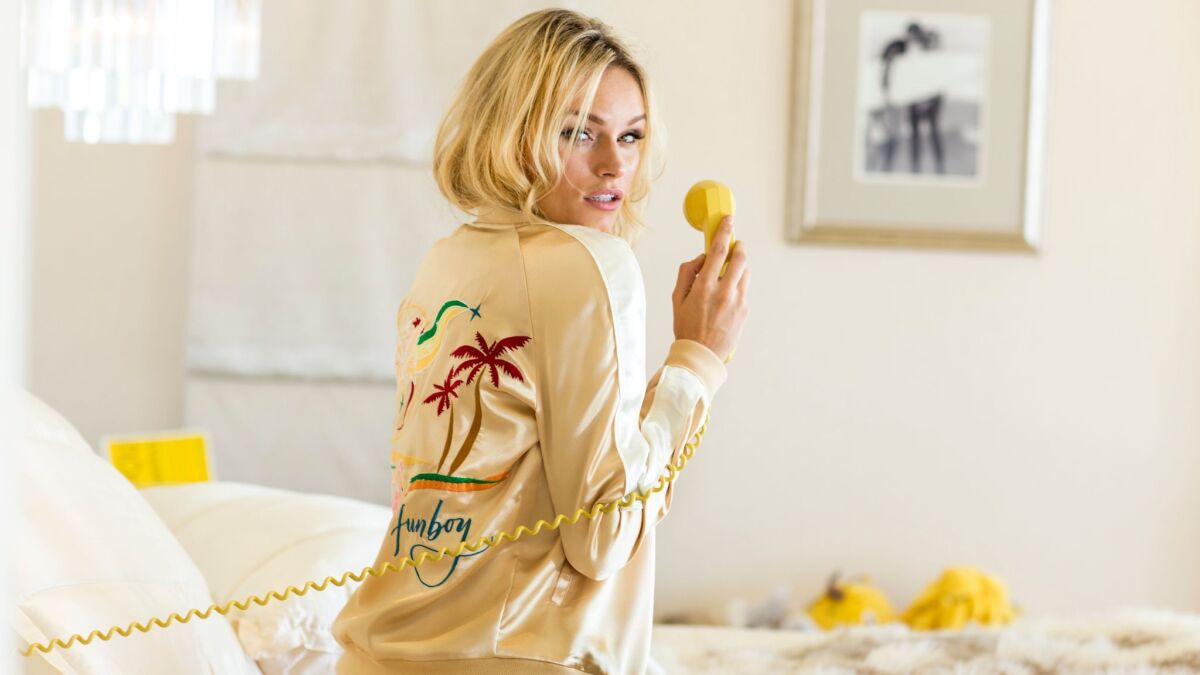 For the Barretts — Blake, Max, Raquel and Celeste — the company represents the culmination of years of shared work and educational experience, with some romance along the way.
Blake,33, studied communications at USC before getting an MBA from the University of Washington, where he met future wife Raquel. Blake's pre-Funboy efforts included working on a team that helped roll out the Windows 8 computer operating system to toiling at start-ups. The experiences taught him "the ups, downs, perils, triumphs of going through hyper growth and fundraising."
Raquel, 33, earned an MBA from the University of Washington and then worked for a tech start-up that "really taught me how you have to wear many hats and become an expert in the various facets of marketing and also stay on top of the changing trends."
Max, 30, studied business and international affairs at the University of Colorado. An internship took him to see factories in China, and he later landed a job that helped him learn about "manufacturing, sourcing, creating, product development."
Max and future wife Celeste, 28, first crossed paths at their Seattle high school. She went on to learn about fine art, advertising and media design at the University of Colorado-Boulder, followed by studying interior architecture at UCLA and then worked for interior designer Kelly Wearstler.
It was during a family vacation in Anguilla in the British West Indies that the idea for a company took shape. Both brothers had been competitive swimmers and all four loved the water. Social media sharing was exploding. Why not a fun product like pool floats that people would share with each other online?
"Let's create the coolest pool floats you've ever seen," Blake said, recalling the brainstorming session. "Let's put a whole bunch of thought, design, art direction to it, like let's create functional art that you can hang out with by the lake, in your pool, and that was really the genesis for it."
All four Barretts share the title of co-founders. Max is also the product lead, Celeste is the creative lead, Raquel is the brand lead and Blake has the title of partner lead. They seem to have suffered none of the pitfalls of mixing family and business.
"Being a family makes us agile, makes us flexible, makes us nimble," Raquel said. "We are able to get things done very quickly, and given all of our different backgrounds, we really complement each other. People have no idea that there are just four of us behind the scenes, managing every aspect of the business from design to manufacturing to fulfillment to customer service."
Two other things appear to help sales. Most of the floats run in limited editions of as few as 300, leading to a sense of urgency among prospective buyers. In addition, Funboy consults with and commissions professional artists to do the float designs.
One was fine art photographer and New York Times bestselling author Grey Malin. Another was artist and illustrator Donald Robertson, former creative director at Estee Lauder.
When people think of summer, we want them to think of Funboy.

— Blake Barrett, one-fourth of the company's founding group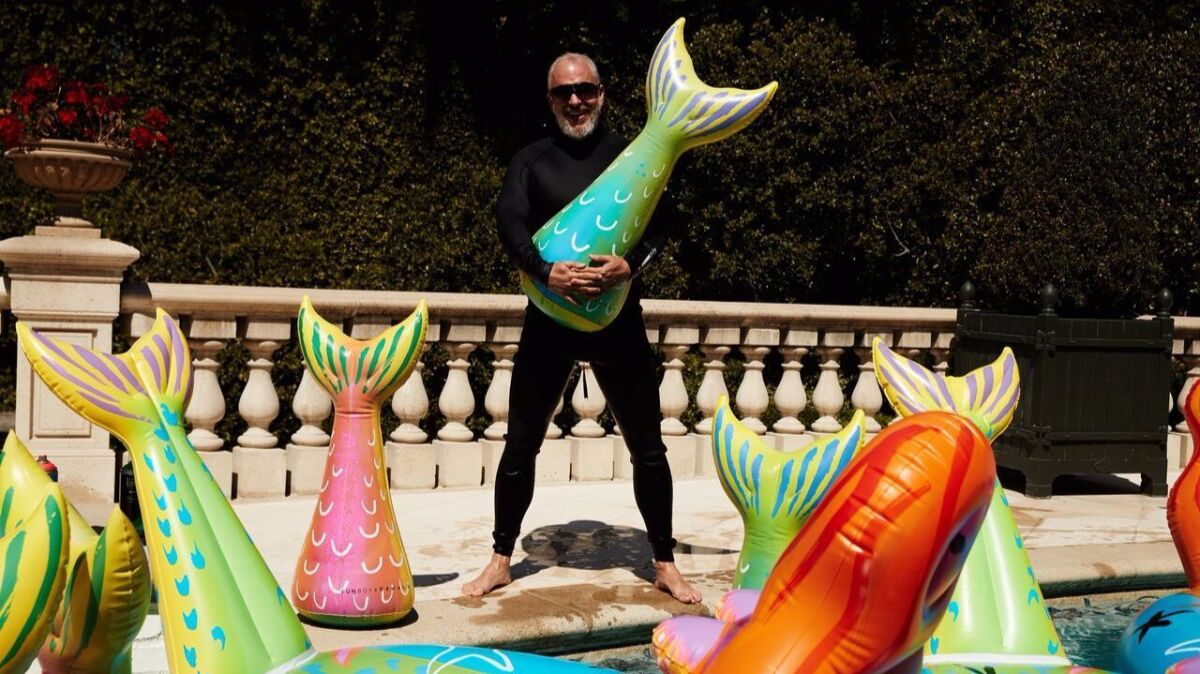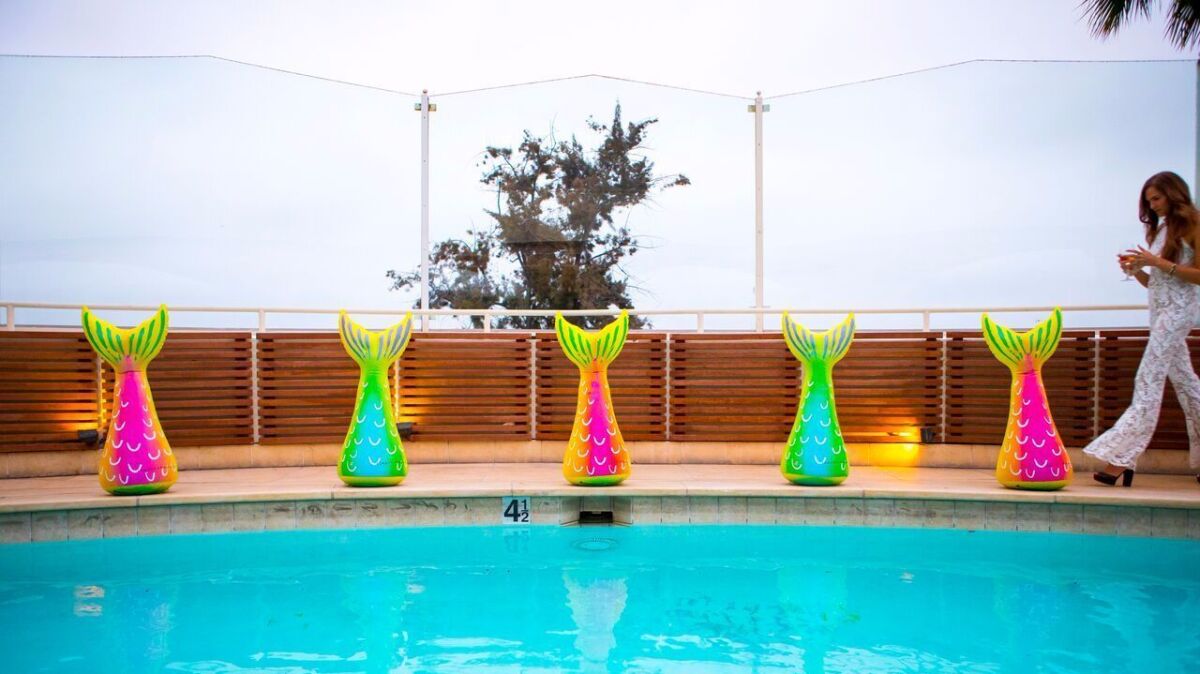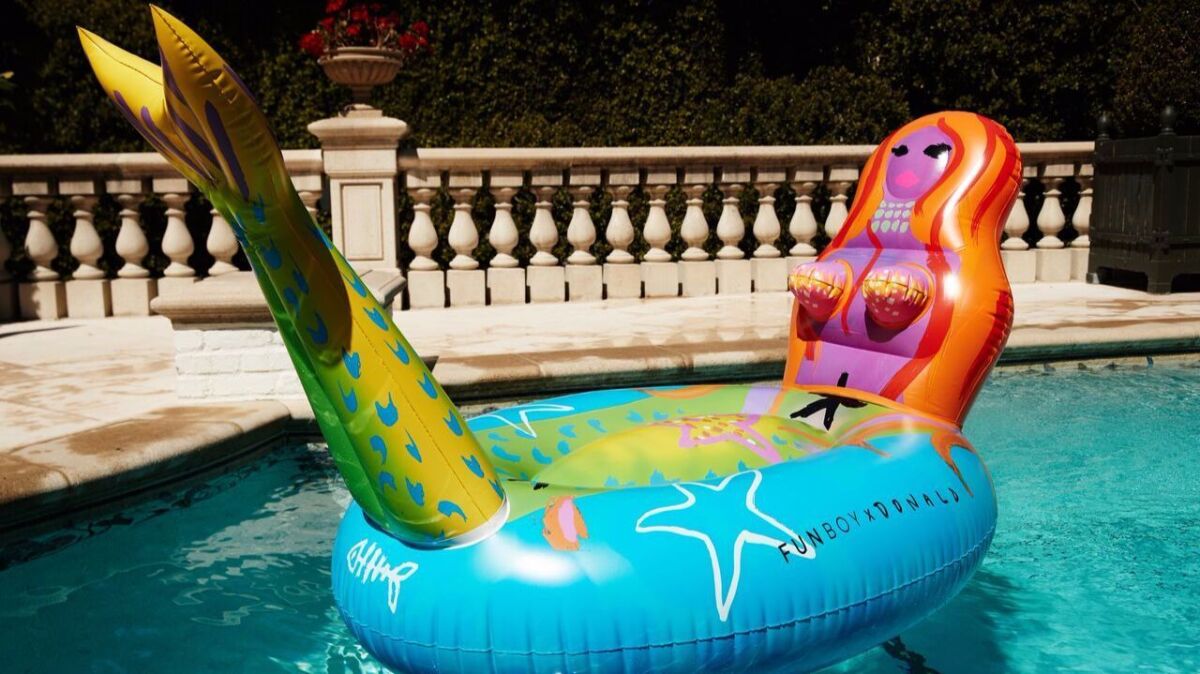 For artist collaborations, Celeste said: "We look in the fashion world, we look in the art world, because we feel like our floats are definitely a convergence of the two."
A beach photograph by Malin was superimposed on a swan float that quickly sold out.
Robertson said what interested him in collaborating with Funboy this year was the evolving face of advertising and art.
"What I found is in my industry, in the beauty industry, we're sort of ruled by the selfie, and pool floats are the ultimate selfie background," said Robertson, who wound up fashioning huge lip floats, among other things.
All of Funboy's products are designed in California. The beach towels are made in local textile factories and the floats are manufactured in Asia. The Barretts declined to talk about sales numbers or be specific about their product sources to avoid giving rivals any ideas.
Although competition abounds, the Barretts think that they have an edge and don't see their business as a short-term fad.
"We are for the people who refuse to grow up," Blake said. "Funboy is part of all of us who want to live out those summer experiences and share them with other people."
------------
FOR THE RECORD
3 p.m. July 25: This article states that artist Donald Robertson is a former creative director at Estee Lauder. He, in fact, is currently creative director at the makeup giant.
For more business news, follow Ronald D. White on Twitter: @RonWLATimes