How companies use math to make the gender pay gap look tiny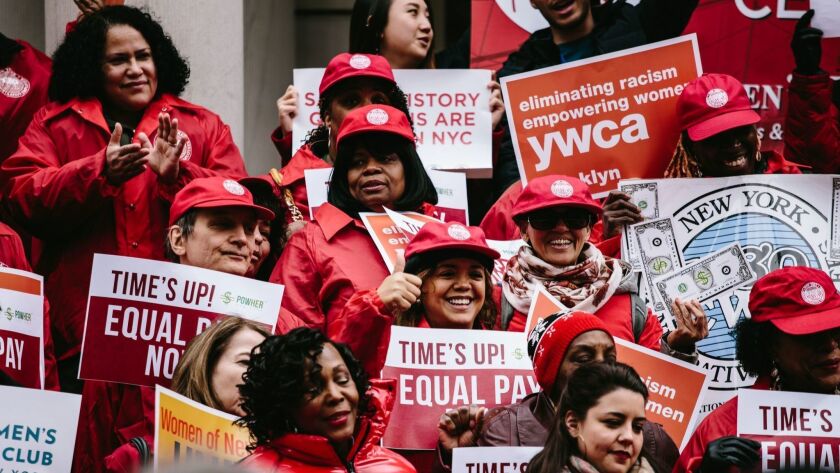 Bloomberg
There are two pay gaps when it comes to American women being paid unfairly: the average pay gap and the adjusted pay gap.
These two measures of how men and women are treated differently tell separate stories.
Overall, the average pay gap is 20%, which means that, on average, U.S. women make 80 cents for every dollar a man makes, according to a Pew Research Center analysis of median hourly earnings of both full- and part-time workers. This is a broad measure, one that considers everyone in the workplace. It also tends to reveal that men usually occupy the highest-paying positions.
The adjusted pay gap, meanwhile, takes into account factors that include job title, seniority or geography when calculating the difference in compensation between genders.
After years of pressure from shareholders and the public, some of the biggest banks in the country began disclosing their gender pay gap this year. Many of them, including Citigroup Inc., JPMorgan Chase & Co. and Wells Fargo & Co., chose the adjusted pay gap, which, in the case of these three Wall Street giants, was just 1%.
"You can imagine that the company might be able to come up with an adjusted pay analysis that shows there's not much of a gap at all," said Henry Farber, a professor of labor economics at Princeton University who has conducted analyses on companies' pay data. In an analysis of one firm's pay, Farber said he has found as many as four ways to slice company data when it comes to describing the gender pay disparity.
Although it's illegal in the U.S. to pay women less for the same work, there's no law requiring companies to disclose their gender pay gap — let alone what measure to use or how much weight they give certain factors — so numbers can vary.
For example, New York-based JPMorgan said just a month after disclosing its 1% adjusted pay gap that it pays women in the U.K. an average of 36% less. This was the first year the government there required all companies with more than 250 U.K. employees to disclose their pay differential. Most large banks showed a similarly wide difference between the gender pay gap they reported in the U.K. and the adjusted pay gap they voluntarily released in the United States.
At the time of the U.K. pay gap disclosure, JPMorgan said "raw compensation comparisons, without consideration of the factors that typically impact pay, do show a gap between the pay of men and women." The bank said it views "global pay equity results as a more representative measure of comparable pay for similar work."
Farber said that companies in the United States are at an advantage, given the culture of silence when it comes to how much one gets paid. This lack of information may help perpetuate pay inequality, he said.
"In the U.S., any company that's releasing a number is releasing the number for presumably public relations purposes to inform whoever's watching that, 'Gee, don't come after us and say we're discriminating,' " Farber said. "Shedding some light on the structure of pay gives workers the opportunity to say, 'Oh, look, my company is doing a good job,' or 'Oh, look, my company is not doing a good job. Let me go talk to them, or let me go try to address this situation.' "
Holman writes for Bloomberg.
---
Must-read stories from the L.A. Times
Get the day's top news with our Today's Headlines newsletter, sent every weekday morning.
You may occasionally receive promotional content from the Los Angeles Times.